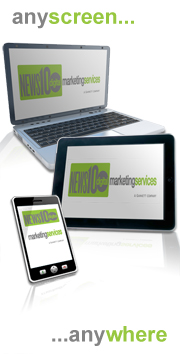 We provide innovative online marketing strategies and employ a variety of digital media advertising solutions that:
- Increase Local Exposure
- Generate Traffic
- Improve User Experience
- Initiate Engagement
- Increase Conversations
- Drive ROI
Digital has revolutionized everything.
It's time to rethink your traditional marketing plans.
Consumer behavior is continually evolving as our economy and technology shift. As consumer attention becomes fragmented in this fast paced, ever-changing medium, your business faces new challenges and obstacles. In this complex digital landscape, we help our clients navigate toward marketing goals where there is no clear path to follow.
We connect businesses to local consumers. We drive action, response and results. We foster conversations, engagement, and loyalty. We are the experts in all things digital, helping local businesses connect to a new breed of consumer.
Grow Your Business
A strategic online marketing eco-system creates a strong presence across different media platforms. With our digital marketing services, businesses have the ability to influence buying decisions throughout a consumer's buying cycle, thus increasing revenue and growing your business.
Increase Visibility
Using News10's multi-screen distribution strategy, businesses have the ability to reach a large audience, engage them, and drive them to take the next step towards acquiring your service or product. Our innovative approach is composed of television, mobile devices, tablets and computers for maximum market penetration.
Increase and Track Return On Investment
News10 utilizes the best technology to track conversions to maximize your business' return on investment. Dedicated account managers oversee your campaign from the start. They continually optimize your campaign, delivering frequent detailed reports, which help you understand the effectiveness and growth of your online marketing campaign.
Get More Calls and Emails
Create an online marketing eco-system that includes Google, Yahoo, Bing, local online directories, mobile devices and social media.
Testimonials
"If [Gannett] can provide these results for every customer, they'd be crazy not to use them. The performance of my campaign and the support on my account has been stellar!"
- Pete Hascher, owner of JONES DELIVERY
"Good follow up & good communication. I get reports frequently-as a small business owner, you need proof that your campaign is working and I really appreciate that."
- Dennis White, owner of Cabinets by C & F
Get Started...
Prefer to call?
916-321-3324