Download the new ABC10 iPhone or Android app!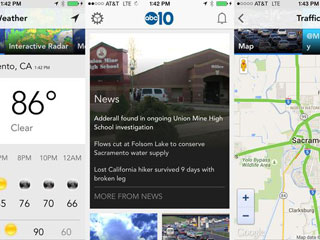 ABC10's all-new mobile app has everything you want and more!
It's our smartest interface yet. The app is intuitive and easy-to-use, allowing you to quickly and simply check out up-to-the-second breaking news and hourly weather forecasts. The forecast can give you the weather for wherever you are or where ever you will be.
The all-new ABC10 mobile app. Totally New. Yet Totally Familiar.
CLICK TO DOWNLOAD FOR iPHONE
CLICK TO DOWNLOAD FOR ANDROID