MINERAL, Calif. — It's been described as hell on earth, and it's just a few hours' drive from Sacramento. Bumpass Hell is a boiling acid pit located in Lassen Volcanic National Park. This area is one of the most volcanically active areas in California.
Lassen Peak last erupted in 1914, and it was caught on camera and film. Partially because of these images, President Teddy Roosevelt designated Mt. Lassen a national park.
News of the eruption caught the attention of the nation. Curious adventurers traveled great distances to see the incredible landscape and the acidic water of Bumpass Hell. National Park Ranger Kevin Sweeney says the gasses and minerals from deep underground mix with groundwater at Bumpass Hell, and create a dangerous brew.
"If folks wanted to jump in here, not only would you get burned by the heat, but you would get burned by the chemicals that are here. The pH can be around 3 or 4, which is just a little higher than battery acid," said Sweeney.
Bumpass Hell got its name decades before Mt. Lassen's eruption. The acid waters were made popular by an unfortunate tour guide.
"Kendall Vanhook Bumpass was leading folks out here and ended up punching through the hydrothermal soil and burned his leg up pretty bad. Ever since then, it's been known as Bumpass Hell," said Sweeney.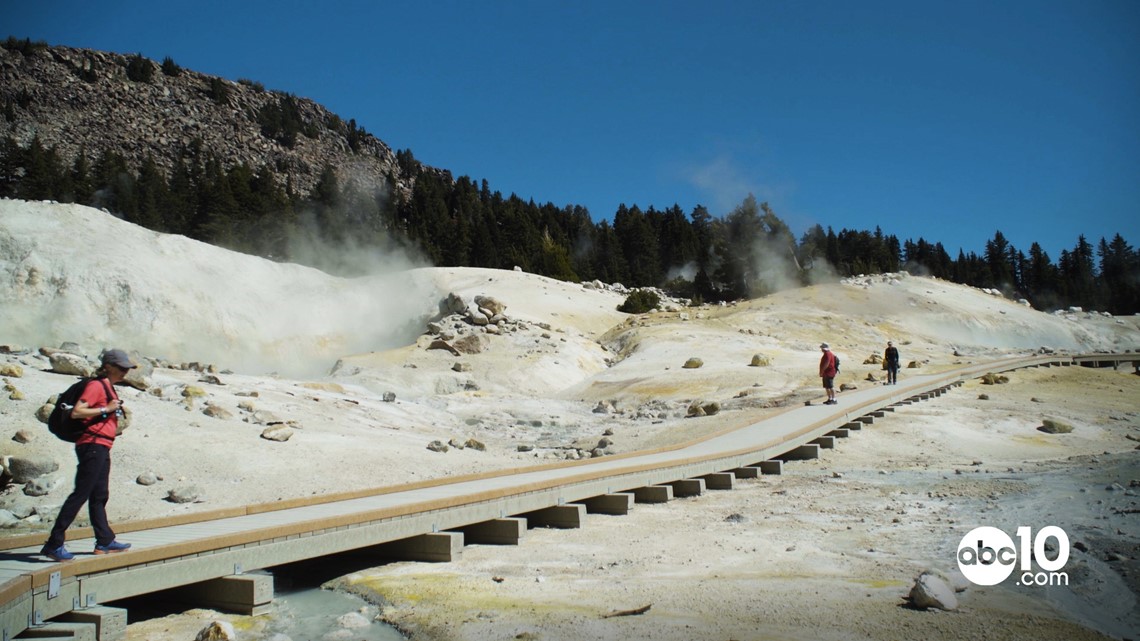 You won't have to worry about stepping into a boiling acid pit these days. A newly constructed walking trail and boardwalk allows visitors to get within a safe distance of Bumpass Hell, but safety is a relative thing. Mt. Lassen is still an active volcano.
"We have had surveys. USGS works with us, but we don't know for how long it will be safe to stand here. This is a very dynamic area," Sweeney said.
Volcanic vents like the bubbling Sulfur Works pit can slowly change and the ground can move over time. That's why the US Geological Service monitors different locations at the park with GPS devices.
"That sends info up to a USGS satellite, then sends that info to Menlo Park. If there is any movement, they call me. I am still waiting for a call," said Sweeney.
The geology is very unique at Lassen Volcanic National Park. The Cascade, Great Basin, and Sierra Nevada Mountain ranges collide in this area. Lassen Peak has a history of violent eruptions. It's unclear when the next one will hit, but right now the mountain offers a rare look and smell of what's going on below the surface.