ESCALON, Calif. — It's almond blossom season in Northern California, and that means your Facebook and Instagram feeds will be stacked with flower-filled selfies. It's a magical time, but it's also a very important biological event.
Around Stanislaus and San Joaquin Counties, the almond bloom almost always starts the week of St. Valentine's Day.
Danielle Veenstra grew up on her family's 40-acre almond orchard in Escalon. She says it's a romantic time of year, but not necessarily for humans. Honey bees are actively out pollinating each tree.
"Every almond that we eat is because of these bees, so, if we didn't have bees, we wouldn't have almonds," said Veenstra. The bees in her orchard were put out at the beginning of February and will stay through March.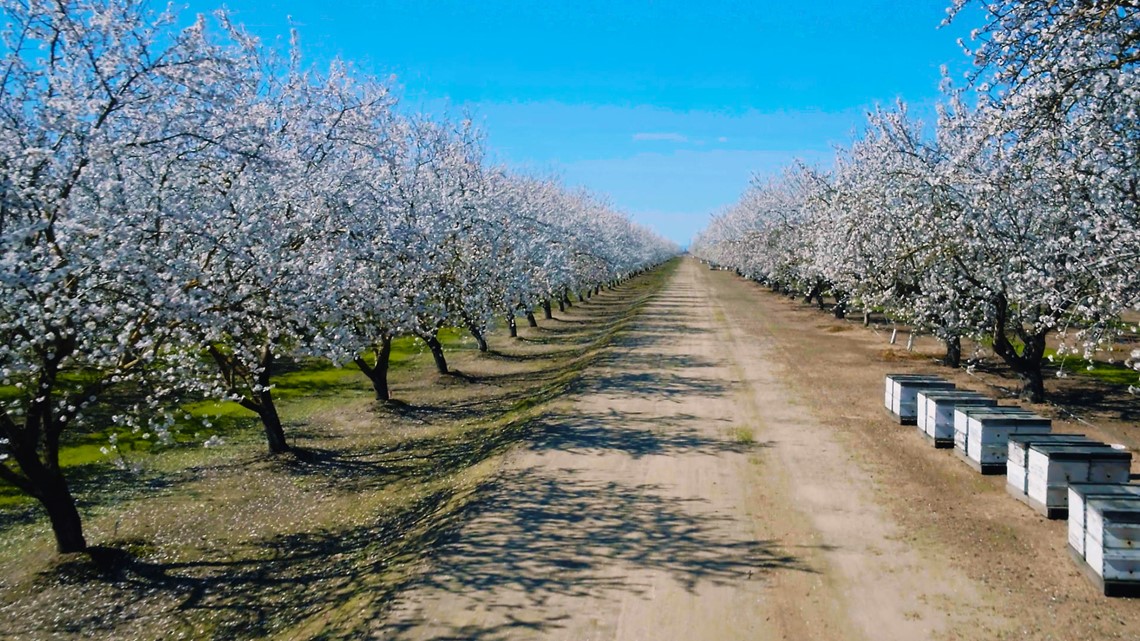 Almond trees need bees to move pollen from one flower to the next, and, to make sure that happens, the almond tree attracts the bees with vibrantly colored flowers and sweet smelling nectar.
The bees work fast. Within a matter of weeks, nearly every branch on every tree will be pollinated, and the orchard floor will be littered with beautiful pink and purple peddles.
"When they start dropping their peddles like this, you can actually see an almond inside," Veenstra added.
The almonds will be ready to harvest by mid-August but only if the flower buds don't freeze.
Aside from the yearly display, the blossoms also are a reminder of how important almonds are to our economy. About 80% of the worlds almonds grow in California, according to Veenstra. The bloom may be beautiful but it's also one of our most important crops.
________________________________________________________________
At harvest time, farm to fork starts with farmers and ends with machines. See the giant harvesters that make California the top producer of tomatoes.