LEE VINING, Calif. — You won't find another lake in the world with the same features as Mono Lake. Its history and natural features are as dramatic as the alienlike formations poking out of its salty waters.
Located off Highway 395 on the eastern side of Yosemite, Mono Lake is in the rain shadows of some of the tallest mountains in the nation. That means the landscape that surrounds Mono Lake is arid and dry.
The best person to describe the lake water is Nora Livingston, naturalist and canoe boat tour guide with the Mono Lake Committee, an environmental organization based in Lee Vining, California.
"It was once a freshwater lake over a million years ago, but as the mountains have risen up and the basin has dropped down, the lake has become contained in a bowl of mountains," said Livingston.
As a result of the geological formation, mineral-rich water from the mountains flow into Mono Lake, but they don't flow out. "It's a terminal lake so there is no way for the water to leave except for evaporation," explained Livingston.
What's left behind is minerals in the water.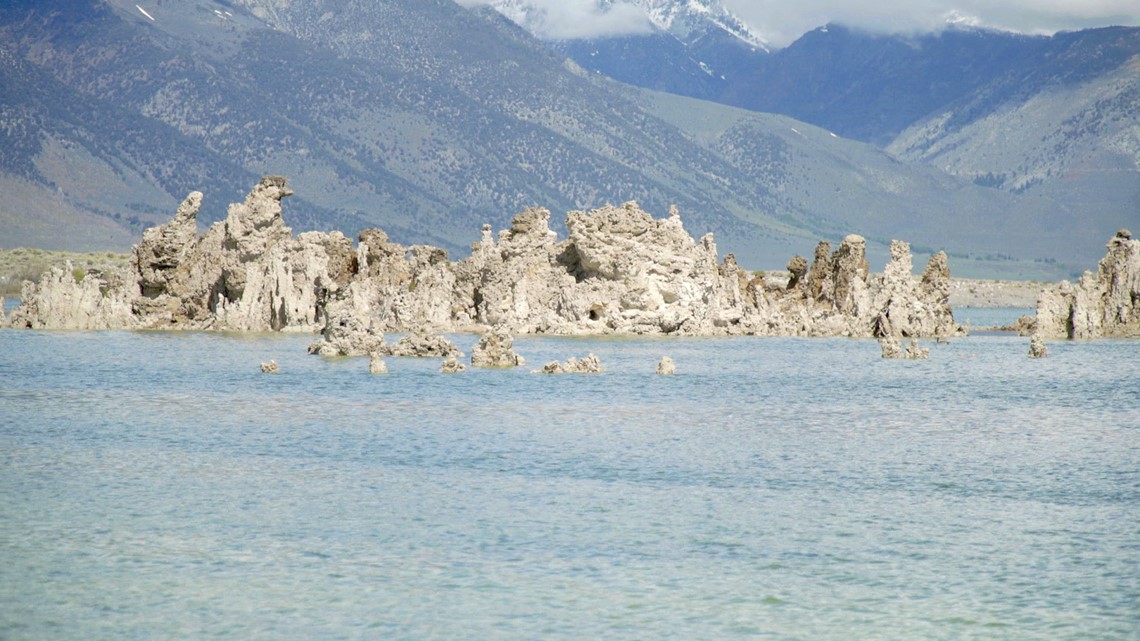 Mono Lake is 2.5 times saltier than the ocean. So salty that it's not uncommon to see a mineral-rich foam build up on the shore.
Rain and snowmelt washed down the minerals from surrounding mountains, but end up in the lake in a rather unique way. Hundreds of underground geothermal springs leach mineral-rich water into the lake and when it does, it creates what's called a "tufa."
"So tufas are very fragile when they are exposed to air. So, when the lake level drops, the tufa is exposed and they are not growing anymore."
Without getting too complicated, tufa's are simply a bunch of mineral from the mineral-rich water piling up on top of each other. There are forests of ancient tufa's all along the lake's bank.
The fact that we can see a tufa is not a good thing. The water is evaporating faster than it's coming in from the underground springs. The problems started in the 1940s and the one to blame is the city of Los Angeles.
"In 1941 they started diverting water from the freshwater streams that flowed into Mono Lake. They essentially built dams in front of those streams and sent it 350 miles south to L.A.," Livingston said.
California is no stranger to water wars, but this one was particularly bad. At one point, farmers even blew up a portion of the water line. In 1978, the Mono Lake Committee took the city of Los Angeles to court and after a 16-year battle, they won.
"It was kind of a David and Goliath story," said Livingston.