If there was a map to the middle of nowhere, it would probably lead you to HWY 270 in Mono County. This road is surrounded by everything beautiful: the Sierra Crest, the Mono Basin, and the Cowtrack Mountains, but during winter, Highway 270 is a seemingly non-existent road.
There's nothing. Nothing except snow, but this wasteland of a road is Joseph Jackson's way to work.
"In the snowcat, it's probably going to take us one to two hours from where we parked to get to the town," he said.

Jackson is a California State Park ranger and his job is to protect a town that no one lives in. A ghost town called Bodie State Park. It's one of the best naturally preserved ghost towns in the nation. It's also the coldest place in California.
"The coldest I have seen is -29 degrees Fahrenheit," Jackson said.
Bodie is also a National Weather Service monitoring site and one of Jackson's jobs is to manually record the weather.
There are no digital monitors. No computerized readers, just two mercury thermometers. One thermometer reads the low temperature the other records the high.
"It's not sophisticated, but it's tried and true," Jackson said. "They have been doing this for a very long time."
Simple seems to work here. During the winter months this year, the average temperature has been -7 degrees. That makes this the coldest place in California, and it's often the coldest place in the nation.
If you are wondering why people would build a town out here, the answer is inside the Bodie Hills.
"Gold and silver. It brought people from all over," Jackson said. "There were over 200 restaurants here where you could get everything from oysters on the half shell to a subway sandwich."
From 1877 to 1882 Bodie was a bustling gold town. It's estimated that 8,000 to 10,000 people lived in Bodie until two fires hit the town.
"The 1892 fire wiped out all the brothels and saloons — all the stuff you probably wanted to see — and the 1932 fire hit haphazardly throughout town," said Jackson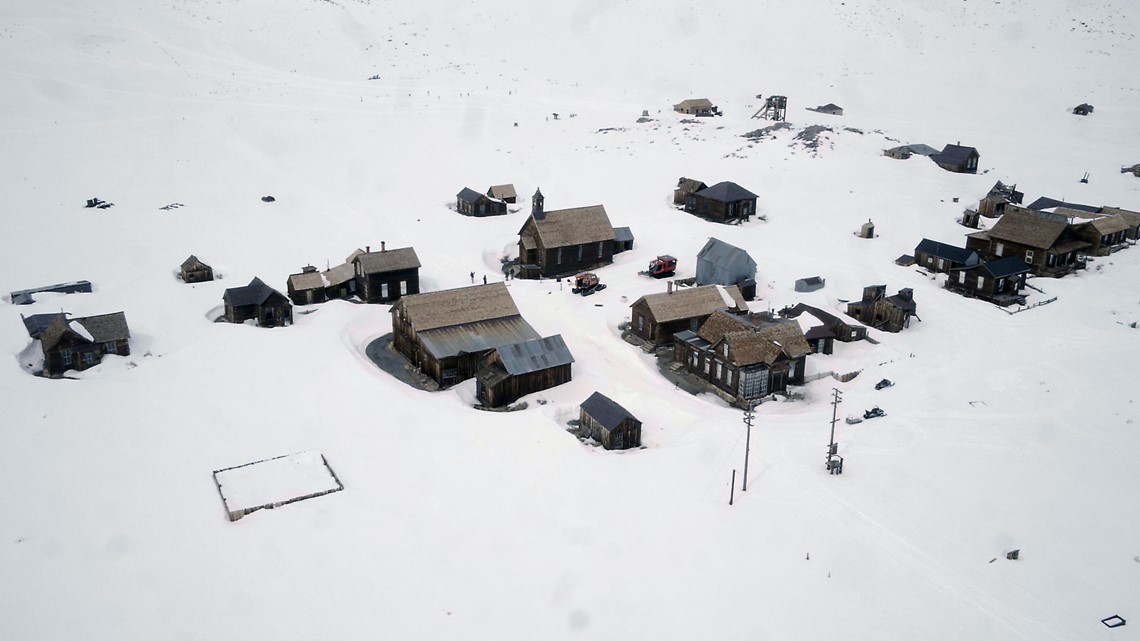 After the fire, people slowly abandoned Bodie. Only 10 percent of the original town remains, and the only reason it remains is because of the dry climate in the Bodie Hills. There's very little wood rot or decay. In fact, preservation is not a big problem here. It's theft and vandalism.
"That is one of our biggest concerns. That is why we are here 24 hours a day," Jackson explained.
California State Parks took ownership of Bodie back in the 1960s. By the 1980s Theft was such a big problem that one of the park rangers decided to make up a fake curse for the town.
"People would say that if you took anything from Bodie, your life would be cursed until it was returned," Jackson said.
But, the curse kind of backfired. People started stealing things, then mailing them back to the park just to see if the curse was true.
"I got a brick in the mail. Random things," Jackson said. "The problem is, we can't put them back in the park because we have no way of proving that they came from the park."
These days, park rangers work to educate people on the archaeological importance of the artifacts in Bodie. The town is a piece of California history and the main reason it's so well preserved is because it's in the middle of nowhere.
"It's actually beautiful," Jackson said. "But beyond that, we really wanted to be able to preserve these artifacts."
Bodie State Park is open year-round if you can get there, and if you can, you might just see how beautiful the middle of nowhere looks.
Watch more stories, videos and pictures from Bartell's Backroads here.
________________________________________________________________
Back in the '50s, two brothers from Sacramento built a ground breaking dragster when they were just out of high school. John Bartell learned what it was like to create a record setting icon.