There are few roads for visitors to drive on since 97 percent of the park is designated wilderness and the giant trees that dominate the landscape are sequoias.
Rebecca Jones is with the Sequoia Parks Conservancy group and shares the hidden wonders in this giant national park. She likes to remind visitors that sequoias should not be confused with the California Redwoods.
"Sequoias grow in the Sierras and redwoods grow on the coast," said Jones.
Sequoia National Park is home to five of the world's largest trees and they are all sequoias. They're not the tallest trees, they just have the largest mass.
Sequoias can grow up to 40 feet wide, 300 feet tall. They're so big that sometimes it's easier to drive through them than around them, as is the case of the tunnel tree - a fallen sequoia with a hole cut in it to allow full-sized cars to drive through it.
Just below the giant sequoias and the towering mountains is another big tourist attraction, and I'm not just being figurative. Crystal Cave is a 1.4-million-year-old cave that's only getting bigger.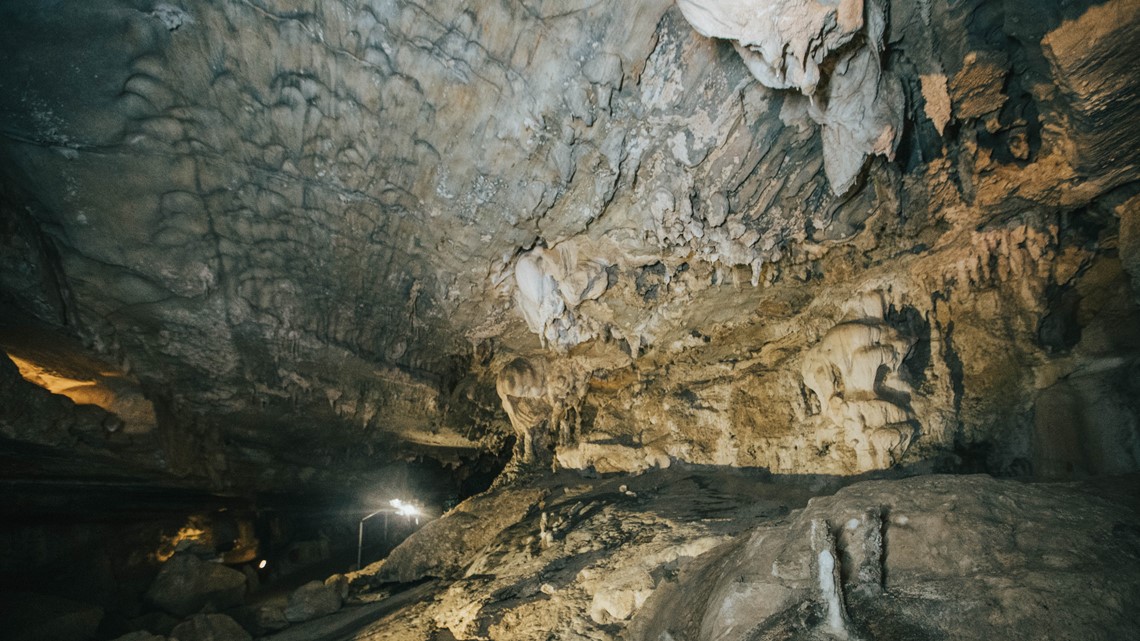 "What we're standing in is a GIANT boulder of marble," said Jones. "What we have down here is the river that is carving out Crystal Cave. So you can see that trench that it's made and the polished marble. It's carving out the cave 1 inch every 500 years."
Caves are pretty common in the park with about 270. However, a sparkly mineral called "calcite" creates a crystal coating on the floor of Crystal Cave that you won't want to miss.
"It forms as the water that drips through the ceiling picks up a mineral called 'calcite' and as that calcite cascades on the ground, it creates a layer," explained Jones.
Crystal Caves covers 3.4 miles of the underground space and it's filled with fragile stalactites and stalagmites. The crystals and minerals may look regal but they are actually very common, which is a good thing for the cave and the giant sequoias above.
"Not all these places were protected and if we found something with gold or silver we may not have been able to protect this and turn it into a national park," said Jones.
Everything here is big and as long as humans continue to make small impacts, this place will only get bigger.
We want to hear from you
Do you know a place or person ABC10 reporter John Bartell needs to know about? Tell us about them.
We may share your response with our staff and publish a selection of stories that could include your name, age, and location. We respect your privacy. Your email address and phone number will not be published and by providing it, you agree to let us contact you regarding your response.
WATCH THE BARTELL'S BACKROADS PLAYLIST: