KINGSBURG, Calif. — Drive down Highway 99 in the Central Valley and you might spot an odd looking water tower. At first glance it might appear to be in the shape of a tea pot, but if you ask long time Kingsburg resident Michelle Roman, she will tell you that it's actually a coffee pot.
"The reason for the coffee pot is because Swedes drink a lot of coffee," said Roman.
Below the coffee pot-shaped water tower is the town of Kingsburg, a festive community known as "Little Sweden."
"A smorgasbord is just where you go and pick the different foods that you want -- a Swedish buffet," said Roman.
The Swedish meatball might be among the first things you notice, but you'll also find other Swedish flavors like the hardtack bread, cucumber salad, sweet beans and potato sausage. Some items might taste a little bland to the taste, but one thing that is not bland is the pickled herring.
"It's an acquired taste for some people," said Roman.
Kingsburg was established in 1870 after the railroad was built in Fresno County. Swedish immigrants showed up around 1886 after a Swede by the name of Andrew Erikson discovered the fertile soil.
"We call him the Pathfinder and he was mayor for a very long time," says Roman.
A former Kingsburg mayor herself, Roman said once word got out about the farming opportunities, multiple Swedish families came to Kingsburg to grow wheat, grain and now, raisin grapes.
"Back in 1921, when they did the census, we were 94% Swedish," said Roman.
Swedish influence in the town was so strong that all the buildings, the shops and even the street art gained a Scandinavian look, like the colorful painted horse statues placed all over town.
"These are Dala horses," said Roman, gesturing at a bright red, shoulder-height horse statue.
Along with the Swedish architecture also came Scandinavian folklore, which included gnomes. Walk into the downtown gift shop and you'll find gnome-themed art, gnome-themed books and of course gnome statues.
Authentic dance and music are a big part of Kingsburg's culture, and it's the Swedish Festival queen's job to demonstrate and explain the traditional dance steps. If you ask Festival Queen Emily Parker, she will tell you about the culture and show you how to dance.
"Some of (the dances) are happy, some sad, some flirty," said Parker.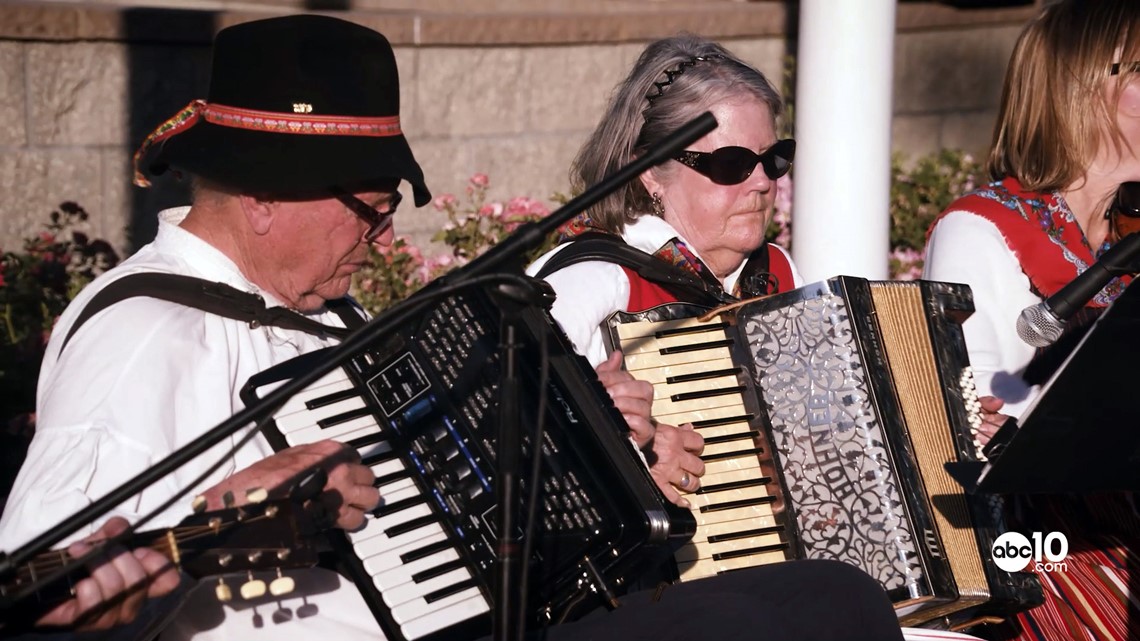 If dancing is not your thing, explore the Kingsburg Museum. Some of the mannequin displays are a bit creepy but the history is great, and you will learn about some famous Kingsburg residents like Western TV star Slim Pickens and Olympian Rafer Johnson.
"[Johnson] was in movies as well, and even helped start... the Special Olympics," says Roman.
It may not be the real Sweden but after experiencing the music, the dance, the food and most of all the people, you won't be disappointed by Kingsburg's Scandinavian charm.