SONOMA COUNTY, Calif. — When early settlers first stepped foot on the Mayacamas Mountains in Sonoma County, they described it as a gateway to Hell. In a way, they were right.
What they were seeing were plumes of steam shooting from the ground, super-heated by the earth below. Today, that steam is put to work at the Geysers Calpine Power Plant--better known as just "The Geysers"--and it's California's largest geothermal electrical generation site.
Engineer John Farison says the steam turns giant turbine generators that create electricity day and night.
"We are generating 750 megawatts. That's enough to power the city of San Francisco," explained Farison.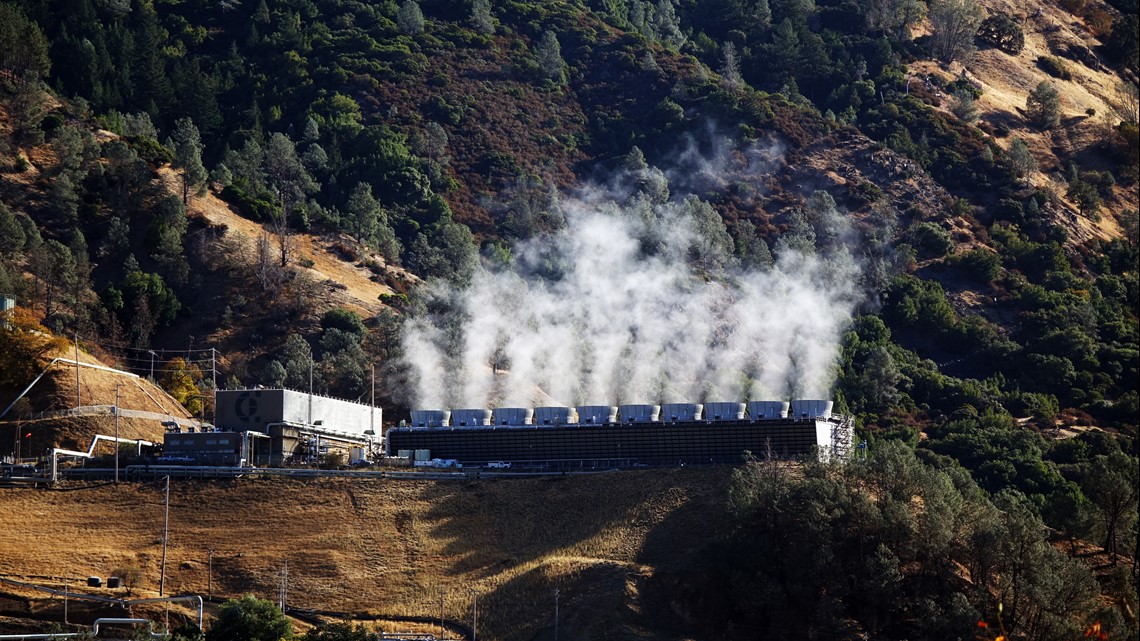 The company gives free tours every month, but before the buses and the power plants, this area was a vacation destination. Farison says the geysers were discovered by grizzly bear hunters in 1847. It was believed that the hot waters had healing powers, and that brought in hordes of tourists and eventually led to the construction of a grand hotel and resort.
"'The Geysers' is what they called this, but it's funny. There are no geysers," said Farison.
Geysers are super-heated water that shoot out of the earth, but steam is the only thing coming out of the Mayacamas Mountains. Deep below the mountains is a layer of cracked and broken rock which is heated by magma. When groundwater gets into the cracked rock, it turns into steam and escapes through what are known as fumaroles.
"Geysers are a misnomer. It was just named the Geysers, and that was the name that stuck all these years," Farison said.
In the 1920s, it was discovered that the steam could be turned into electricity. Early on, it was used to power the old Geyser Hotel. By the 1960s, large generation plants like the Geysers were built.
Today, Calpine Power Company owns around 28 power plants that use the earth's pressurized steam to turn giant electrical generators. Each generator can power about 40,000 homes.
Some of the steam is made using treated wastewater from nearby cities that have nowhere to put store it. Calpine pumps that clean, treated water underground, and when it hits the hot rocks it turns into more steam.
"The carbon footprint at our facility is very small," Farison said.
FREE ABC10 APP: