Is your calendar filling up with holiday parties? Or, perhaps you have a pot-luck at work and you can't stand the idea of another Crock Pot dip or tray of bland vegetables.
Have no fear! We discovered the perfect festive, fun - and most importantly - easy dish to serve at your next holiday party or as a Christmas day appetizer.
This pull-apart pizza bread is ready in less than a half-hour, and can easily be adapted to your family's tastes.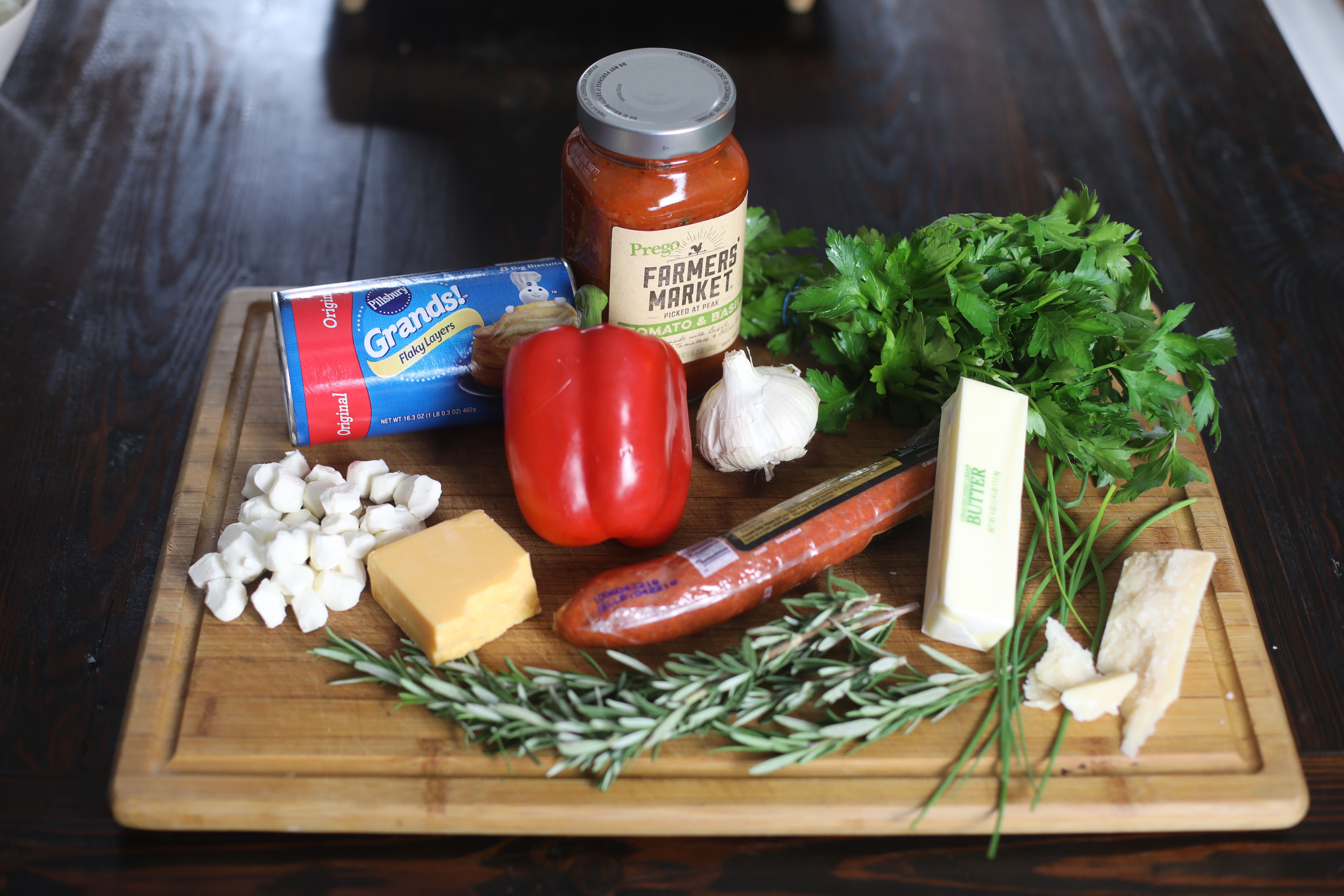 Arrange the easy-to-share pieces in the shape of a Christmas tree, add some garnish, and this treat is sure to be the first to go on the holiday table spread.
Christmas Tree Pull-Apart Bread
Ingredients
Cook's note: the fillings are easily changeable! We saw varieties featuring cream cheese, basil pesto and more. Try out your favorite pizza toppings!
2 - 16 oz. cans of ready-to-bake biscuits. You can also use the ready-to-bake pizza dough that comes in the refrigerated cans.
8 oz. mozzarella cheese, cubed
6 - 8 oz. sharp cheddar cheese, shredded
6 - 8 oz. pepperoni, cubed or chopped
2 TBSP butter
2 cloves garlic - minced
1/2 red pepper - minced
Fresh parsley sprigs - for garnish
Fresh rosemary sprigs - for garnish
Fresh chives - for garnish
Parmeggiano Reggiano cheese - for garnish
1 cup tomato sauce - for dipping
How to make Christmas tree pull-apart bread
Begin by opening the two cans of biscuits (or pizza dough). Either pull apart the layers of biscuits or cut the dough into squares so you have about 32 pieces.
In a bowl, mix the cheeses and pepperoni (or the toppings of your choice).
Fill each piece of dough or biscuit with enough filling so you can close it into a neat little ball. Place each ball edge-side down on a cookie sheet lined with parchment paper.
Continue filling the pieces of dough until you have made your Christmas tree. Add a bit of Italian seasoning and a touch of olive oil brushed over the dough balls, if you'd like. Then bake for 15-20 minutes at 400 degrees until they are golden brown and gooey.
Melt the butter with the minced garlic for about 30 seconds in the microwave.
Remove from oven and place on the serving platter or cutting board of your choice. Brush the melted butter on the bread. Sprinkle on your garnishes: the red pepper, chives, and grated parmeggiano cheese.
Add some more chopped pepperoni on top if you have it. Add fresh parsley sprigs to taste.
Garnish the edges with fresh rosemary sprigs and serve with warmed tomato sauce.