SACRAMENTO, Calif. — If you've never cooked a turkey before, you're not alone. It may be overwhelming to cook that huge bird in your fridge.
Here's what I learned about cooking a turkey. It's easier if you turn it into a five-day process. Each step means less work. Typically when we cook a meal, we're chopping vegetables, pulling out all the ingredients, sauteing, baking, and even grilling all in one day.
The process starts with thawing the turkey. That's number one. Make sure your turkey is out of the freezer and in the fridge at least four days before you plan to eat it. Second, brining is a thing. For those of you who've never heard of brining, it's basically marinating your turkey in a salt liquid for at least 24 hours. Below you'll find a Gomez-family brine recipe.
Finally, the day of Thanksgiving, you'll need to rinse your turkey, pat it dry, and let it sit at room temperature for about an hour before you begin stuffing your turkey with either herbs, fruit, or stuffing. Then, stick it in the oven.
Ready to cook your turkey? Here's your step by step guide to brining and cooking coming from my own family recipe:
1 Turkey
1 large pot to fit a turkey, or if one is not available, try cleaning out your fridge's crisper drawer, thoroughly wash it, and use to fit your turkey.
3 cups of water or apple cider
1 cup of brown sugar
1 cup of kosher salt
5 whole bay leaves
5 cloves of garlic minced preferred
3 tablespoons of tricolor peppercorns (optional)
4 sprigs of rosemary, leaves stripped off
The peel of 2-3 oranges and lemons
Pull your defrosted turkey out of the fridge. Take out the bag containing the liver and other organs. Also pull out the neck and cut around the extra neck skin. Throw in the trash, or use the bag (except the liver) to make your stuffing.
Start preparing your brine. Dissolve kosher salt and brown sugar in 2 cups of hot water. Add bay leaves, garlic, peppercorn, rosemary, and orange/lemon peels in pot. Add as much water as it would take to cover your turkey in a large pot or crisper. Add 3 cups of apple cider (optional, but tasty).
Place your turkey in a large pot or crisper and add the brine over the turkey until it is submerged. Place in the fridge at least 16-24 hours before cooking.
Now that your turkey has been bathing in brine overnight, it's time to get it prepped for cooking! Pull the turkey out five hours before planning to eat.
Pour out the brine, and rinse the turkey in cold water. Pat it dry and let it sit out at room temperature for an hour.
In the mean time, prepare the ingredients to cook the turkey in.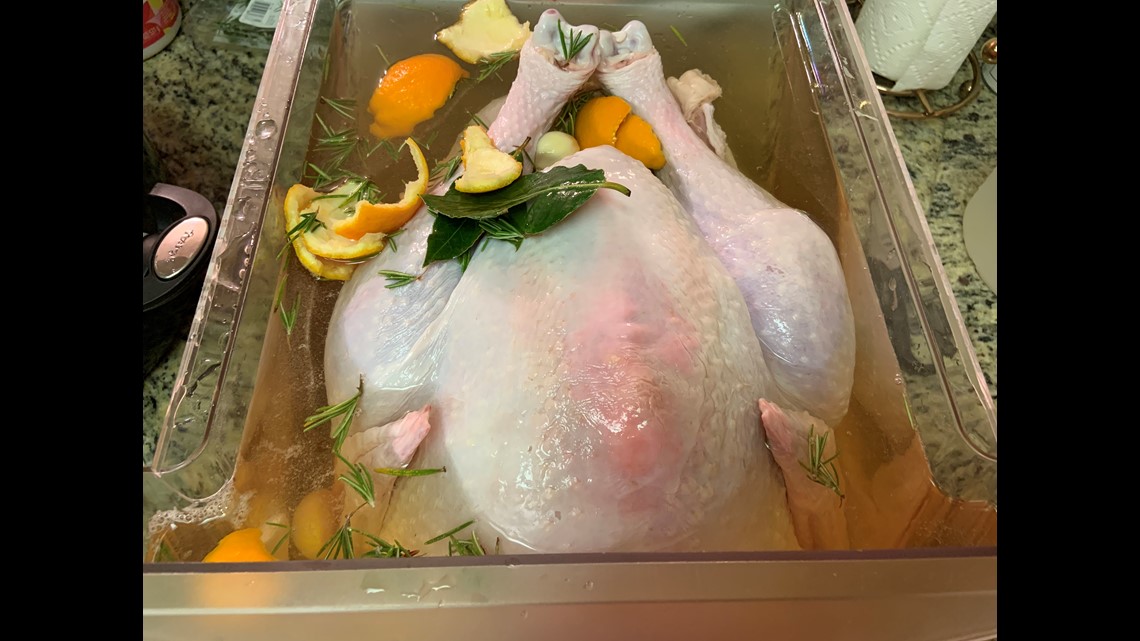 1 stick of butter
1 tablespoon salt
1 tablespoon of pepper
1 lemon sliced
1 orange sliced
5 sprigs of rosemary
A handful of thyme
Sage
1 thermometer

Preheat the oven 350 degrees
Once your turkey has sat out for an hour, make a butter spread by mixing the stick of butter with the salt and pepper. Lather the turkey under the skin and over the skin.
Place sliced oranges, lemon, rosemary, thyme, and sage inside the turkey cavity.
Put turkey in the oven for about 2.5 hours. Take the temperature of the turkey's thigh. Once it reaches 165 degree in the thickest part of the bird, it's safe to eat. Letting it reach 170-180 is fine, too.
Take the turkey out of the oven and cover it in foil. Let it sit for an hour before serving.
Good luck! I hope your first thanksgiving turkey is amazing.
FREE ABC10 APP: