There's no doubt about it, the meal is the most anticipated part of Thanksgiving. Many times though, the main course and sides are high in fats and salts. This year, I'm sharing a few family favorites that are also healthy.
Megan's Easy Gravy
I call this the easiest gravy recipe because it can be made in 10 minutes! Most traditional gravies are high in saturated fat, but not this one! It's made with simple, healthy ingredients that are probably in your pantry now!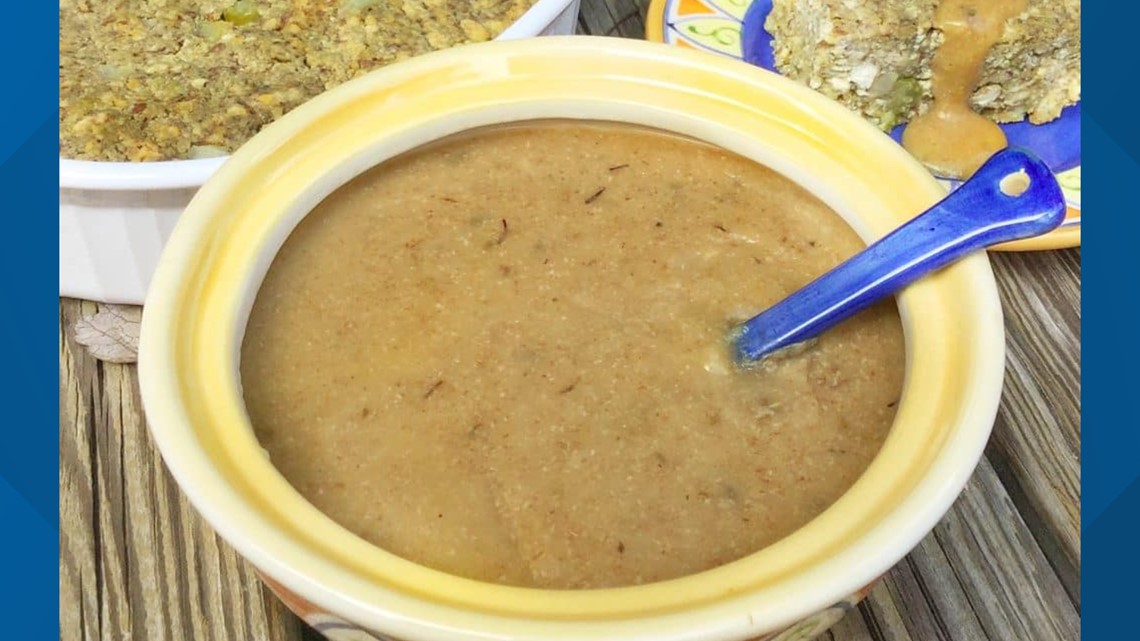 1 1/2 cup Vegetable broth
1/4 cup spelt flour (all-purpose, whole wheat works too)
1 tbsp tamari sauce
1 tbsp nutritional yeast
1/2 tsp onion powder
1/2 tsp thyme
1/8 tsp oregano
Salt (to taste)
Pepper (to taste)
In a pot over medium heat, add vegetable broth and then spelt flour continually stirring until it dissolves.

Turn heat up to bring to boil, and add the rest of the ingredients.

Once it's boiling, reduce heat. Continue to stir for another couple of minutes. It should have thickened up and everything mixed together.

Serve hot and enjoy!
NOTE: If the gravy is not "thick" enough, stir in more flour.
Healthy Vegetarian Cornbread Dressing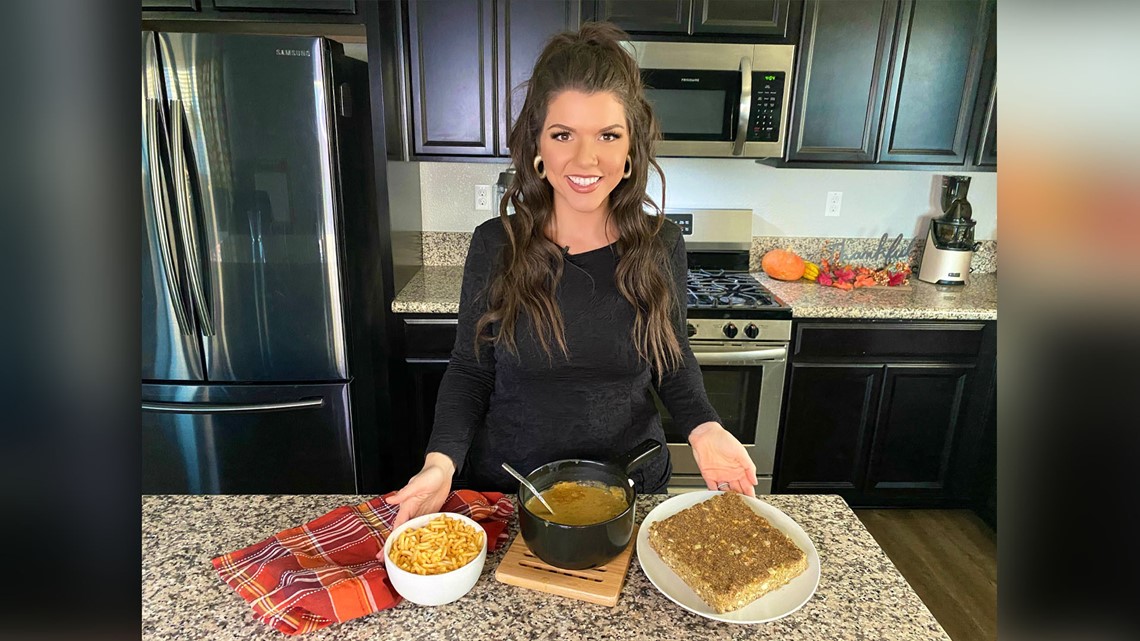 This is an alternative to the classic southern dish, "chicken and dressing." This was my grandmother's recipe that I tweaked to be healthier. It has all the classic flavors of dressing but is made without meat.
1 (14 oz) firm tofu
1/2 cup chopped celery
1/2 cup white onion chopped
3 flax eggs (1 tbsp flax meal + 3 tbsp water = 1 flax egg)
1/2 cup vegetable broth
2 tbsp sage (adjustable to your taste preference)
1 tsp salt
1/2 tsp pepper
1 cup Yellow Cornmeal
1/2 cup Spelt Flour
1/3 cup Coconut Milk (from a can - the thick white part)
1 cup Cashew Milk (or other Unsweetened Non-Dairy Milk)
1 tsp Apple Cider Vinegar
1 tsp Baking Powder
1/2 tsp Baking Soda
1/4-1/2 tsp Salt (optional)
First make the cornbread. This step can be done a day ahead to save time! Preheat the oven to 350° In a medium bowl mix together the milk and apple cider vinegar. Then in a large bowl mix together all the dry ingredients. Add the coconut milk plus the apple cider vinegar mixture to the dry ingredients and mix everything together. Pour the mixture in a 9x9 inch pan and bake for about 30 minutes.

Next press the tofu by wrapping the tofu block in dishcloths and set heavy books on top for 15-20 min. This helps get all the water out of it. Preheat the oven to 350° Make your flax eggs in another bowl and set aside. Drain and rinse off your tofu and set it on a towel or plate and set aside until ready to use.

Sauté onions and celery for about 5 - 8 minutes until they're translucent. In a large bowl break up the cornbread into crumble pieces. I do this with my hands. Add in celery, onion, flax eggs, sage, salt and pepper.

Then crumble the tofu in the bowl and add 1/2 cup of vegetable broth. Mix it all together with your hands. Everything should be mixed together well. You might need more vegetable broth as the mixture should be soggy and moist so judge accordingly. This is so it won't come out dry after baking.

After it's all mixed together you can taste to see if you want to add more seasonings like sage, salt or pepper. Pour mix in a 9x9 pan lined with parchment paper. Pat down making sure it's all even.

Bake in the oven for 30-35 min. The top should be a little brown. You can also fork check it to make sure it's firm. Allow it to cool for a few minutes before serving. We love eating it with this gravy!
Dairy-Free Mac and Cheese
This cheesy sauce can easily be made in your blender without any dairy. You can add it to whatever kind of pasta you like. If you want a healthier pasta I love using a lentil pasta with this cheese sauce.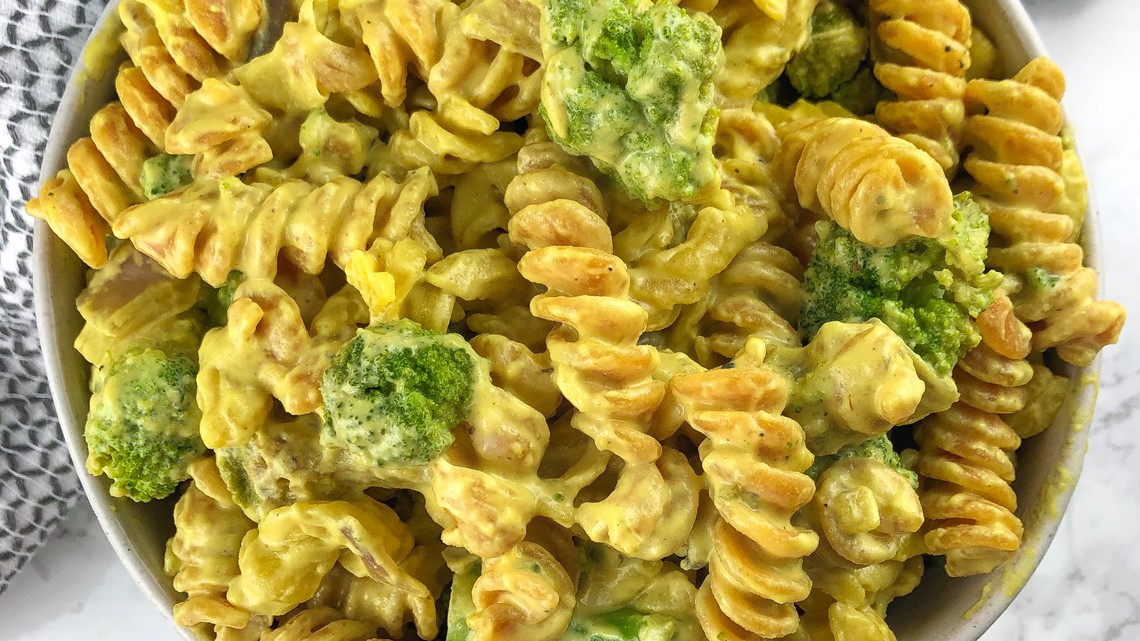 3/4 cup Water
1¼ cup Cashews (raw unsalted, soaked*)
1/3 cup Nutritional Yeast
1 Garlic Clove
1/2 tsp Ground Mustard (regular mustard will also work)
1/2 tsp Apple Cider Vinegar
1/2 tsp Salt
1/2 Lemon (just the juice)
1/4 tsp Turmeric Powder
Black Pepper
8 oz Pasta
If you're not using a high speed blender like a Vitamix, I recommend soaking the cashews in a bowl of warm water for at least two hours beforehand. Drain them before you blend.

Cook pasta according to the directions on the box.

Add all the other ingredients to a blender and blend until smooth and creamy.

Taste before pouring it on the pasta to see if you need to adjust any of the seasonings. Feel free to add in cooked veggies like broccoli to the pasta as well!