A lot of people skip breakfast because they don't think they have time.Here are three options that you can either make the night before, morning of or heat up when you're not prepared and in a rush! Two are recipes I make at home, the last is even simpler — buy healthy, frozen meals.
AVOCADO MASH ON TOAST
1 avocado, pitted
1/2 tablespoon nutritional yeast
1/4 - 1/2 teaspoon garlic powder
1/4 teaspoon turmeric
Pepper (to your preference)
Pinch of salt (optional)
2 pieces of toast
Scoop out your avocado into a bowl, adding the spices and seasonings in and mashing together with a fork.
Make sure to taste and adjust seasonings to your liking
Toast your bread
Spread your avocado mash over the toast and top with a beans, lentils or sprouts for extra nutrients.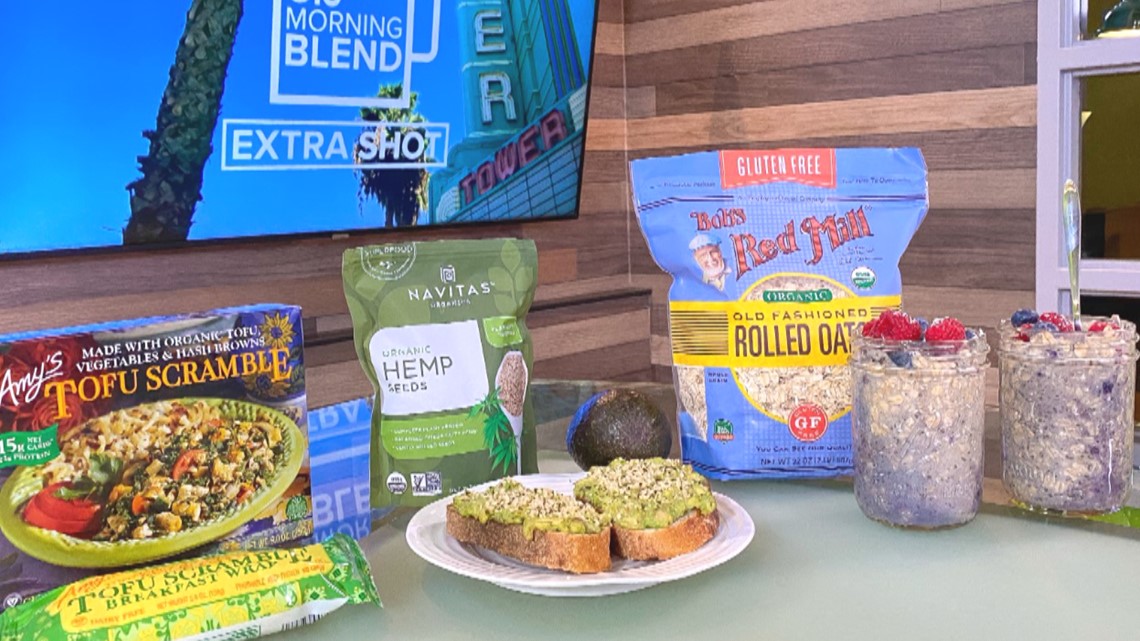 BLUEBERRY OVERNIGHT OATS
2/3 cup gluten-free rolled oats
1 cup cashew milk (or other plant-based milk)
2 dates, pitted
1 tablespoon chia seeds
1/4 cup wild blueberries (I use frozen ones, you can use other berries if you prefer)
In a blender, blend your milk and dates together well.

Option 2: If you don't have dates, you can skip the blender and use date syrup or maple syrup and just mix it right into the recipe.

In a mason jar or bowl with a lid, add the berries, chia seeds, and oats.
Pour the milk, date mixture over and stir it all together.

NOTE: Make sure that all of the oats have been touched by the milk.

Cover and place in the refrigerator overnight.
The next day, open and stir again before you eat.
*If there's too much liquid the next day, add more chia seeds or oats and mix it up again before letting it sit.
The best part about overnight oats, is that they can be made up to five days in advance. You can prep the whole week of breakfasts on Sunday and be done!
For a busy day, a frozen breakfast is totally acceptable. Check out the video above where I share a few of my favorite frozen options!