'It's at our doorstep, it's in our backyard': How California is addressing the MMIW crisis
In Oct. 2022, the Yurok Tribe held its first policy summit to address the Missing & Murdered Indigenous Women crisis. We spoke with those affected by this issue.
Morning Star Gali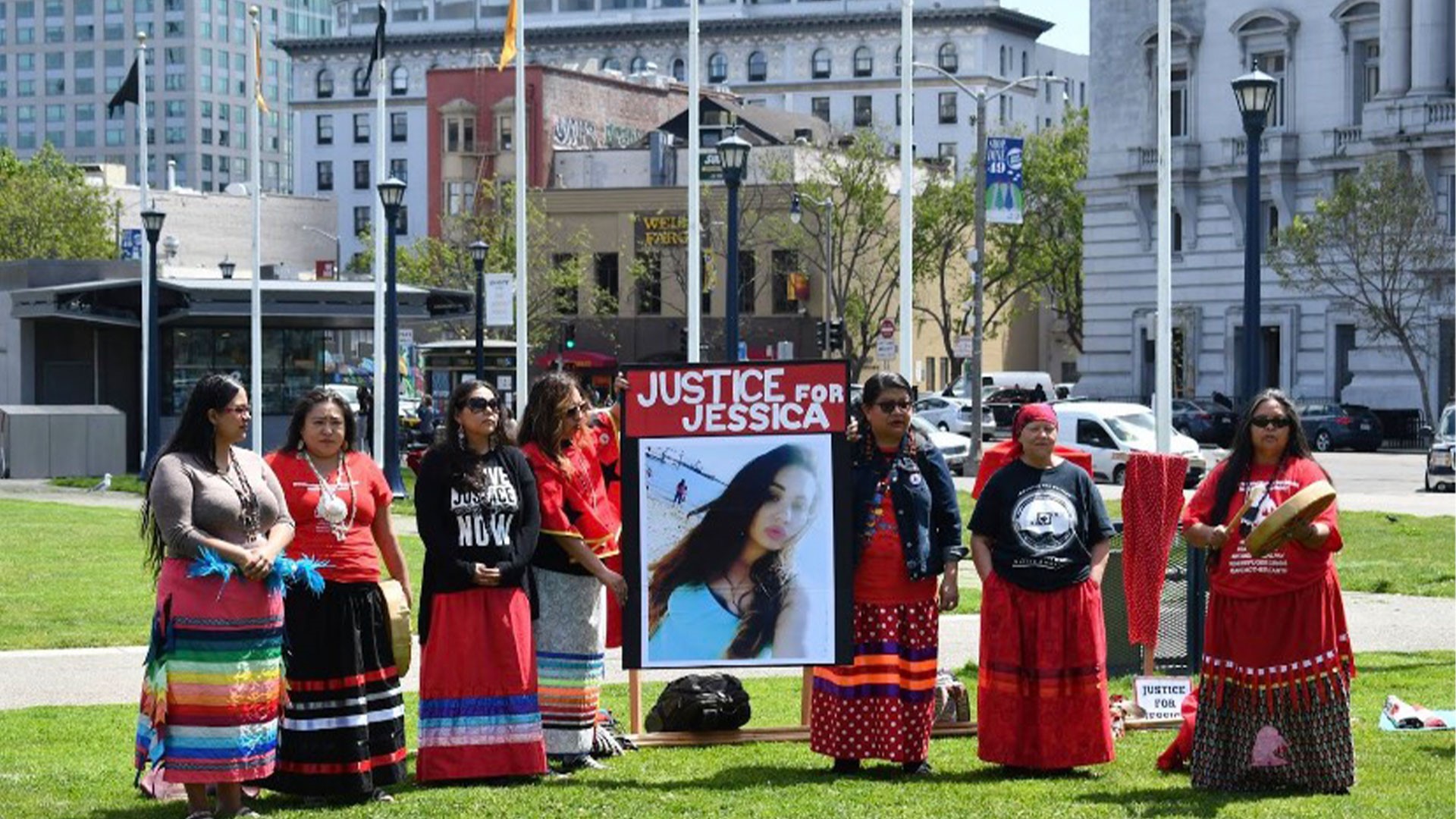 By now it's likely people have heard of the term Missing and Murdered Indigenous Women (MMIW), or Missing and Murdered Indigenous Persons (MMIP). It's a movement by Native people and allies to raise awareness for loved ones who are reported missing or have been killed. The movement also pushes for more law enforcement involvement in solving the cases of Native people, whether on Native sovereign land or elsewhere.
According to a report released in 2018 by the Urban Indian Health Institute (UIHI), a division of the Seattle Indian Health Board, 506 cases of missing or murdered indigenous women and girls have been reported since 1943. The numbers reflect information from records requests and research of 71 U.S. cities, and it is likely an undercount, the researchers say.
Chapter 1
:
How California is addressing MMIW
"We've had a number of tribal leaders coming together, to not only bring awareness but also bring solutions and also direct actions to address the crisis that's impacted us in California," said Joseph L. James, chairman of the Yurok Tribe. "But it's also impacted across Indian Country, (and) across the nation."
The summit held in Arcata brought not just tribal leaders, but state leaders and law enforcement.
"California has the third largest caseloads of MMIW in the United States," said James. "So it is at our doorstep, it is in our backyard. As tribal leaders, as elected officials to the state or the federal side, action is needed to happen through policy, through law, through public safety, through courts. The need is now our people, our women, our children, our families who've been affected by this, when we have our young women go missing, either abducted or danger or threatened. You know, it's here, it is here now."
At the conclusion of the summit, James said the consensus was a need for better education on Native American history and issues, and funding for MMIW. He also highlighted the need to reform Public Law 83-280, which grants certain states, including California, criminal jurisdiction over Indians on reservations and allows civil litigation under tribal or federal court jurisdiction to be handled by state courts.
According to data supplied by the Yurok Tribe from its 2021 report, "a total of 165 MMIWG cases across the state (of California), since 1900 (approximately 90% happened after 1980). This year, the number of MMIWG cases rose to 183. This increase is 1.3x higher than the average number of cases per year."
The report — like similar ones on the topic — raised concerns about the actual number of cases.
"We are confident that there are cases that we have not been able to count due to barriers in data collection, and feel it is likely the true number is much higher," read the report.
"I would say that one of the big issues of it being unreported, when it comes to racial classification, it is a barrier and a challenge for those that are not very aware of the issues within our community," said Gali. "There's so many stereotypes and misconceptions of even what a Native person looks like, right? So especially here in California, we don't fit that stereotype of the typical like Southwestern Indian imagery, or the Midwestern Indian imagery... and so, who defines what a native person looks like, I feel has a lot to do with it."
Gali also believes victim blaming is a contributing factor.
"There's a lot of victim blaming that occurs, especially for Native women. We see that when it's a non-Native person - when it's specifically a younger white girl or white woman that has gone missing - then there's a lot of momentum and support out in the public media," said Gali. "But when it's a Native girl or a Native woman that has gone missing, then there's a lot of victim blaming within that narrative of, like, 'What did she do to get herself into that situation? What did she do to get herself killed, to get herself disappeared?'"
California, like many states nationwide and Canadian provinces, has taken steps to address the crisis through policies and laws.
"We've been working side by side with the Indian community on this issue," said California Assemblymember James Ramos, who is a member of the Serrano/Cahuilla tribe and is the first California Indian to be elected to the California State Assembly.
Ramos pointed to Assembly Bill 3099, which helps invest $5 million into guidance, training and support on how to address crime on tribal lands as well as improving data collection and collaboration with law enforcement agencies.
"On this issue, we had one select committee hearing that came forward that talked about an alert system. If we had an alert system, then we could be more preventive (and) proactive, rather than now calling on law enforcement to investigate someone that (died)," said Ramos. "So we went to work right away with tribal leaders and created AB 1314 "Feather Alert" that was signed into law. So now there's two pieces of legislation - bills - that have been dedicated towards this crisis."
Feather Alert will be enacted in early 2023. As for the follow-up of AB 3099, Ramos says once data is collected, he plans to move on to a piece of legislation supporting outcomes of what the report identifies as needing attention.
Attention is something both Morning Star Gali, project director with Indigenousjustice.org; and Joseph L. James, chairman of the Yurok Tribe, emphasize is needed.
"I just wanted to keep putting this out there of when people are missing, because, you know, they're kids, they're mothers, they're grandmothers, they're grandfathers. (Families) just want (them) to come home and a lot of times they also want closure, too," said James.
Resources:
Chapter 2
:
Personal impact of MMIW
When you Google search "MMIW," hundreds of names will likely pop up across North America, detailing the magnitude and scope of this movement. When looking locally, names and cases of missing and murdered Indigenous people will stand out.
ABC10 recently traveled to San Francisco to speak with Jessica Alva's sister, Marlena. She shared the impact her sister's death had on her and on how she lives her life today.
"They classified it in the end as a suicide and we know that that's not true," said Marlena. "She was a loving mother, she had six kids. She had a beautiful life that she made here in San Francisco. And in like, six weeks, this man came and destroyed it."
Jessica Alva died in 2019. Her family says she was attacked by her boyfriend on April 2, 2019, and she eventually died from her injuries on April 6. Marlena says as of 2022, the case is "open but inactive."
ABC10 reached out to the San Francisco Police Department to get an update on the case. A spokesperson replied saying, "We can confirm that the case is open but inactive and we are not able to comment further."
ABC10 also reached out to the San Francisco Office of the Chief Medical Examiner, asking for Jessica Alva's cause-of-death. A spokesperson said the office is only able to immediately release a person's name, age and county of residence. All other information requires someone to order a Medical Examiner's report, which we did, and it should arrive in a matter of weeks.
During the interview, Marlena said she and other family members of MMIP feel cases involving their loved ones aren't taken seriously.
"In my sister's case, things were done wrong from the very start," she said. "They stigmatized her, I believe, as 'Oh, another low-income housing?...Oh, on food stamps?...Is this somebody who has a past?' All these things in the system start to devalue somebody's life, which is not okay."
In terms of MMIW, both Morning Star Gali and Marlena said they feel there is a lack of care for those in the Indigenous community, and a lack of urgency when they go missing.
If all things were equal, Marlena said, "there would be no difference in the response between a middle-aged white woman that is living the classic suburban life and kids at home and no record and nobody understands why this happened to her - versus somebody who has a past, colorful or not."
Things are not equal, however.
"Why are they treated differently?" she asked. "You should see a life as a life and a mother as a mother and somebody missing as someone missing."
Marlena shared with ABC10 she, herself, could have been a statistic. She opened up about being a victim of domestic violence two years prior to her sister's death, and how her situation had similarities to her sister's case.
"If our incidences are so similar, you know, why her? Why not me?" she said. "I could think of a million reasons why I would rather have it had been me than her. It had to happen to the kinder one, the sweeter one, and the more forgiving one."
Marlena said following her sister's death, her life took a spiral, but she found hope and her center.
"I tore myself apart about it... I had to seek healing because it brought up everything for me through our whole childhood and all of our past and growing up," she said. "Thankfully, I went to Friendship House and I got to reground myself in tradition and ceremony and address everything that's happened."
Marlena said she uses her sister's case as motivation to push forward and demonstrate what MMIW means to her and the community.
"The term 'Missing and Murdered Indigenous Women' - it stands for everything that I am. I am a woman, I am a mother, I am a daughter, I am a niece. I'm an auntie. I'm a granddaughter," said Marlena. "We're still here and we still matter. The thing is, this generational trauma builds up warriors, and things like this activate that DNA in us, you know? And what's meant to tear us apart only makes us stronger together."
She said everyone should care about the MMIW movement, not just Indigenous people.
"If you had your mother tragically murdered the way that our women have been murdered: you've had women that were pregnant, had their babies cut out of their stomachs, then beaten with blatant disregard for their lives and thrown into garbage cans, dumpsters, burial sites, mountains, deserts and just left like trash, how would you feel if somebody did that to your mother, to your sister?" she said. "Then we talk about the correlation between so-called America and our ancestors, whose bones it's built upon and how this genocide has been happening since the beginning of the time that the colonizers stepped foot on our land. There's still no justice (here), and these are uncomfortable conversations that don't just go away because you don't want to have them."
ABC10: Watch, Download, Read