SACRAMENTO, Calif. — Many women go into a doctor's office feeling intimidated, alone and lost. Women's health care is just not talked about enough and it has serious consequences.
Take fibroids for example, millions of women have these generally non-cancerous growths on their uterus. But for some, it can turn into heavy menstrual bleeding or even a total hysterectomy.
ABC10 spoke with three women in our community who say their stories need to be heard.
Malaika Osborne
Malaika Osborne never heard the term 'fibroids' until she got pregnant.
"They just said, 'Hey, you know, you have some small fibroids, and here's some information on it,' and they sent me on my way," she said. "When I Googled it, of course, that is the bad thing to do was Google anything. And so it gave me all of this horrendous information, miscarriage and you know, all of that. So instantly I became scared."
Osborne says she didn't get any information and her first child was born weighing just four pounds and 15 ounces.
"He was in the NICU for a minute and then they came in and gave me a questionnaire because he was so small," she said.
But that was just the beginning of her journey dealing with fibroids. Watch her full story below:
Wanda Abney
"For me, it was about being discriminated against because of my weight," said Wanda Abney. "I had heavy periods and heavy bleeding throughout my life. My doctors kept saying lose weight, lose weight, lose weight. I had trouble conceiving and my doctors wouldn't go any further in testing."
Abney says doctors just kept telling her to lose weight which became frustrating because she felt her symptoms weren't taken seriously. What came next was a shock to her system.
"I feel I was wrongly sterilized," she said. "I had an endometrial biopsy, which was clear so there's no cancer there, but I had an ovarian cyst. I was going to get it medically removed and my doctor told me before I went into surgery that if we find any instances of cancer, we're going to give you a hysterectomy. So, I go to surgery and come out and my doctor tells me we had to do a hysterectomy. So, of course, I'm freaked out."
Abney says doctors told her there was no cancer but she had adhesions from her c-section so that's why they did the hysterectomy. Watch Wanda's full story below:
Melissa Muganzo
Melissa Muganzo is a fibroid survivor who lived with heavy periods for about 15 years.
"It was super normalized in my family," she said. "I would have periods for eight or nine days. Heavy bleeding, diarrhea, cystic acne, bloating back pains... I just remember going through this in high school wearing double pads."
Muganzo says she went to her doctor but says they didn't give her any tests, didn't refer her to an endocrinologist, or didn't get her hormones checked. She says they prescribed birth control instead.
"They tried to prescribe me birth control right away and then when I said, 'I want a hysterectomy,' they were like, 'Well, your future husband is going to be very mad that you're sterile,'" she said. "That could really cause divorce and this is a female doctor, so she was like 'I'm gonna have to deny you' ...so that let me know two things can be true: that the system is not set up for patients to really advocate for themselves because when they do all these regulations come into play, and that people are just out here slinging birth control left and right and not really looking at like what the problem is."
Muganzo says when she started taking birth control, her symptoms started getting worse and never stopped. Watch her full story below:
The Big Hysto
Melissa Mungazo decided she was going to create a documentary called "The Big Hysto."
It features local Sacramentans talking about black uterine health and medical injustices. While the documentary started a conversation, it also created a community for what Mungazo calls a silent pandemic.
If you would like to see Melissa's full documentary "The Big Hysto" there are plenty of chances for you to check it out. On Mar. 2 the film will be screened at Sacramento State at 7 p.m. for free.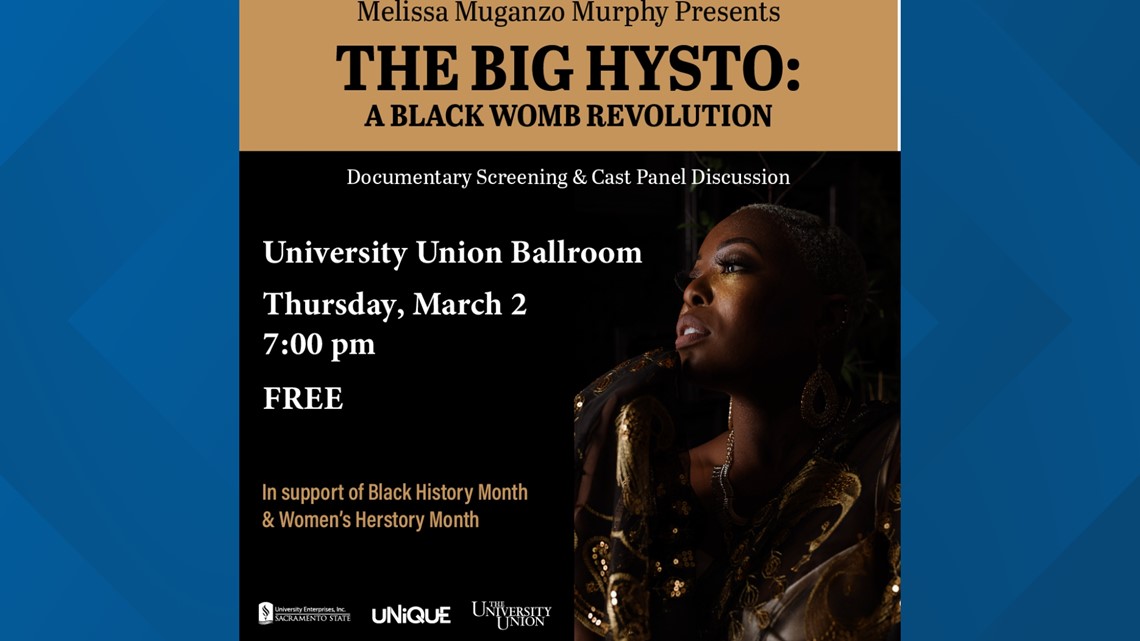 ABC10: Watch, Download, Read