MODESTO, Calif. — It's been over two years since a Modesto mother and her kids were kidnapped outside of Richy's Mini Mart in Modesto. Officials say it happened at gunpoint by someone they knew, and while the kids were later dropped off safely, the mom, Susana Torres, is still missing.
"She was a very happy and outgoing person," said Yazmin Cruz, a cousin of Torres. "Mainly, she just loves being around the family, just spending time with us."
The Stanislaus Sheriff's office says Javier Chavez, the estranged husband of Torres and the father of the kids, allegedly took the three but dropped off the kids with his parents a few hours later and left with Torres. The two haven't been seen since.
The video shows Torres being led to her car by Chavez. Torres gets into the driver's seat. It is clear from the video that there were several people in the parking lot of the market at that time. In the video, deputies said the Chavez forced Torres into the passenger seat and drives away.
Chavez, whom Torres had a restraining order against, is believed to be in Mexico and is wanted by law enforcement.
"We still have hope," said Cruz.
The family says they continue to hold rallies and do what they can to spread the word about Torres' kidnapping.
"We try to keep positive about her when it comes to the kids being around," said Cruz. "She'll be here soon. She'll be back pretty soon…we maintain hope."
Just last year, the family held signs with Torres' photo on the busy Modesto intersection of Crows Landing and Hatch Roads to raise awareness.
One sign held by Torres' son Kevin at the time read "Necesito a mi mama". In English, it translates to "I need my mom."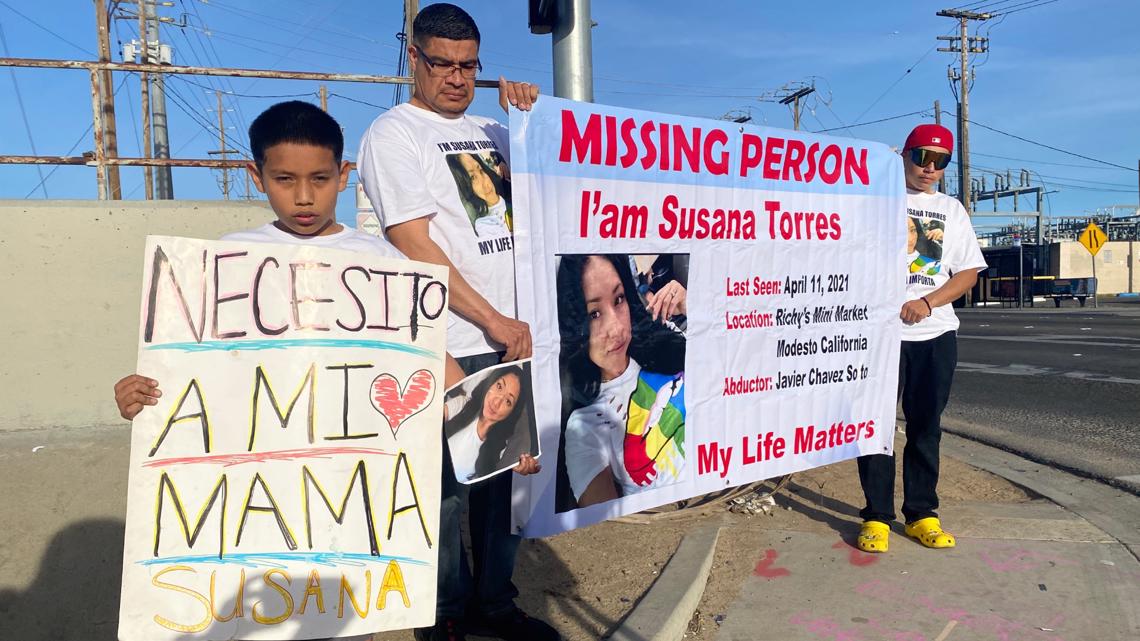 The Stanislaus County Sheriff's Office released the following statement:
"The Sheriff's Department is committed to bringing justice to the family of Susana Torres. This is a tremendously challenging criminal investigation encompassing collaboration with our allied agencies at the local, state, national, and international levels. Our detectives are working tirelessly to chase down every lead, examine every piece of evidence & maintain the highest levels of communication with her family. We will never give up. Law enforcement needs members of the community to come forward and share whatever pieces of information they have."
Deputies add they are working with state and international agencies to chase down every lead and piece of evidence to bring justice to Torres' family.
The search for Javier Chavez is still ongoing.
If you have any information about the case, you are being asked to call the Stanislaus Sheriff's Office at 209-525-7117.
ABC10: Watch, Download, Read