PORTLAND, Oregon — A Purple heart medal went out on Friday to a World War II veteran who earned it eight decades ago. Malcolm Champagne from Portland got the Purple Heart medal and several other awards, and despite the delay, it was the perfect day for it.
"It's not every day you get to right a wrong and recognize a hero. Today we award the Purple Heart to United States Army Air Corps 1st Lt. Malcolm "Mac" Champagne," said Brigadier General Dean Sniegowski of Eighth Air Force, who came to the ceremony at Laural Parc Senior Living Community in northwest Portland.

Champagne, 102, was just barely into his 20s and a navigator on a B-17 bomber in World War II. After more than a dozen missions, a big assignment for his 326th Bombardment group, to take out a ball bearing factory critical to Germany's war machine. The second raid took out the factory but cost the Army Air corps a lot, on a day dubbed 'Black Thursday.'

"We lost 60 B-17's that day, that's 600 men; of those 600 men 300 survived, I'm one of those 300," Champagne said.

Champagne survived his bomber's take-down by parachuting from about 20,000 feet. Injured when he hit the ground behind enemy lines, he was a prisoner of war for nearly two years. It's no accident the ceremony was held on the national POW-MIA Recognition Day.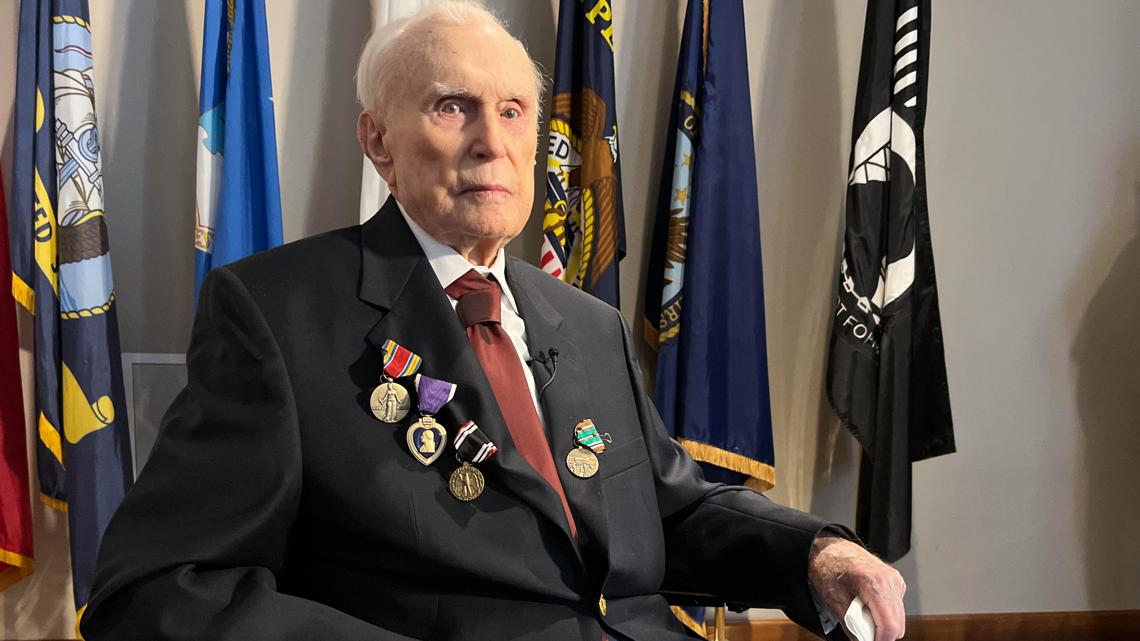 "I cannot think of a more fitting day for a former POW to receive his Purple Heart. Congratulations sir, and thank you for your service," said Dr. Teresa Boyd, VA NW Network director while addressing the 102-year-old Portlander.

Champagne was also recognized for receiving the Prisoner of War Medal, and several other awards including the World War II Victory Medal and US Army Air Force Navigator Wings.

"I think we did a damn good job," said Champagne with a smile.
It's unclear why it took so long for Champagne to get his Purple Heart, but once Portland Veterans Affairs social worker Fatima Safi got involved, it happened.

"And I'm really proud of how strong the military and veteran community is for the way we collaborated to put this event together and to give Malcolm the recognition he deserves," said Safi, who also serves as a Former Prisoner of War advocate for the Portland VA.

And for Champagne, it's a mix of honor and humility, on a day where the military, family and friends recognized his service and sacrifice.

"Well, I'm flattered, I really am, I'm very grateful, very grateful," said Champagne after the ceremony. "But I always think about the guys who didn't make it."