SANTA ROSA, Calif. — It is a momentous day at Russian River Brewing Company. There is a casual excitement in the air. A celebratory feeling radiates from employees at the brewery's Windsor location, where, for the first time ever, Pliny the Younger is being bottled.
When Russian River Brewing first announced the victorious return of Pliny the Younger for the 2020 season, the beer-loving world rejoiced.
The signature Triple IPA has garnered something of a cult following in recent years. Fans were anxious to hear that their beloved brew would be ready on the first Friday in February, as it has reliably been for the last 15 years.
Then, the brewery hit fans with another huge piece of news: the exclusive Younger would be available in bottles for guests at both the Santa Rosa and Windsor locations.
"We decided to bottle Pliny the Younger in 2020 to take the Pliny the Younger experience at our breweries to the next level for our guest," said Vinnie Cilurzo, brewmaster and co-owner of Russian River Brewing, in an interview with ABC10. "Each year, we try to better the experience, and this has been going on since 2010 when folks started lining up for the release… Bottling Pliny the Younger was the next step in an even greater customer experience."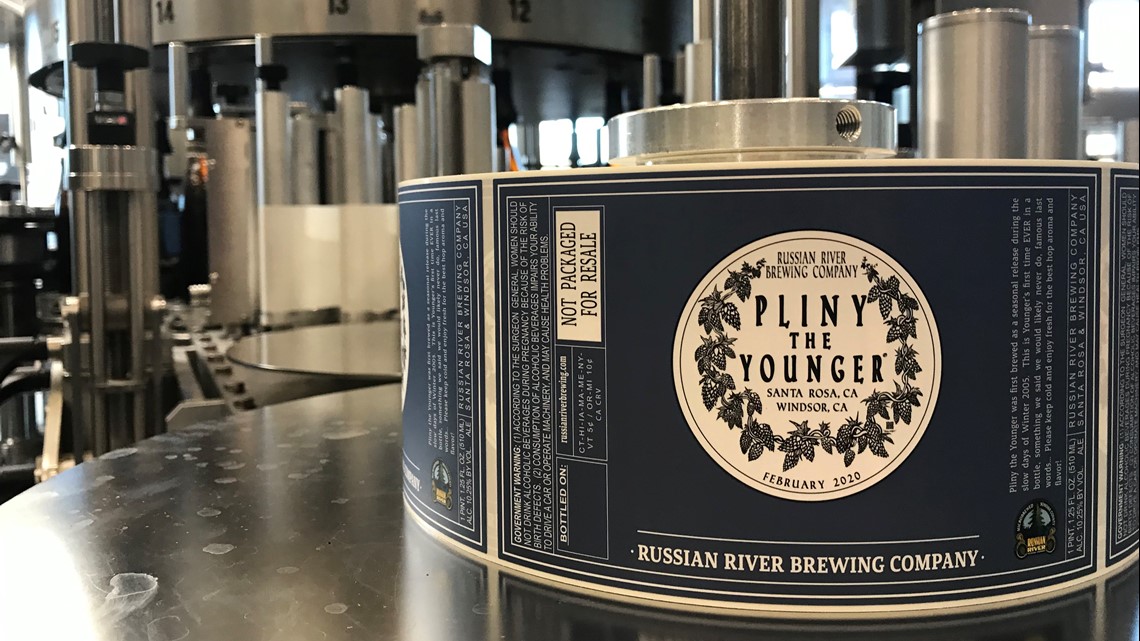 Vinnie started brewing Pliny the Younger in 2005, but it wasn't until the 2010 release that something clicked for the beer-drinking community.
Vinnie describes arriving at the Santa Rosa brewpub in the early hours to put Pliny the Younger on tap. It was a practice he had done for five previous years. However, as he arrived this time, he noticed something… unusual.
Though the doors were still hours away from opening, folks were already lined up in front of the entrance.
"I went out to ask what they were doing at the brewery so early, and they said, 'to taste one of the top-rated beers in the world,'" Vinnie recalled. "I had no idea what they were talking about, but apparently Pliny the Younger was highly-rated on a couple of beer rating web sites."
'Highly-rated' is putting it somewhat mildly, though.
On Beer Advocate, one of the top beer rating websites in the world, Pliny the Younger is given a "World-Class" score of 100, the highest score a beer can receive. Younger also cracks several top 10 lists and is only outpaced in some rankings by its older relative, Pliny the Elder.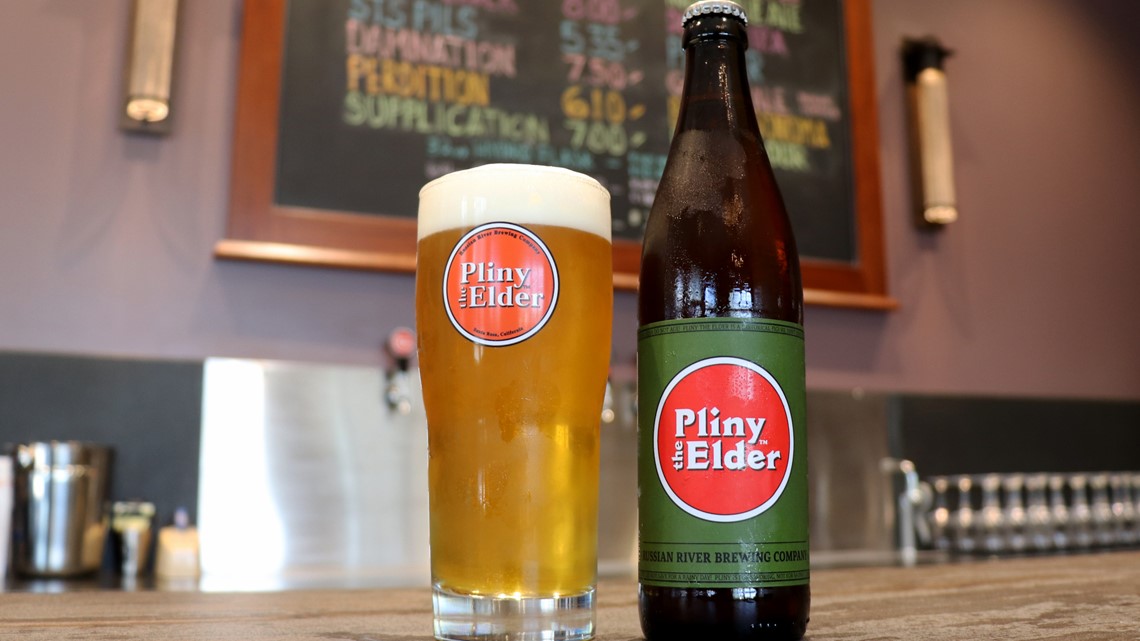 "Now, 10 years later, with folks still waiting in line — and 16 years total that we've brewed Pliny the Younger — we are proud that folks still come out for the release," Vinnie said. "Natalie and I walk the line every morning and we are amazed to meet folks who have been coming out for the release for years on end."
Bottles will only be available at the brewery locations, and only for those who wait in line to get into the brewpub; you can't even get it in the Russian River gift shop. Guests are limited to two bottles per person per day.
This type of finite release is not unusual for the brewing company. Younger itself is only available for two weeks every year. Beer aficionados wait anxiously for a single keg of Younger to be delivered to their nearest taproom.
Nik Cvetich, the Beer Program Manager for Pangaea Beir Café in Sacramento's Curtis Park neighborhood, told ABC10 "It's kind of one of those things where their rep will reach out, and say 'Hey, we have a keg. Do you want it?' And the answer is obviously 'Yes.'"
Pangaea sold out of Pliny the Younger in half an hour last year.
It's Russian River's humble effort to make Younger truly special for beer drinkers. Brewing the Triple IPA is expensive and time intensive, so you must be a part of the community (or make an effort to seek it out) in order enjoy the beer.
On Feb. 5, all of those weeks of work to come to fruition. An assembly line of brown bottles await their turn, and rolls of cobalt blue labels announce the occasion. "Pliny the Younger" they say, surrounded by a wreath of hops.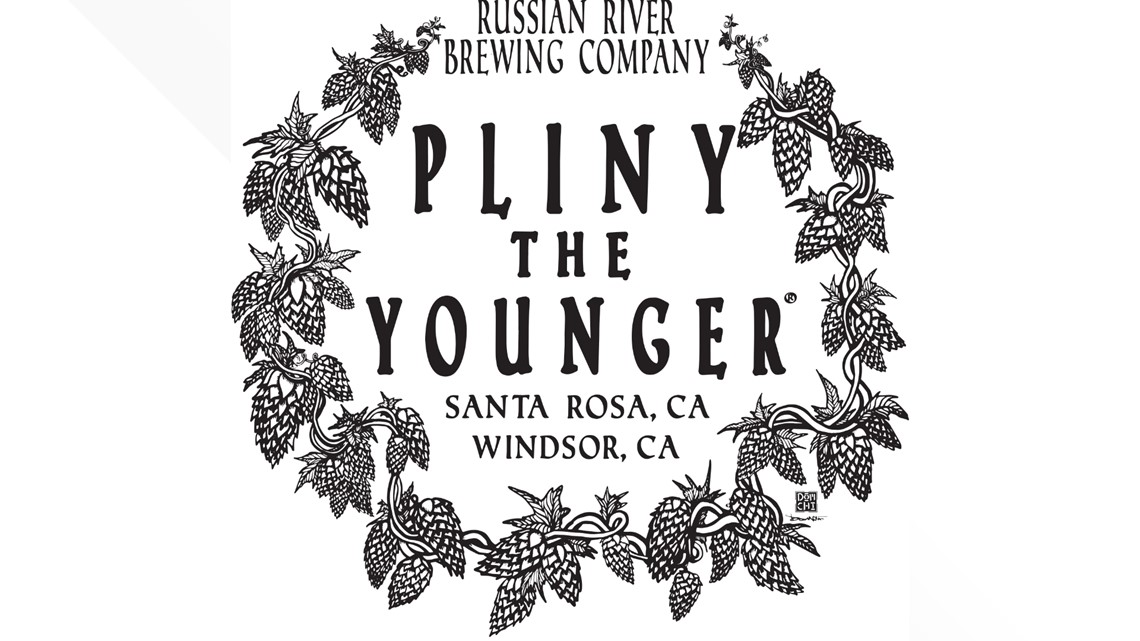 As the bottles get filled, foam rises to the top, sometimes spilling over and collecting in a silver gutter. It's a tragic waste, but unavoidable. The whole factory smells of beer, light and airy, with a hint of pine. As we step into the brewing room with Natalie Cilurzo, co-owner of Russian River, the smell suddenly changes and we're hit with an earthy, dried grass aroma.
"We're brewing right now," Natalie explained.
Vinnie is unfortunately not there. He injured his back just the day before.
"There's a lot of stress that we put on ourselves leading up to Pliny the Younger," Natalie said.
Missing out the historic bottling day is described as "missing the birth of a baby" by Zach Kelly, lead brewer at Russian River Brewing, who has taken on the responsibility of overseeing operations in Vinnie's absence. Natalie later describes it as missing a wedding ceremony.
"He's really disappointed," Natalie said. "It's almost like a wedding…you have all of this preparation for the big day, and then the big day comes, and then it's over."
However, Pliny the Younger is in capable hands. Kelly has been bottling beer for ten years. The people we encounter in the bottling plant seem relaxed. As Kelly and a co-worker pass, they greet each other.
"I am the Younger," they salute, a casual acknowledgement that everyone at Russian River has a heavy hand in creating Pliny the Younger—and it shows.
It's been a long road, of course. A Triple IPA doesn't just come about from thin air, after all.
Vinnie is not only the creative master behind Pliny the Younger. He is credited with actually inventing the Double IPA in 1994.
Known for experimenting with different styles and ingredients, Vinnie would homebrew in his parent's wine cellar in Temecula, CA. He spent many mild, Southern California nights acting as a 'mad scientist'; the concoctions he created were what some might call "extreme."
"We made some traditional pale ales, some IPAs, but were doing some pretty crazy stuff," Vinnie said in a 2007 interview with Beer Advocate. "We made a beer using Petit Syrah grapes from my parents' vineyard. We used prickly pears in one beer."
It was around this time that Natalie and Vinnie met. This year marks 30 years for the couple, and Natalie laughs as she recalls their first date.
"So, when I met Vinnie, he was 19 years old and he was homebrewing," Natalie said. "He just was really passionate about beer at the time. I'm about a year and half older, and I had to buy the beer on our first date. "
When Natalie asked him what he wanted to do in life, Vinnie did not hesitate: he wanted to own his own brewery.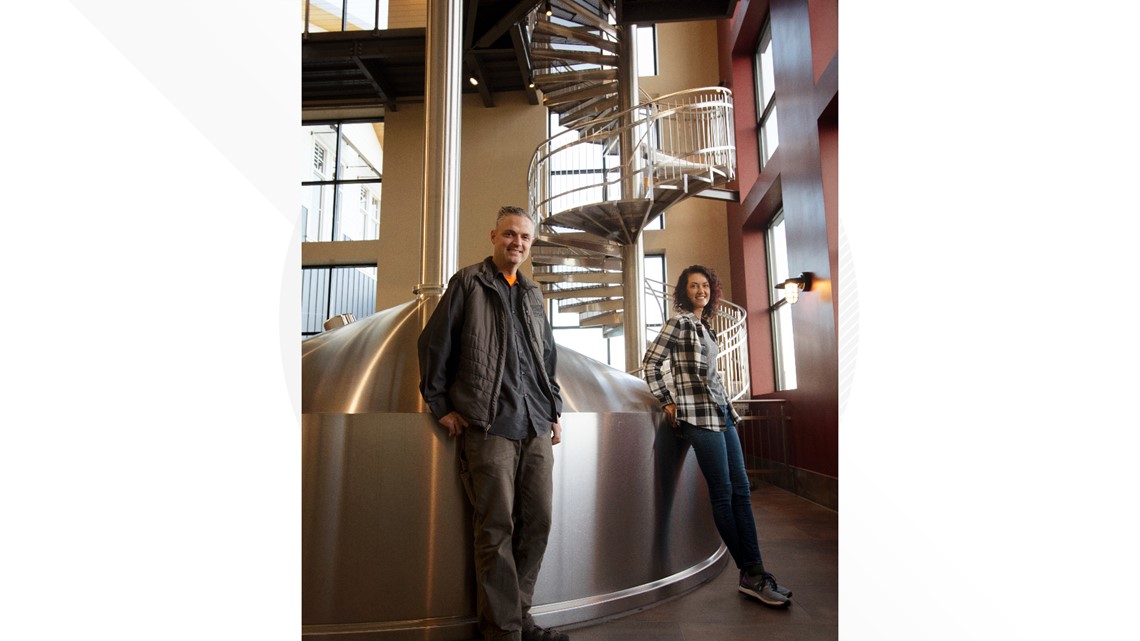 This was pretty unheard of then, for while there were some major breweries in California, they were often off-shoots of bigger companies. In Southern California, where Natalie and Vinnie both lived, you could count the number of breweries on one hand.
But for someone with Vinnie's vision, that seemingly absurd dream was closer than either had thought. Vinnie opened Bling Pig Brewing Company, the first microbrewery in Temecula, in 1994. Though this brewery was only in operation for three years, Vinnie's innovative techniques—from the Double IPA to triple and quadruple dry hopping—made a lasting impact on the beer industry.
From Blind Pig Brewing, Vinnie was hired as brewmaster for Korbel Champagne Company's brief foray into the beer brewing industry. For a time, Vinnie was the sole employee of the brewery. When it was time for Korbel to bow out, it left Russian River Brewing to Vinnie and Natalie in lieu of severance.
It couldn't have worked out better. Vinnie continued to push the envelope, finding new ways to bring about unique zest, tone, and body. It was from this type of experimentation that Pliny the Elder was born, and much later, that the first ever Triple IPA was created.
"Initially, I used the Pliny the Elder recipe and extrapolated off that to make Pliny the Younger with the core hops being Amarillo, Centennial, and Simcoe (with Simcoe still being the cornerstone of Pliny the Elder)," Vinnie said.
Every aspect of the brewing process is designed to bring out the underlying essence and character of the beer.
"The 'triple' represents three times the amount of hops as a standard IPA," Vinnie said, guiding ABC10 through his process. "It takes a substantial additional volume of malt to brew Pliny the Younger because of the high original gravity." (And eventually high alcohol content.)
Younger's recipe also calls for dry hopping, in which the vivid green flowers are dropped right into the fermenter.
Since Vinnie is not boiling the hops, there is no added bitterness. Rather, the big hop aroma is magnified. The beer is hoppy, that's for sure. But after the first sip, the flavor mellows out and you're left with a smooth pine taste, reminiscent of grapefruit and citrus rind.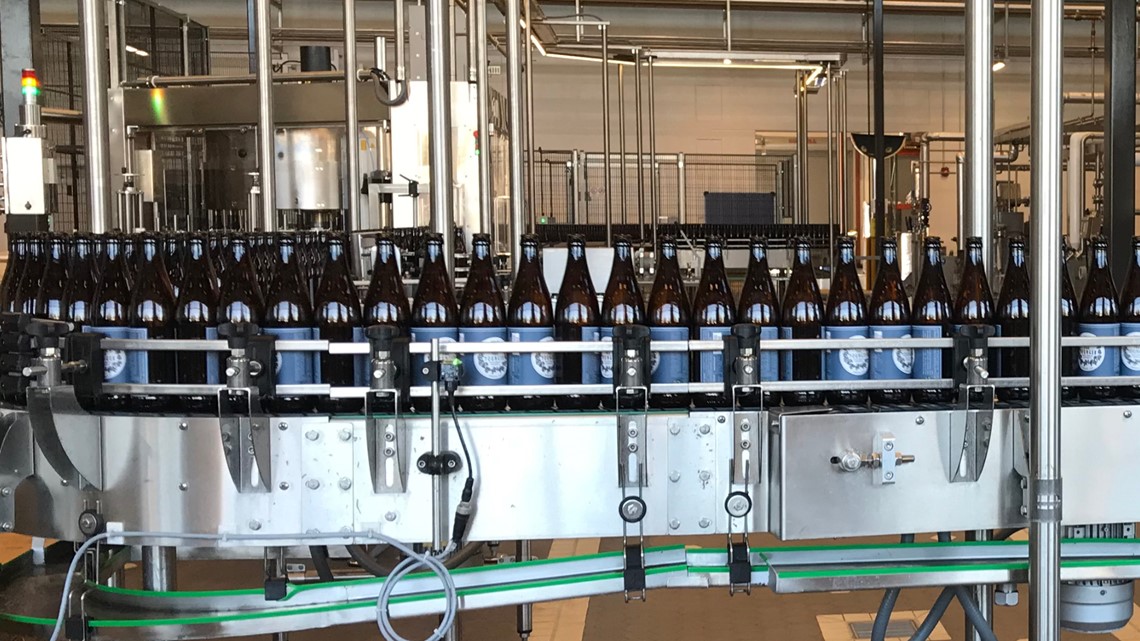 Life for Vinnie and Natalie is quite a bit different from when they first started. They have 200 employees. They have two brewery locations. With the opening of the Windsor location, they are brewing more beer than ever.
There's less time for experimentation, less time to oversee every aspect of the brewing process.
"As the owners of the company, you're pulled in a lot of different directions and…it's hard for you to do the things you used to do, that you love to do, because you're now in charge of a lot more people and a lot more things going on," Natalie said.
However, there is one particular thing that Vinnie still does himself: barrel-aging.
"I think in 1998 or '99 was the first time Vinnie put a beer in a barrel, and added bacteria and yeast to it to make is really sour," Natalie said. "He just developed a love for that. We were talking yesterday, and that it is his favorite thing to do. After all these years. His favorite thing to do."
Russian River Brewing has an incredible list of barrel-aged beers, along with many other choice selections.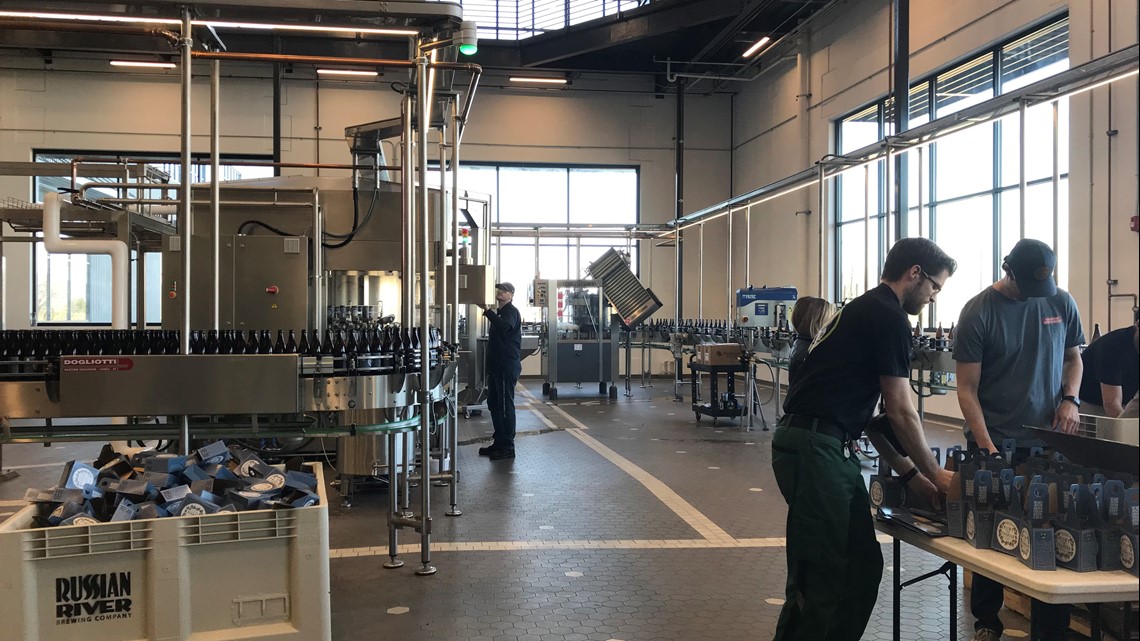 When compelled to reveal their favorite brews, Vinnie and Natalie showcase the eclectic mix of styles that the brewery offers.
"It's like asking which is your favorite child (if you have kids)," Vinnie said. "If I was pressed, I would say my two favorite RRBC beers right now are Robert and Velvet Glow. Robert is a classic Belgian style Saison and Velvet Glow is a classic German style Helles."
"I love hoppy beers, but I don't like super high alcohol beers," Natalie said. "My favorite beers are Blind Pig IPA… and Happy Hops is my other favorite beer."
But if you are stuck on trying the exclusive Younger, there is enough to go around despite the narrow window of availability.
Russian River Brewing is set to brew approximately 500 barrels of Pliny the Younger for the 2020 season. For some visualization, a barrel of beer is 31 gallons, or 248 pints. The batches are staggered, meaning that a second batch will go on tap for that for the second week of Younger's release. There will also be a second bottling.
Get your bottled Younger at either the Downtown Santa Rosa or Windsor breweries starting Feb. 7 until Feb. 20.
FOR NEWS IN YOUR COMMUNITY, DOWNLOAD THE ABC10 APP: