DENVER — For the first time in the 31-season history of Thunder, a scheduling conflict will prevent the Denver Broncos' galloping mascot from riding Sunday when the Broncos play the Washington Commanders at Empower Field at Mile High.
Ann Judge, who has been riding the Thunder horses the past 27 of those 31 seasons, is competing in the Sport Horse Arabian & Half-Arabian Championship Horse Show this weekend in Wilmington, Ohio and in the name of safety, Thunder IV will remain at his ranch in Bennett.
> Video above: '30 years of Thunder': Documentary honors Broncos' mascot.
So why not bring in a substitute rider to run Thunder IV in leading the Broncos' players onto the field for player introductions and to celebrate the team's touchdowns and/or field goals?
"It's not safe,'' said Sharon Blake, who owns the Thunder horses with her husband Ernie Blake. "It takes too long to train somebody to be on the field. You can take an excellent rider – and eventually when we're ready to retire we'll train someone for the Penners; we've already talked to them about that -- but we train a horse for three years. And even if you have a super good horse, they still have to experience everything that goes on on the field, and it's just unsafe."
The operation of Thunder running on the Broncos' home field during game days is more intricate and laborious than it looks. Thunder has a team of six people who are with him on game day.
"Everybody's got a job,'' Sharon said. "Ernie, he clears the photographers on the field and he also checks the field for objects. He has found stuff on the field ahead of time. Annie of course rides and trains. Then we have Rudy who saddles and helps with the horse. And I direct and I'm the groom and I do a bunch of other things. I like being behind the scenes.
"And then we have Dave who gets the refs out of the way on the field. And he pulls the flag out. When he runs the field he carries the flag down the side and gets it out for Ann."
Damani Leech, the Broncos' team president, said that while the team and fans will miss Thunder on Sunday, bringing in another well-trained horse and another expert rider was not a viable alternative. For starters, no horse, no matter how well trained, is ready for the on-field chaos and commotion that exists during the pregame introductions and scoring celebrations.
"It's a few things. One, certainly, safety is paramount,'' Leech said when asked by 9NEWS about Thunder not running Sunday. "Safety of the horse, safety of the rider, safety of everybody on the field.
"The second is we want to recognize and be sympathetic to all the years of service from Ernie and Sharon and Ann and be empathic to that. It's a great moment for Ann to be able to compete in these championships and we really want to be supportive of her.''
The Blakes say Judge is one of the best Arabian horse riders in the country, and then some.
"One time a ball boy ran through the cheerleaders right in front of her,'' Sharon said. "He was not looking. And she stopped on a dime and didn't hit him. I mean he ran right in front of her."
"She is the premier Arabian horse judge,'' Ernie said. "I think in this country, maybe in the world. She goes around the world and judges Arabian horses."
History of Thunder
Thunder I first galloped for the Broncos to start the 1993 season – the same year the Denver Broncos cheerleaders first performed -- and he continued to run through the 2003 season. Then Thunder II ran from 2004 through the 2013 AFC Championship Game when the Broncos beat Tom Brady and the Patriots.
Thunder III made his debut at MetLife Stadium in New Jersey for Super Bowl 48 after he was FedExed to the game. It wasn't the first time the Broncos' mascot was seen at the team's Super Bowl. Thunder I appeared at the Broncos' back-to-back Super Bowl championship games in San Diego and Miami in 1998-'99. Thunder III also led the Pro Football Hall of Fame parade in Canton, Ohio in 2019 when Broncos' owner Pat Bowlen was inducted and traveled to San Francisco for the team's Super Bowl 50 title at Levi's Stadium.
There was one other time Thunder missed a Broncos home game.
"This is the only game we've missed in 31 years because of scheduling conflict,'' Sharon said. "In the early days, Thunder I got hurt. A mare kicked him while he was breeding.''
"He was a stallion,'' Ernie said of Thunder I. "The only stallion, we learned our lesson. He wouldn't put up with police horses being around."
Thunder has been a gelding ever since. Stallion or gelding, the Thunders have shared similar distractions.
"There are only two things that I've observed the horse doesn't get used to: One is the pom poms,'' Ernie said. "They're unnerved by the crinkly noise they make. The cheerleaders are super about putting them behind their back whenever the horse is in the area.
"The second thing is The Wave. The horse will watch it until it gets behind them and then they turn quickly to make sure it keeps going.''
Said Sharon: "Thunder I, when they used to do The Wave more, he'd be like this (turn and look). And then he'd duck when they came near him.''
Thunder does not wear blinders.
"We tried that but it really doesn't work because they like to be able to see behind them,'' Sharon said.
Thunder III is 23 years old and retired since after the 2020 COVID season. He wasn't allowed to run on the field for home games that season because of pandemic fears but that did not halt Thunder's attendance streak.
"We showed up at the mini stadium in the parking lot outside the stadium,'' Sharon said. "We came to every game."
For one game in 2020, Thunder III ran a strip of grass between parking lots. Thunder IV, 15, began his run at the start of the 2021 season.
"We don't start training them until they're around 10,'' Ernie said. "They're like kids. They've got to have that amount of maturity to understand their responsibility in their job. And then it takes about three years to train them."
The training doesn't stop and remains vital until game day.
"He gets trained every day -- another reason why it was difficult for Ann to ride him Sunday,'' Sharon said. "Even if she had flown back in the middle of the night and got here – which she can't do because she can't leave the horses that she's in the competition with – she wouldn't have been able to train him all week.''
The Arabian Sports Show is a 10-day competition that began Wednesday of last week. Judge did fly back for the season opener against the Raiders on Saturday afternoon, rode Thunder during the game, then flew back to Ohio early Monday morning. The conflict upon conflict this time is the championship is being held Saturday night. The Broncos kick off at 2:25 p.m. Sunday.
"The horses have to be off the Fairgrounds by noon Sunday,'' Sharon said. "And she's hauling them home."
The event in Ohio is Judge's final competition.
"Ann's commitment has been special,'' said Shawna Peters, director of Denver Broncos cheerleaders. "She has given up a lot of things in her life so I think the (Broncos) organization showed a lot of grace in allowing her to do things that is really the pinnacle of her career."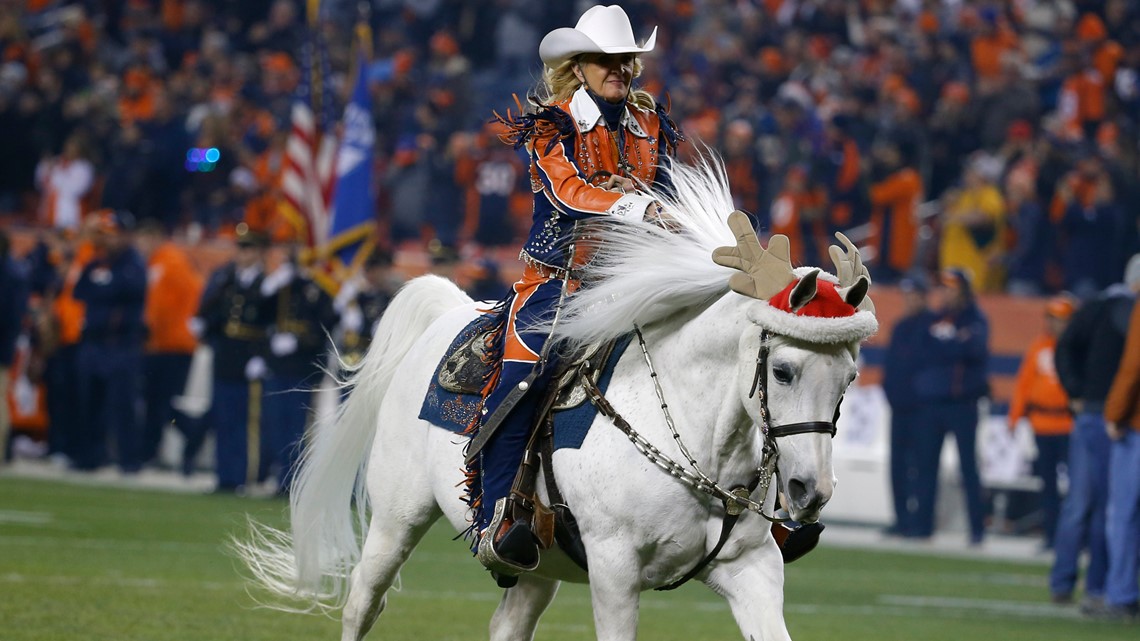 Riding safely during games
The only Broncos scores that are not followed by a Thunder run is if it's inside the 2-minute warning of each half. There are too many people in the tunnels waiting to come out for halftime entertainment for Thunder to run so late in the first half. And Thunder has to be loaded up before the crowd spills out after the game or else he may have to wait a couple more hours before his tailer can be pulled around – a wait that is not good for the horse.
The introduction of starting lineups is a hyper-energized event with pyrotechnics, smoke, people, flags, roaring noise from the home crowd and public address system, cheerleaders, pom poms, players and more people.
Thunder and Ann Judge make it look easy but a horse, like humans, can be finicky.
"We don't think we can afford a single goof,'' Ernie said. "When we're out there, we anticipate. That's why everybody has a different role. And we do anticipate and avoid on a fairly routine basis what could have been a problem."
It can be safely assumed all of Broncos Country will understand the safety concerns as to why Thunder won't run Sunday. Still, the Blakes feel a little sadness about the Broncos playing a home game without them and their horse.
"Oh, absolutely,'' Ernie said. "Not a little. A lot. This is a great priority in our lives. We have not made every single game for 31 years without making it a priority in our scheduling."
"Like Christmas Eve,'' Sharon said, referring to the Broncos' hosting the Patriots on the night of December 24.
Don't worry, Broncos fans. The team's scores will be properly celebrated, even if Thunder IV won't be part of the post-score show.
"We looked at a lot of different options but it will largely be the same routine,'' Leech said. "The video board, lights, fireworks, the flag runners. And Miles will be out there leading the group. Miles will be our substitute horse. He'll be getting our steps in. We hope Miles is exhausted by the end of the game."
Thunder IV will roll again October 8 for the Broncos next home game against the New York Jets. The Blakes are a couple years away before they started training Thunder V.