CITRUS HEIGHTS, Calif. — Rain or shine, the Sacramento Banjo Band serenades hungry patrons at the Straw Hat Pizza Parlor every other Sunday. The ensemble is made up of about 15 to 20 banjos, a tuba, the clarinet, an old washboard, and the gut bucket (aka the washtub bass).
It's easy to get lost in the sea of musical talent, but if you listen closely there is one banjo player who really stands out. His name is John Green, and at 91 years old he is the oldest member of the banjo band.
"When you step into an instrument like this at that age it takes a commitment," said John.
It's been a long journey. John started his musical career at a young age.
"We had a show at school and I sang 'Wreck of the Old '97.' I was 6 years old," John recalled.
Music was touch and go for a number of years, but John's singing career really took off during his service in WWII when he found himself on stage singing for locals when he was on leave. The applause hooked him.
"Once that feeling grabs you by the heart, it has you for a long time," said John.
John was married to music until he married his first wife. That's when he says he ran into problems.
"We got married and she introduced me to bars and booze and that was the end of my music career," John said.
Alcohol kept John in a dark place for a long time until they divorced. Then a familiar sound brought him back to music. In the 1960s, the banjo was big, and John wanted to be a part of it.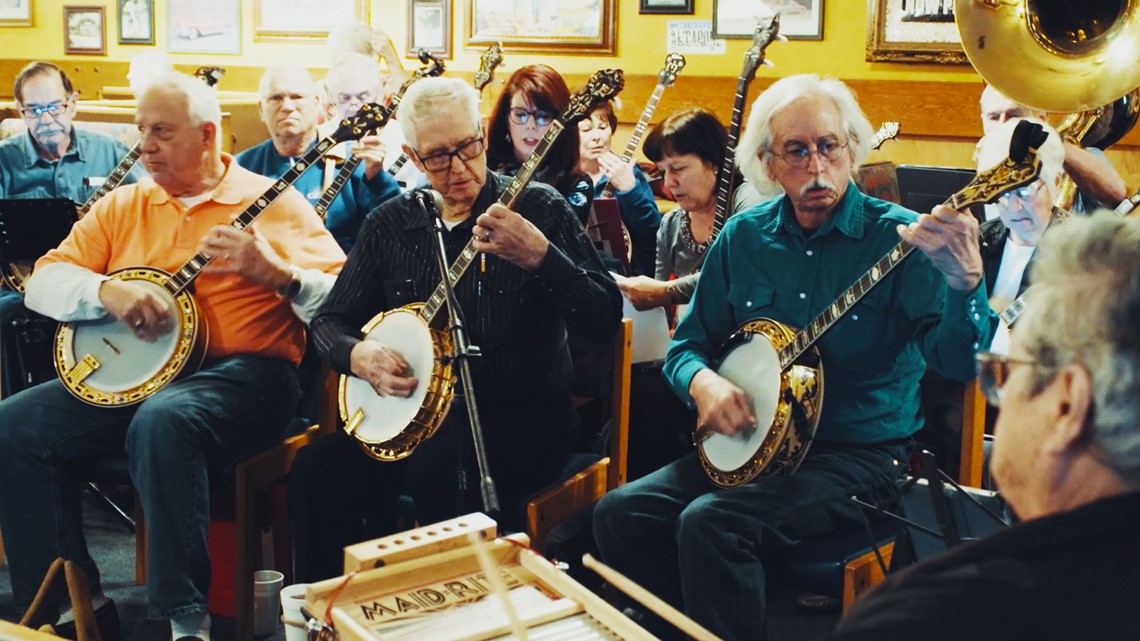 The banjo saved John. He devoted the second half of his life to the instrument and it brought him closer to his new wife.
"She is the one that really pushed me to start playing with other banjo players."
John and his second wife, Ann, have toured the world playing the banjo. They even hold a week-long banjo festival at their house.
"Some of the best people I have met have had a banjo attached to them in some form or fashion," said John.
You can watch John and the entire Sacramento Banjo Band every other Sunday at the Straw Hat Pizza Parlor in Citrus Heights. You may also want to check out Banjo-rama, a weekend-long banjo festival, May 17-19, 2019. Performances are at 3410 Westover St. McClellan Park, Sacramento CA.
________________________________________________________________
The sound of music is making its way through Davis. And it's coming from public pianos placed throughout the city.