CHICO, Calif — After nearly the entire population of Paradise, Magalia, and Concow were forced to leave their homes after the Camp Fire, thousands of survivors now call Chico home.
One year after the Camp Fire, they've planted new roots, but officials with the city of Chico admit they were not prepared when it became the fastest growing city in the entire state overnight. Nearly 20,000 fire survivors never returned to Paradise and are now Chico residents.
Crystal and Kevin Peppas are one example.
Crystal remembers seeing smoke as she was leaving for work on Nov. 8, 2018. After leaving the ridge, she made her way down to Chico, but quickly realized she needed to get back home to make sure her family was OK. She couldn't. Everyone was told to evacuate.
"I talked to my mom and said, 'You need to go now. Just go now,'" Crystal recalled.
The Camp Fire came down the mountain quickly into Paradise. It was a storm of embers that blew and caught everything in its path. The Peppas and their two boys are one of the thousands of families who lost their home.
"It's a gutshot for sure," Kevin said.
Then, reality set in. Kevin works for the town of Paradise. He immediately returned to work because he knew so much needed to be done.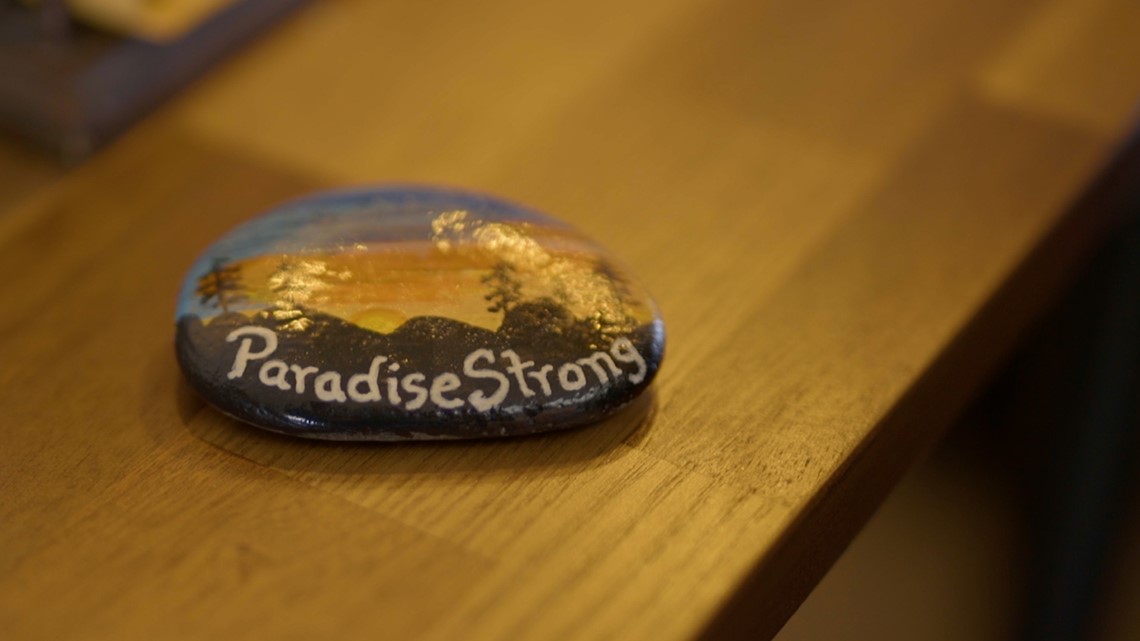 In the middle of it all, the Peppas needed to find housing right away. They started looking at places to rent in Chico, but quickly learned thousands of families were doing the same.
"There was already a waiting list and nowhere to go," Crystal said.
The only other option, for them, was to buy. They acted fast because homes were selling well over asking price.
"We only looked at three houses and my mom bought one," Crystal said.
The city of Chico was not prepared to take on thousands of people in a matter of days.
"We still believe there's somewhere between 10 to 20,000 people from the ridge, and we are happy they are here," Chico City Manager Mark Orme said.
Orme said even though a year has gone by, Paradise and Chico are still very much in recovery mode.
A lot has changed in Chico, according to Orme.
There's more traffic--18 percent more. There's less housing, but more developments underway. Crime is a concern for many residents. The main hospital, Enloe Medical Center, is busier.
"A lot of the impacts that folks are going to be concerned with is the cost of living," Orme said.
The cost lies in what you may not think about daily, like the roadways. All the heavy trucks from construction are lessening the roads' 30-year life span, so replacing them will cost the city a lot of money sooner than planned. That's money they don't have set aside, according to Orme.
"It's still strained. By all means, it's strained," Orme reiterated.
However, development in Chico is happening. Orme said their development team has never been busier with permits.
The city is also not eligible for grants like they used to be because of the population change. For example, they couldn't get grant money to buy new bulletproof vests for their officers because the population now is more than 100,000 people. Since bulletproof vests are necessary, the city pulled money from elsewhere to fund them, but it would have come from grant money before.
The city also wants to hire more than 20 police officers and approximately 10 support staff to support an increase of nearly 20,000 people.
"If it wasn't for the Camp Fire, we wouldn't be here. It's those little hits," Orme said.
What's the solution? The city is looking at drafting up a 1-percent sales tax voters would have to approve in the November 2020 election. If approved, the tax would bring in about $18 million to absorb costs directly related to the influx of people after the Camp Fire.
"It's hectic," Orme said. "It really is because no one can be prepared for the immensity of disaster like the Camp Fire. No city is ready for that."
No family is ready to lose everything and start over.
"I don't know if I'll ever call Chico home. There's some difference there," Kevin joked because he was born and raised in Paradise. "Being here, it is actually nice to come down the hill and get out of that situation."
Working for the Paradise, Kevin has seen his hometown at its worst. It's slowly starting to rebuild, but the scars of Nov. 8, 2018, are still very visible.
"It's the entire community. It's a mass loss and grief," Crystal said.
They will look forward to what Chico has to offer, a new home for them not far from where their true home once stood.
"Things are just things and you can rebuild. You can move on. It's just a different sort of life," Crystal said.
FOR THE LATEST ON CALIFORNIA'S WILDFIRES, DOWNLOAD THE ABC10 APP: