Since the Carr Fire began on Monday, at least 37,000 people have been displaced.
The deadly wildfire has taken the lives of at least 5 people, and destroyed 500 building, as firefighters work to contain the blaze.
Here is how you can help those affected by the Carr Fire:
Northern California Cal Fire PIO Jonathan Cox says as heartwarming it is to see the outreach from people wanting to donate water, food and supplies to the firefighters working hard to contain the blaze, they do not need anything from the community. Cox says if you really want to do something to help the crews, make a sign showing your support.
"A sign on a fence post that says, 'thank you,' has more impact than anything out there at the moment," said Cox.
Multiple shelters have been opened to house the thousands of victims fleeing the Carr Fire. To donate, text REDCROSS to 90999 to make a $10 donation. According to ARC Gold County, if you wish to donate items contact Tim at the Salvation Army at (559) 265-2473.
The United Way of Northern California:
The Salvation Army of Northern California:
The social media platform has activated its Crisis Response feature for those located in Shasta County. Those wishing to help can offer their services through the feature.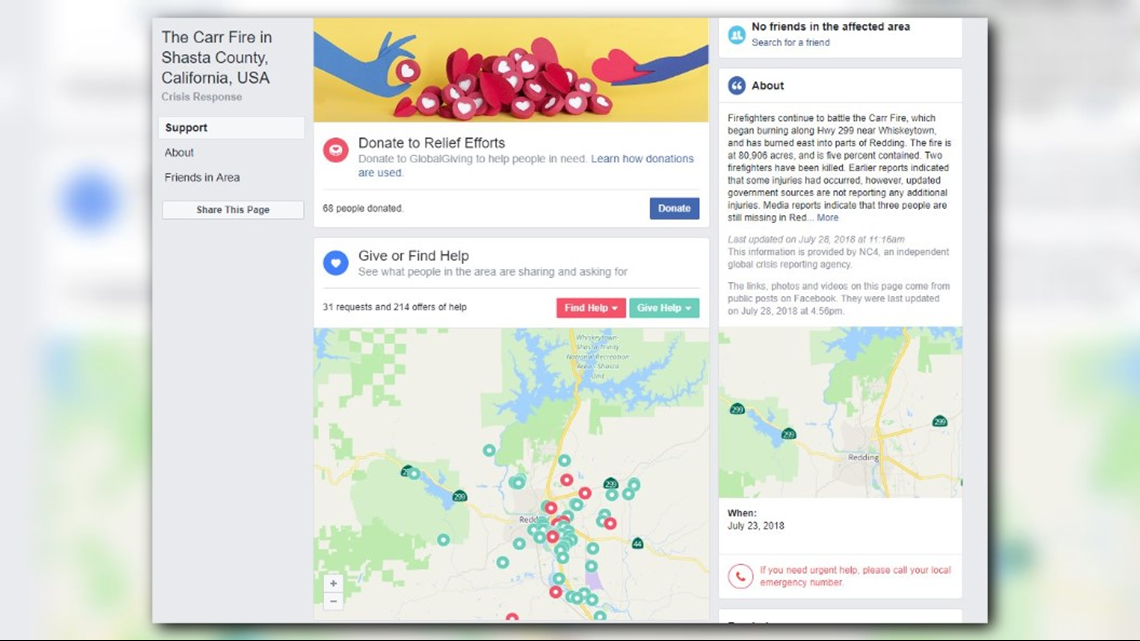 The nonprofit animal shelter has started filling up with evacuated animals. The shelter is in need of dog and cat crates, food and water bowls. The staff says metal dog crates would be especially appreciated. The shelter also requests hay, or any kind of food donations, to help feed some of the larger animals they have taken in. Money can also be donated through Facebook. So far, the shelter has received over $14,000.