SACRAMENTO, Calif. — As children head back to school, fathers are taking a pledge to support their child's education.
It's all part of the Million Fathers March, a campaign that encourages all fathers, especially Black dads, to take their children to school on the first day of class.
The Black Parallel School Board (BPSB) in Sacramento launched the campaign. BPSB is a community organization that supports the educational growth and achievement of Black students in Sacramento.
"Through the Million Father March, we encourage men to participate actively in school-related activities, engage with their children's teachers, and join community groups or organizations that advocate for children's academic success," Darryl White, chair of the BPSB told ABC10.
As part of the Million Fathers March, fathers take a pledge to support their children throughout the school year. That includes setting up a work environment for their children, reviewing schoolwork on a daily basis, helping their children set academic goals and lifetime goals, and teaching their children the values of education, family, and community.
For Charles White, the pledge is worth taking. As a father, he said he's always been actively involved in his son's life. That includes walking his son Cassius to the School of Engineering and Sciences each day.
"I'm one of them dads," White said. "I do not care if he's embarrassed or not. I'm walking him in there, hugging him, and telling him to have a great day. From there, I'm walking into the office and introducing myself to the principal, counselors and anybody else that wants to meet me."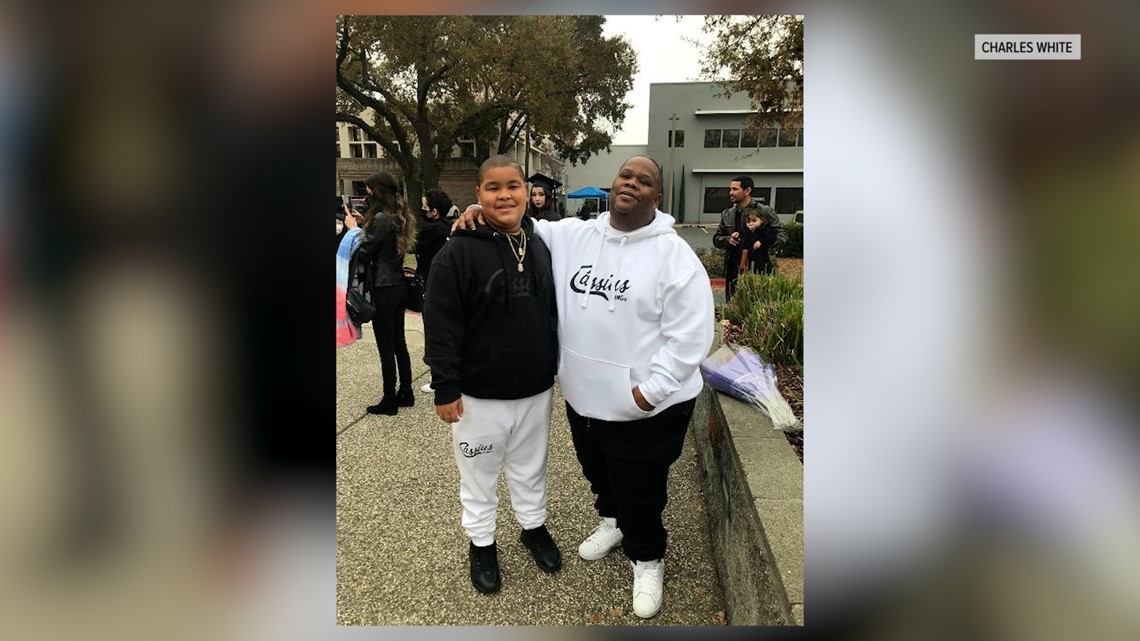 Sacramento City Unified School District Board of Education President Chinua Rhodes is participating in the campaign. He said it is important to challenge racist stereotypes about Black fathers.
"Out of any title that I hold, a father is the most important," Rhodes said. "It's very important to show Black fathers in a light that we are not, sometimes, shown in. We are caregivers. We are providers. We love our families. We show up for the students and our little ones, every day."
GET MORE RACE & CULTURE FROM ABC10:
►Explore the Race & Culture home page
►Watch Race & Culture videos on YouTube
►Subscribe to the Race and Culture newsletter
According to a 2013 report by the Centers for Disease Control and Prevention, Black fathers are more actively involved in their children's lives compared to white and Hispanic fathers, whether they live in the home with their children or not. Some of the activities and caretaking include feeding their children, eating with them, dressing them, playing with their children, helping with schoolwork, and reading to their children on a daily basis.
The U.S. Department of Health and Human Services also explains many Black fathers, married or not, continue to parent through cohabitation and visitation, providing caretaking, financial, and in-kind support.
"There is a lingering perception that most Black male fathers are either missing from their children's lives or in jail, but some research describes just the opposite," Darryl White with BPSB, said. "We want to make sure the world understands, especially people who live in Sacramento, that Black males are really invested in their families and that they want them to do as well as any other parent."
Charles White agrees. He said it's important to debunk myths about Black fatherhood, like being absent or not engaged with their children. He goes on to explain that Black fathers need more support, too, along with Black children and their communities, overall.
"Sometimes, the Black father gets forgotten about, like we're not here," White said. "But we're here in many different ways. We're here. We're here and we're going to stay here."
We want to hear from you!
The Race and Culture team's mission is to serve our diverse communities through authentic representation, community engagement and equitable reporting.
Accomplishing our goals of inclusive reporting requires hearing from you. Is there a person or place that you want us to highlight? Email us at raceandculture@abc10.com or fill out the form below.