ELK GROVE, Calif. — An Elk Grove sushi restaurant was the target of racist vandalism around 5 a.m. on Thursday.
The owner of Umai Sushi Bar near Grant Line Road and Wilton Road arrived at her restaurant Thursday morning to find the front windows of the business spray-painted with anti-Asian graffiti.
Surveillance footage from the restaurant captured video of the suspect walking up and committing the vandalism. Just after 8:30 p.m., Elk Grove Police announced that they had arrested a suspect in the crime.
According to police, 43-year-old Lahn Hansen was identified as the man seen on the surveillance footage. Police said they found near Bond Road and Bradshaw Road and detained him. After searching his vehicle, investigators said they found evidence related to the crime.
Officers said they also found items related to a previously reported burglary from a church, as well as burglary tools, and unspecified drugs. Hansen was booked into jail on multiple charges including committing a hate crime.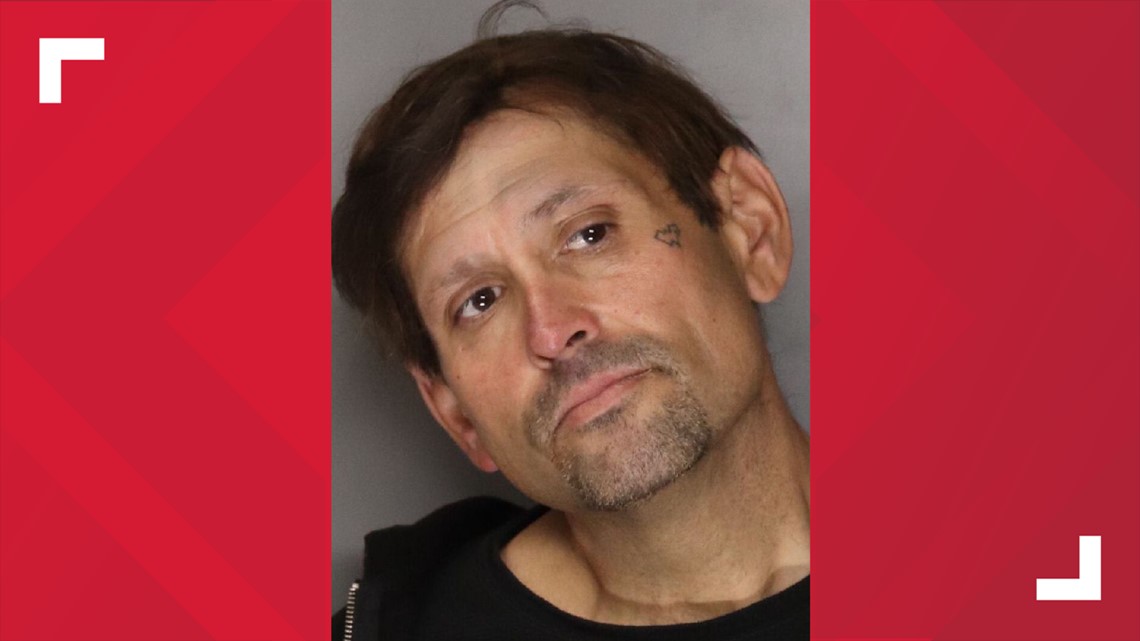 "It just terrifies you, like what kind of people could do something like that in this time of year? When we're battling with COVID, battling with just staying open and keeping employees, right? And to see it like that, it makes you really disappointed, just disappointed in people in general," Feng Liang, owner of Umai Bar & Grill, said.
Liang arrived at her Japanese restaurant to find paint and garbage splattered across the front and an anti-Asian slur spray-painted on the doors. The "G-word" derived from a phrase used by Koreans post-World War II.
"MiGuk, which means Americans - beautiful America. They were so happy that Americans had arrived to help," said Greg Jung with OCA Sacramento Asian Pacific American Advocates.
Jung said the word morphed into a derogatory term for southeast Asians, mainly Chinese, Koreans, and Vietnamese. It was also recorded as an offensive term for Filipinos in the early 1900s. Jung said he hasn't heard the hateful term used in decades.
"it's still hurtful," Jung said.
California Museum executive director Amanda Meeker said words matter.
"Not only can it translate into hate crimes of violence, but it does," Meeker said.
She said exhibits at the museum show how language can be used to stigmatize groups and shape racist policies, such as the internment of Japanese Americans, and the Chinese Exclusion Act, and, in today's climate, how local businesses like Umai's can be targeted.
The act has left a regular Umai customer, Bill King, seething. He believes it was random.
"Because if they knew them, they wouldn't do this. They wouldn't do it. These people are kind," King said.
That's why King, along with a dozen community members cleaned up the mess, to help Liang and her team get back in business within an hour.
Elk Grove resident Hung Pham said he believes the act of vandalism is an outlier incident in the community.
"The majority of their customers are white and the rural area of Elk Grove and Wilton all support Feng and love her," Pham said.
He said he doesn't want the incident to be used to push racial division.
Elk Grove Mayor Bobbie Singh-Allen issued then following statement regarding this incident:
"What happened to Umai Bar and Grill and the racist message that was used is absolutely unacceptable and will not be tolerated in our city. While police is investigating, it was very important to me to stop by the restaurant to share my empathy and support with the owners on behalf of our Elk Grove community.
I want to encourage all residents to show their support and condemn this attack by ordering your next meal from them. Let's unite and say no to hateful attacks like this."
Elk Grove Police Chief Timothy Albright also issued a statement:
"I want this community to know that crimes targeted at any demographic will not be tolerated in Elk Grove. Elk Grove will not allow the inexcusable actions of one person to tarnish the dedication this community has to fostering a climate of inclusivity, diversity, and respect."
Continue the conversation with Van on Facebook.
Read more from ABC10
ABC10: Watch, Download, Read