MODESTO, Calif. — For many people in Modesto, their youth and experiences of classic cars and rock n' roll were captured in George Lucas' American Graffiti. It was a film that captured his experience, and the experiences of others, growing up in Modesto.
"It could have been downtown in Modesto in the 50's, without any question," said John Sanders, former chairman of the America Graffiti Festival, about the movie.
While shot in Petaluma, the film is more than just Modesto in name only. Throughout the movie, there are allusions to city staples and nostalgic memories for people who shared nights drag racing and cruising on the old streets of Modesto.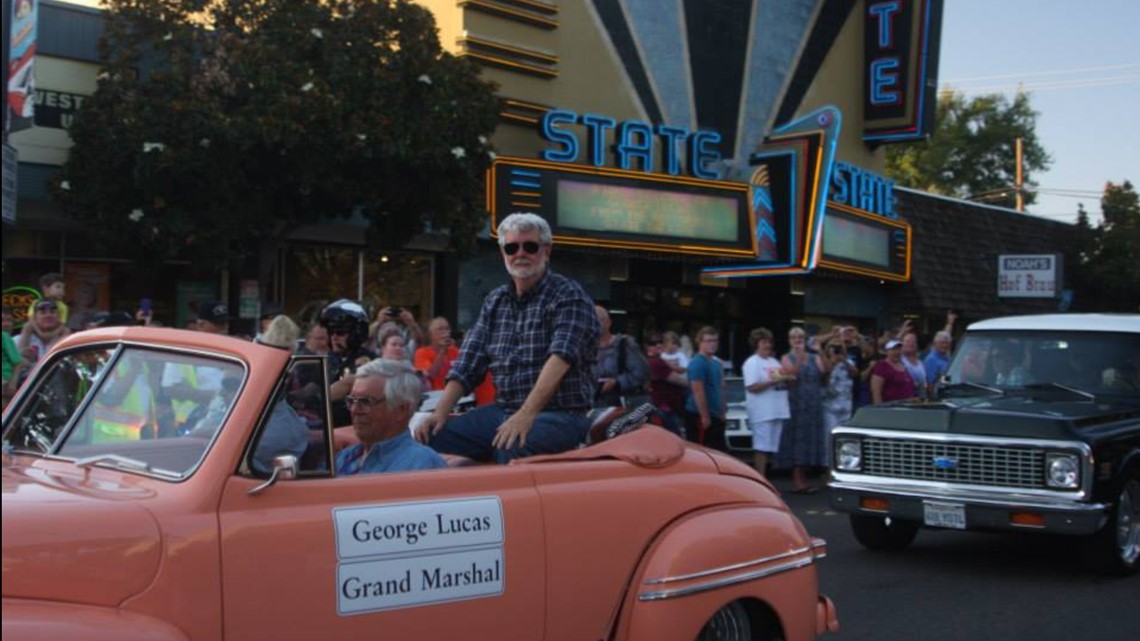 Cruising in American Graffiti captured the essence of a Modesto staple
"We still cruised through the end of the 70's, the 80's, and the early 90's. I mean, it was a big part of Modesto culture," recalled Chris Murphy, a Modesto publisher with a passion for city's connection to the movie.
After World War II, one of the things people were able to do was drive "for no reason at all" after gas, rubber, and steel were no longer restricted by the war.
"The people hanging out, the walking, the coming up at the lights, the drag racing when the lights turn green - all of that was a very frequent common occurrence here," Murphy added.
Back in those times, the police were the "nemesis" of cars chopped too low and kids with "too many tickets", Murphy said. American Graffiti had captured a kaleidoscope view of a summer's night in Modesto.
"To most of us it was representing a joyful time of the high school seniors – just a simpler way of life," Sanders added.


References to Modesto
While the movie is meant to be a place where anybody could imagine their town being, Lucas appears to have left behind small nuggets that alluded to his hometown upbringing. This ranges from his old schools, landmarks, and even mentions of Turlock in the movie.
Dragging on Paradise and cruising on 10th Street
"He talked about going out and dragging on Paradise. There is a Paradise Road, but the dragging actually took place on Blue Gum Avenue - but that was a clear reference to what actually took place," Sanders said.
For Sanders, the memories of cruising Modesto was evident even in the details of the traffic layout of four lanes with parallel and even diagonal parking along the curbs.
Another reference was cruising on 10th Street, an actual street in Modesto where a lot of the cruising took place.
"The only reason that I feel so comfortable about how he got it right was that the stores looked right, [and] the streets looked right. It was four-lane with parallel parking on the side along the curb," Sanders said. "In some cases, diagonal parking. That's just how it was."
Mel's Drive-in in the movie was a direct reference to the Burges Drive-in along Highway 99 for those in Modesto. It also shared similarities to shape and looks.
"All of us that grew up [here], we knew he was talking about Burgess because that's where George was familiar with as well," Sanders noted.
Dewey High School with its blue and white school colors was a clear reference to Downey High School, with blue and white colors and the "J.C." referred to in the movie was a reference to Modesto Junior College.
Lucas had graduated from Downey High in 1962 and attended MJC from 1962 to 1964.
Even Turlock gets a mention in the movie, as one of the characters asks whether "Frank Bartlett" went to Turlock High [School].
A reference to Gallo, a Modesto winery, is sneaked into the film as well as "Gallo Dam."
"He invented some places like 'going out to Gallo [Dam].' Well, there is no Gallo [Dam], but we have the Gallo Winery. So, George kind of created these places… You could have put yourself in your town into that movie and I think that's what's made it so special," Murphy said.
Actor McKenzie Phillips played "Carol" in the movie. When asked by the character John where she lived, she replies "Ramona."
Ramona is the name of the street in Modesto where Lucas grew up.
In Modesto, there's a Walk of Fame that highlights people said to have inspired the characters in the classic movie. Murphy said these were the people who pulled the pranks and made the cruise nights real.
"I found the Alan Grant who was the John Milner kind of character. A lot of these people were the compositions," Murphy said.
"These people really did exist and they're all part of our story," he added.