SACRAMENTO, Calif. — 3,900 vaccines heading to Stanislaus County possibly by Thursday
Stanislaus County is expecting the arrival of 3,900 coronavirus vaccines, possibly by Thursday, health officials confirmed.
Bobby Moser, spokesperson for Stanislaus County Health Services, said major hospitals like Kaiser Permanente, Doctors Medical Center, and Sutter Health would be getting their own shipments while the county handled distribution for the smaller clinics.
The vaccine comes at time when hospitals are being overwhelmed with surging COVID-19 cases. Moser said that the vaccines won't do much to mitigate the holiday surge of cases in the near future. However, he did say it was a glimmer of hope for the county at this time.
Roughly 4,000 Placer County healthcare workers to recieve first dose of Pfizer vaccine this week
Placer County director of health and human services and interim health officer Dr. Rod Oldham announced in a Board of Supervisors meeting on Tuesday that about 4,000 healthcare and frontline workers will receive their first dose of the Pfizer vaccine this week. Another 3,000 doses of the Moderna vaccine is expected to go to long-term care facilities this month.
"Our entire community has sacrificed and suffered during this pandemic, but our healthcare workers and long-term care facility residents have made special sacrifices and have faced especially significant burdens," Dr. Oldham said.
Bay Area ICU capacity falls below 15%, trigging regional stay-at-home order
The Bay Area Region's ICU capacity currently sits at 12.9%, which means the region moves to the regional stay-at-home order starting Friday, Dec. 18.
California health authorities reported 53,711 new coronavirus cases and 293 additional deaths on Wednesday, setting new records. The previous daily high for deaths was 225, reported Saturday.
Extension of regional stay-at-home order in the cards
During Wednesday's Sacramento County Board of Supervisors meeting, Dr. Peter Beilenson, the head of the Sacramento County Department of Health Services, said he anticipates the three week regional stay-at-home order to extend, turning into an eight week stay-at-home order because of a potential spike in post-Christmas COVID-19 cases.
Vaccinations reach nursing homes, as California faces crisis
The first COVID-19 vaccinations are underway at U.S. nursing homes, where the virus has killed upwards of 110,000 people, even as the nation struggles to contain a surge so alarming that California is dispensing thousands of body bags and lining up refrigerated morgue trailers.
In Washington, lawmakers are closing in on a long-stalled coronavirus relief package that would send direct payments of perhaps $600 to most Americans. Meanwhile, the U.S. appears to be days away from adding a second vaccine to its arsenal.
At the same time, a major snowstorm pushing its way into the Northeast is raising fears it could disrupt distribution of the vaccine.
Sleep Train Arena patient numbers and California stats
As of Wednesday morning, the Sleep Train Arena Alternate Care Facility is housing 13 patients.
Bay Area: 12.9%
Greater Sacramento Region: 14.1%
Northern California: 28.1%
San Joaquin Valley: 0%
Southern California: 0.5%
The state has had 1,671,081 confirmed cases with 21,481 resulting in death.
The coronavirus surge in California has forced the state to bring field hospitals, body bags to certain areas.

Meanwhile, the state is distributing 5,000 body bags mostly to the hard-hit Los Angeles and San Diego areas and has 60 refrigerated trailers standing by as makeshift morgues. Gov. Gavin Newsom said Tuesday that the number of average daily deaths has quadrupled from a month ago.
Photos: UC Davis Health administers first doses of COVID-19 vaccine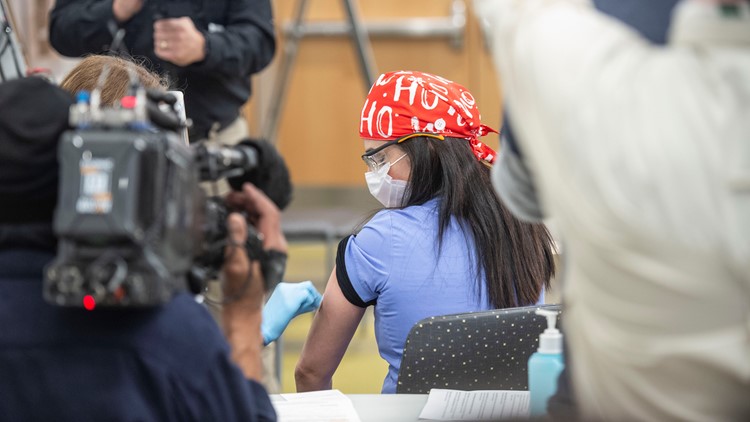 CORONAVIRUS AND VACCINE RESOURCES AND ANSWERS: