Sacramento County sees decline in COVID-19 testing
The county said getting tested for COVID-19 is still a critical piece of slowing the spread in our region.
"If you have symptoms, think you may have been exposed, or were recently around a group of people without wearing a mask or maintaining social distance – get tested!" the county said.
State releases latest COVID-19 statistics
On Wednesday, the state of California announced a state total of 3,281,271 COVID-19 cases. There were also 481 deaths reported on Tuesday to Wednesday, bringing the state's death total to 41,811. As of Wednesday, 3,792,797 vaccine doses have been administered statewide.
West Sacramento fills all vaccine appointments
The city of West Sacramento said it had filled all appointments for the COVID-19 vaccine. Clinics at Esparto Elementary School, Knights Landing Branch Library, Woodland Memorial Hospital, and Sutter Health Field at River Cats stadium are all "sold out," according to a city's tweet.
California joins feds in bid to speed coronavirus vaccines
Gov. Gavin Newsom said Wednesday that the sites at the Oakland-Alameda Coliseum and California State University, Los Angeles, will be jointly run with the Federal Emergency Management Agency. Newsom said 6,000 doses should be given out daily at these mass-vaccination sites.
The move comes as California's most deadly pandemic surge eases, but as the state struggles with vaccine shortages in a race to vaccinate the most vulnerable. Newsom promoted the new sites as part of the larger effort to target communities that might otherwise be left behind.
Newsom said with the mass vaccination site opening Oakland MyTurn, an application to help with scheduling vaccination appointments, should be available to more counties in the coming weeks.
Over 1/3 of coronavirus deaths were reported in January 2021
As case rates lower in many counties, people continue to die of COVID-19. January marked the deadliest month of the pandemic so far in the Golden State as just over 36% of the state's coronavirus death total occurred in the first month of 2021.
With the lowering of new case rates, previous trends suggest fewer deaths will follow. But, Health and Human Services Secretary Dr. Mark Ghaly said another surge of cases is possible following the Super Bowl and Lunar New Year celebrations to come.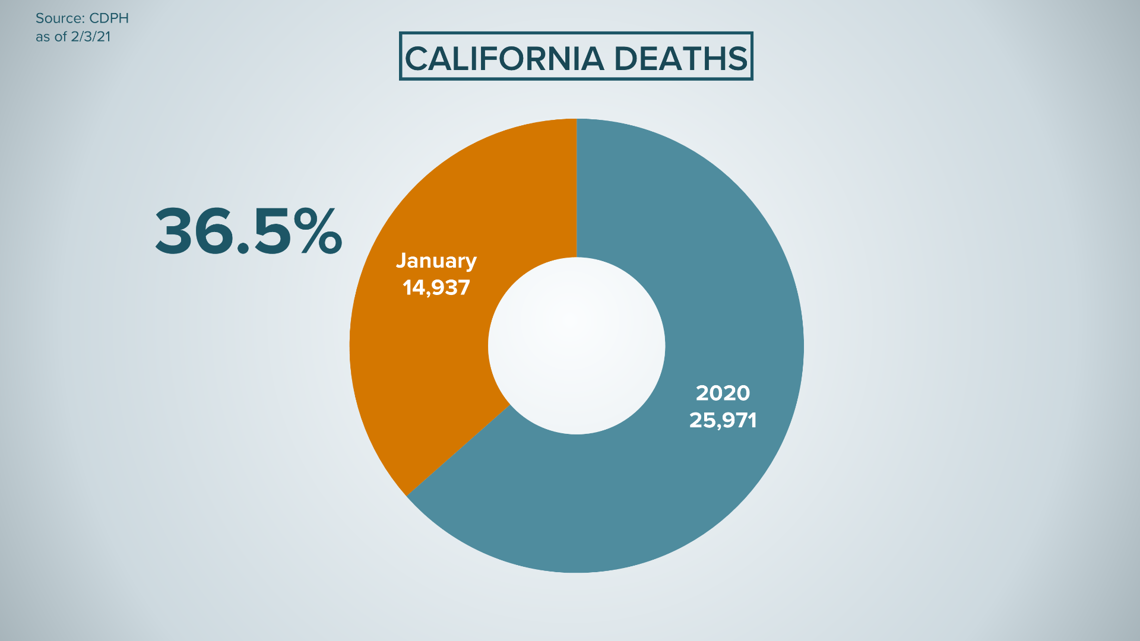 Political storms swirl around California Gov. Newsom amid virus
Democratic Gov. Gavin Newsom has gone from a governor in command to one lurching from one political crisis to the next as the coronavirus pandemic enters its second year.
Newsom's slide points to the pain facing leaders as virus fatigue take hold, vaccines remain elusive, and voters stop blaming the Trump administration.
This comes while California starts to see signs of hope, even as the state warns people to keep up their guard. The number of new COVID-19 cases reported Tuesday was just over 12,000, the lowest daily figure since November. Hospital capacity is rising after plunging so low in December that overwhelmed facilities talked about rationing care.
But the state's top health officer, Dr. Mark Ghaly, says another surge is still possible. He says people shouldn't risk creating a "super-spreader" event by holding big Super Bowl parties this weekend.
ABC10: Watch, Download, Read