Sacramento County to start vaccinating agriculture and food workers Monday
Food and agriculture in Sacramento County will be able to get the COVID-19 vaccine starting on the week of March 8, according to county health officials.
Food and agriculture workers are listed in California's current tier of vacations but a Sacramento County spokesperson told ABC10 that the county hasn't started vaccinating those people.
Sacramento County is hosting a drive-thru vaccination clinic in a parking lot across from McClellan Park. Those who are 65 and older, education or childcare workers, and emergency services personnel who work in Sacramento County are also eligible for the treatment.
For those who qualify for the vaccine, click here to schedule an appointment.
California Northstate hosts COVID-19 vaccine clinic with 300 appointments
California Northstate is hosting a COVID-19 vaccine clinic on March 8 with 300 available appointments.
The clinic is open for Sacramento County residents under phases 1a and 1B of vaccination distribution. Currently, people who are older than 65 and teachers, healthcare workers, food and agriculture workers qualify for the vaccine.
Click here to make an appointment.
California to let Major League Baseball, Disneyland reopen
California is allowing people to attend Major League Baseball games and other sports, go to Disneyland and watch live performances in limited capacities starting April 1.
In a press conference Friday, Dr. Mark Ghaly announced that amusement parks will be able to open at 15% capacity in the red tier. There will be no indoor dining at the parks, a limit will be placed on rides, and the parks will be off-limits to visitors from outside California.
Due to required reservations being made online, the parks will be able to determine where customers will be visiting from.
California divides its counties into four color-coded tiers based on the spread of the coronavirus. For counties in the purple tier, venues can have a capacity of 100 people. When the county moves to the less restrictive red tier, the capacity will be determined by percentage and not a specific number.
Nonprofits stepping up to bolster COVID vaccination efforts
The messy and confusing distribution of vaccines has prompted a broad array of nonprofits and volunteers nationwide to step in to fill the gaps.
Disaster-relief charities are providing both their equipment and their logistical skills. They know how crises can exacerbate existing inequities — and how their expertise can make a big difference.
Meanwhile, organizations that serve people of color, LGTBQ people, the homeless, elderly, and others are jumping into the fray. They are seeking not only to reduce the fear of vaccines but also to help local and state governments vaccinate more people.
State releases latest COVID-19 statistics
On Friday, the state of California announced a state total of 3,489,126 confirmed cases of COVID-19. California reported 400 new deaths from COVID, bringing the total to more than 53,448 since the start of the pandemic.
The state reported at least 10,003,942 vaccine doses had been administered to Californians.
Sutter to receive 60,000 doses over next month
In an update from Sutter Health, the healthcare provider is expecting 60,000 doses over the next two week.
However, in its press release, "this is only two-thirds of the vaccine we need to complete second doses for approximately 90,000 senior patients and community healthcare workers."
"Thanks to additional vaccine from county and local public health partners, the situation was minimized in some counties. Sutter appreciates their willingness to deploy vaccine through our clinics and further our shared goal of vaccinating as many vulnerable patients as possible in the 22 counties across our Northern California footprint," Sutter Heath said in its press release.
SMUD extends power shutoff suspension for non-payment through June
The Sacramento Metropolitan Utilities Department (SMUD) says it will continue with its policy of keeping power on to customers who cannot pay their bill because of financial hardships related to the coronavirus pandemic.
The extension lasts through June 30, 2021, officials said on Friday. SMUD instituted the policy nearly a year ago on March 13, 2020. Customers who are behind on payment will still owe SMUD for service, they will just not lose power at this time, the company said.
SMUD encourages customers are encouraged to contact them for payment arrangements or to learn about energy assistance rates and other programs.
"We stand by our community during these tough times," said SMUD CEO and General Manager Paul Lau. "This prolonged pandemic has put a strain on our local economy and we're committed to ensuring that ALL customers have safe and reliable power as we work through these unprecedented times."
What a difference a year makes: California poised to reopen
Gov. Gavin Newsom announced a new plan Thursday that will speed up reopening. It comes a year after he imposed the nation's first statewide coronavirus shutdown. Next month, it's likely restaurants, gyms and museums in nearly all the state will allow some indoor guests. Many more students will be returning to classrooms and competing in sports. And fans could even be in the stands for baseball's Opening Day.
The quicker pace of reopening is tied to a new plan to vaccinate California's most vulnerable residents across 400 ZIP codes in the most disadvantaged neighborhoods. California will begin setting aside 40% of all vaccine doses for the state's most vulnerable neighborhoods in an effort to inoculate people most at risk from the coronavirus more quickly. About 8 million people eligible for shots.
Advocates for health and racial justice cheered the move given the disproportionate number of cases and deaths among Latinos.
Resources guide for California families
ABC10: Watch, Download, Read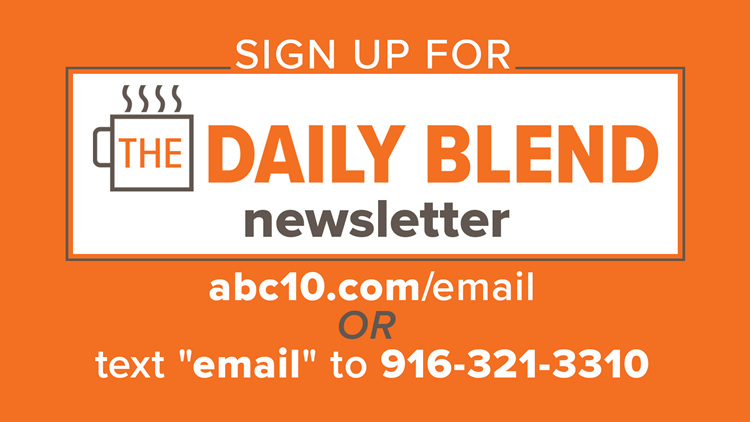 This Sacramento man is picking 'unwanted' fruit to curb hunger | NorCal Strong