SACRAMENTO, Calif — February 2, 2017, started off as an ordinary day for the Pipkin Family.
Patrick and Stacey Pipkin just returned to their home in Magalia from a grocery run at Costco when they asked their youngest daughter, Sam, to help bring in a few loads from the car.
"I came back (into the house) and I set down a case of soda," said Sam. "I stood up, and my mom was in the kitchen, and I looked at her dead in the eye and said, "There's something wrong."
Sam lost control of her body and fell against the door.
"The smile just left her face," Patrick remembers. "I ran to her and I grabbed her and I told Tiffany, my middle daughter, (to) grab a chair and call 911.
Sam was rushed to the Feather River Hospital in Paradise, where doctors said they'd found a bleed in her brain.
"(The doctor) didn't use the word stroke,'" Patrick said. "He said it was a bleed in the brain, and he showed us on the computer an image of the CAT scan, and the image that he showed us was from the top view, and it was about the size of a nickel, maybe. In retrospect, I think he showed us that image so that we wouldn't freak out because of what the image ultimately was later on that we were able to see."
Sam was quickly transferred to UC Davis in Sacramento where she'd eventually be diagnosed with a hemorrhagic stroke caused by a ruptured arteriovenous malformation in her brain. Her surgeon was quite blunt with her father: Sam's condition was "very serious," and he said it had about an 86% mortality rate, but that his team was going to do their best to save her life.
The surgery was a success, but Sam still didn't have mobility on the right side of her body. She had to undergo more than a year of physical therapy, and while it improved her movement, she didn't fully recover all of her motor skills.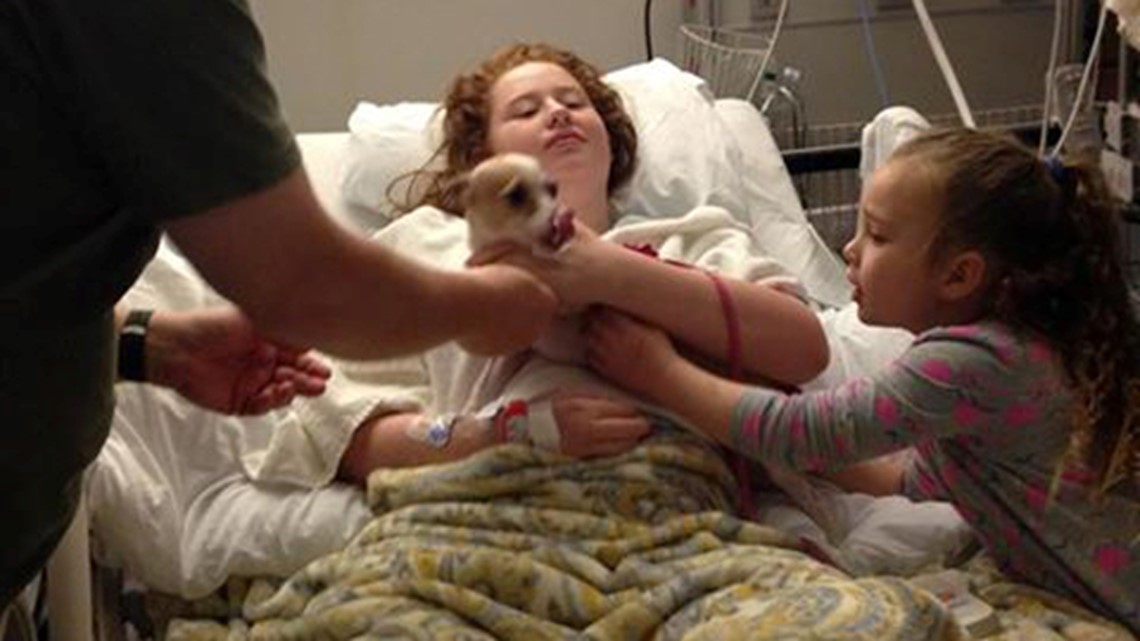 "I kind of plateaued in physical and occupation therapy for a little while," Sam said. "I came across stem cell research, but I wasn't old enough to do any of that."
When she realized she wasn't progressing in her therapy, she began doing research online to find out what else could be done.
"I was looking for so many ways to just get better because I really wanted to wear high heels to my prom this year," Sam said.
Through her research, she found she may be a good candidate for hyperbaric therapy, but it was expensive, and most insurance companies wouldn't cover the treatment for stroke patients since its use is still being studied.
Perhaps serendipitously, though, Sam's sister, Tiffany, who is majoring in exercise physiology at California State University in Chico, had made an appointment with Lt. Col. (Dr.) Jason Kelly, the 60th Medical Group Hyperbaric Medicine Flight commander at David Grant USAF Medical Center. Kelly had agreed to sign off on a waiver for Tiffany to learn how to scuba dive, and Sam accompanied her to the appointment.
When Kelly learned of Sam's stroke, he thought she'd be a great candidate for hyperbaric therapy. And since her father Patrick was a retired U.S. Army sergeant, she'd be able to receive the treatment at Travis Air Force Base.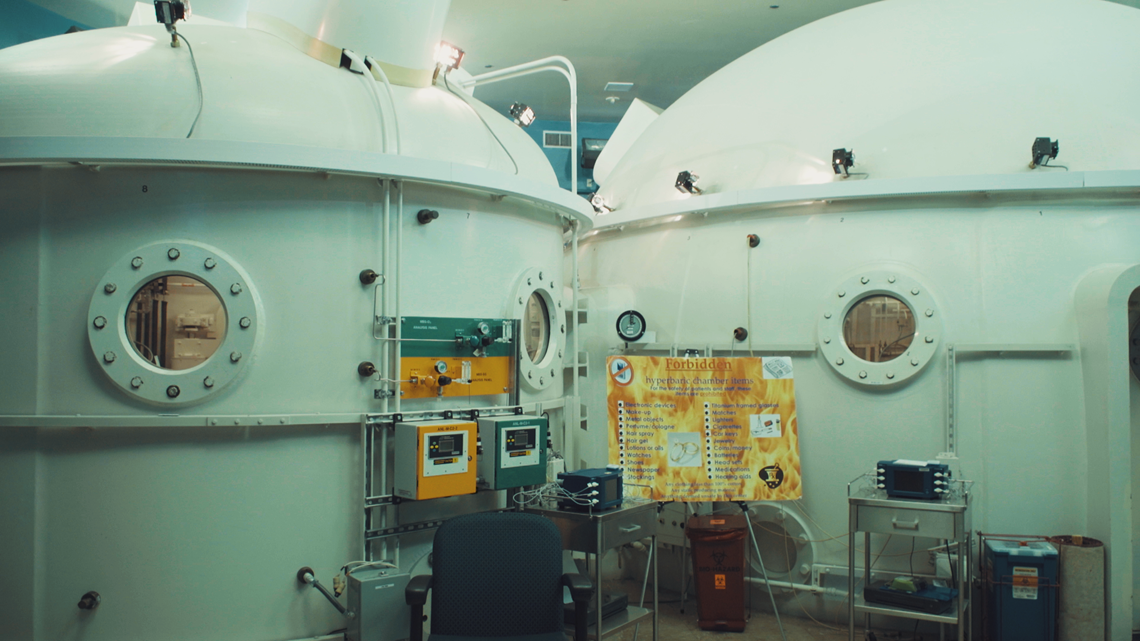 This military hyperbaric chamber looks like something straight out of a 1950's sci-fi film, complete with strange gauges, riveted port-holes, and old, flickering television monitors But this isn't located on a Hollywood set. The chamber can be found in a wing of a hospital on a U.S. Air Force base in Northern California, and it holds the title of the military's largest hyperbaric chamber.
Most people associate hyperbaric chambers with scuba diving. The metal tombs are often used to reacclimatize divers suffering from "the bends," or decompression sickness.
"The basis for a lot of what's done in hyperbaric medicine goes back well over a hundred years," Kelly said, adding the method hasn't just been used to treat driving injuries, but also other environments where patients experienced a large change in atmospheric pressure.
When patients enter the hyperbaric chamber, they're provided oxygen under pressure, meaning doctors are doubling the earth's atmosphere and delivering 10 times the dose of oxygen a patient would be breathing outside the chamber. That high-dose of oxygen, Kelly said, can help heal a lot of different types of injuries and damage to tissues.
"The first day I saw Samantha, when she walked into the office, she was struggling to tie the drawstring on her scrub pants that we had her change into because of the weakness and deformity she had in her hand," Kelly said. "After the first treatment the following day, she walked in and had her pants tied already and she said, 'Look! Here's what I did.'"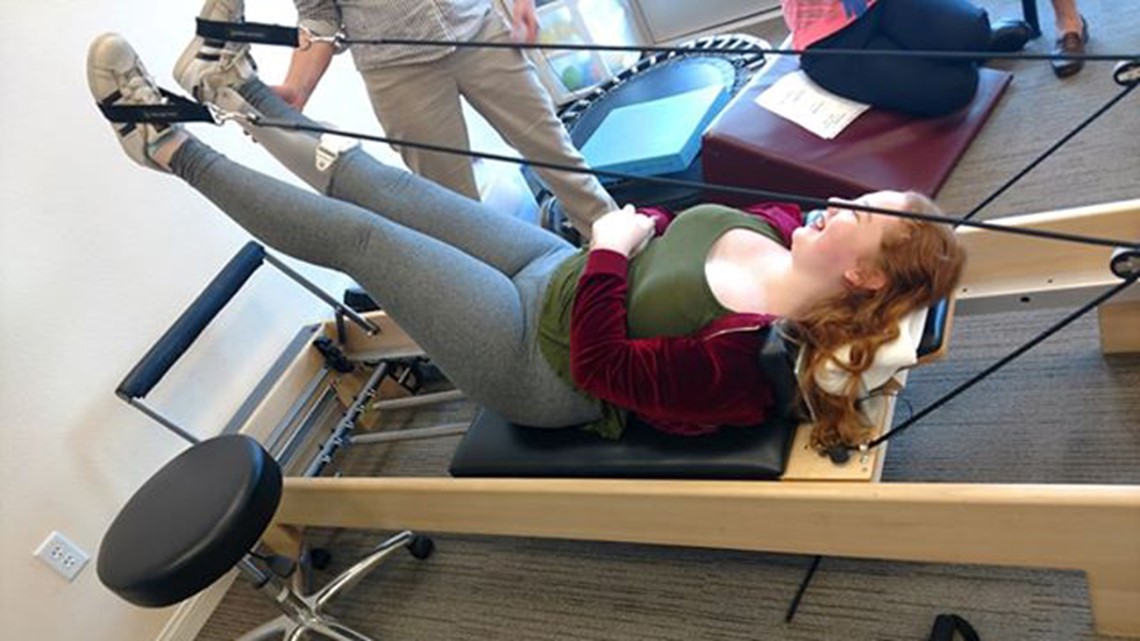 Sam was making good progress in treatment, but on Nov. 8, 2018, while sitting in the chamber, the Camp Fire ignited near her home in Magalia.
"Melissa, my oldest daughter, called me and she said, 'Dad, they say the Feather River Hospital's on fire,'" Patrick recalled.
He told her, and her sister Tiffany, to grab the family dogs, cats, and important paperwork and head down the hill to Chico to meet up with their mom. He then had Sam pulled out of the chamber and the two rushed towards Paradise.
"A lot of the roads were blocked off already and there were trailers all over the place," Sam remembers. "It looked like it was like an apocalypse."
The Pipkin home was spared in the fire, but Paradise High School, where Sam attended school, burned down. A large portion of the Feather River Hospital, where Sam was first treated, was also destroyed.
"In all honesty, (Sam) handled it very well," Patrick said. "The whole school — what is it, 95% of the students and most of the teachers — lost their houses, so they're going through the same things that we were going through."
In the last week of March, Sam finished her hyperbaric treatment, undergoing 78 "dives" in the chamber. After the Camp Fire, Sam said she spent a lot of time during treatment thinking about her home in Magalia and her friends who are now attending different schools.
"Just a lot of stuff will be different," Sam said. "I don't know if any of the traditions will be kept up, so it's going to be interesting to see how, or if it comes back. I believe it's going to come back, but how it's going to come back, I don't know."
When asked if she felt the same about her treatment, she remained optimistic.
"I believe I'll come back fully, but maybe sometimes it'll slip up," Sam said.
Sam's condition has continued to improve. She recently received her learner's permit and has been practicing driving. She's also to college and hopes to go into international business.
_______________________________________________________________
Run with Otto, the rescue dog, as he protects Travis Air Force Base's airfield from birds.