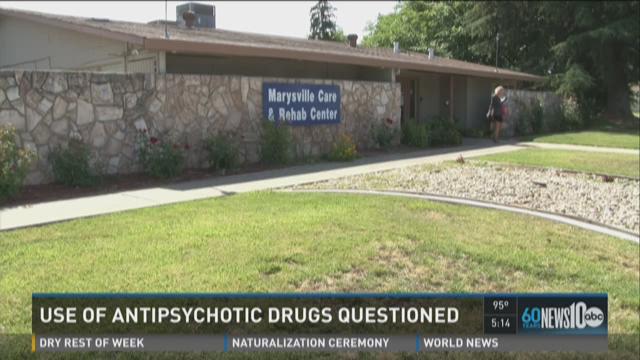 It's estimated one out of every three elderly nursing home residents diagnosed with dementia is prescribed antipsychotic medication. That's according to studies by the Centers for Medicare and Medicaid Services and the Government Accountability Office.
The drugs continue to be given to older adults in the facilities despite FDA warnings over the past decade that certain types of the drugs can be deadly.
Marisa Conover, of Fair Oaks, said her mother Genine Zizzo was given antipsychotic medication at a nursing home in 2012, even though she was promised the drug would not be used to treat Zizzo.
As documented in a coroner's investigative report, Conover also said she thinks the drugs contributed to her mom's death just 12 days after she was admitted to Roseville Point Health and Wellness Center.
"She was as assessed when she entered Roseville Point as a well developed, well nourished 82-year-old female complaining of back pain to being triaged to Kaiser 10 days later as ill-appearing, obtunded, which is a medical term for being in a vegetative state."
That investigative report, as well as medical records from Kaiser, said Zizzo went into Roseville Point needing physical therapy after she fell at her home. The report goes on to say Zizzio left less than two weeks later after slipping into a "vegetative state" and then a "coma." Zizzo's death certificate reports she had "multiple organ failures."
Fighting for Change
A Sacramento County elders rights watchdog group, largely funded by private donations, said its seen cases like this before. Carole Herman's Foundation Aiding the Elderly represents nursing home abuse and neglect victims.
Herman has accumulated a 20-foot by 20-foot storage room full of cases since she founded the non-profit in 1982. She said medicare and medicaid pay for a vast majority of all nursing home treatment for the elderly.
"Our tax dollars are what's paying for this shoddy care," Herman said. "And for making all of these nursing home operators very wealthy."
The antipsychotic drugs are classified as heavy tranquilizers and have been linked to heart failure, according to the FDA. The agency placed a warning label on the drug Haldol. That's the same medication that Roseville Point injected into Zizzo.
According to a nurse's notes written the night of the incident, Zizzo woke up at 1:40 a.m. on Dec. 7, 2012 and was, "screaming at the top of her lungs" refusing, "all nursing care, disoriented, combative, hitting CNAs and nurse, threatening to call the police." After getting a doctor's order, the nurse wrote that at 2:30 a.m. Zizzo was give 2 milligrams of Haldol for, "continuous combative behavior and screaming."
Herman calls Haldol and drugs like it "chemical restraints."
"They want a quick fix, so they give them anti-psychotics," Herman explained.
Herman said the California Department of Public Health is not holding the industry accountable for violating patient's rights. The agency declined our requests for an interview on its enforcement practices and even to talk to News10 in general terms about the use of anti-psychotic drugs on the elderly.
Nursing Homes' Rates in Sacramento area
Data from The Centers for Medicare and Medicaid Services, obtained by News10, show anti-psychotics are over-prescribed at several Sacramento-area nursing homes and at a statewide rate of more than 15 percent.
The CMS rated nursing homes on a one to five scale. One is the lowest score a facility can receive. It looked at the percentage of long-term residents being given the prescriptions. Those are people who have been in a care center for 100 or more days. CMS also analyzed the number of new nursing home residents who are given the drugs for the first time for short-term stays of less than 100 days.
"Windsor Care Center of Sacramento" received the lowest grades -- getting ones for both long and short term stays. Sacramento's Asbury Park Nursing and Rehabilitation Center received a 2 for long stay and 1 for short.
A total of 45 nursing homes in Sacramento, Sutter, Yuba and Stanislaus counties score 1s or 2s in one or both of the categories.
Improvements Made
An organization that represents 1,200 nursing homes across the state told News10 California is improving its grades every year. Jocelyn Montgomery said California Association of Health Facilities has been educating owners and managers about the need to reduce the usage of antipsychotic drugs.
A Government Accountability Office report and the CMS data show the rate has dropped from 22 percent to about 15 percent since 2012.
"We have the 10th lowest rates of antipsychotic use in the nation when compared with nursing homes around the country," Montgomery said. "Is it perfect? Are we where we want to be? No. I would love to see us get into the single digit rate."
Genine Zizzo's Final Days
Conover said the nursing homes are far from perfect. She described her mom's final days to News10.
"My mother told me they pulled her out of bed, and put her in wheel chair," Conover said. "They tied her wrists, and she said while one female staff pinched her arm, the nurse gave her the injection. Then they pinched her arm again and gave her a second injection."
Conover took photos of her mom the day after Zizzo was given the Haldol. She said Zizzo was slumped over in a wheel chair and barely able to tell her what has happened.
Conover said she had her mom's life support system turned off when it was determined that Zizzo would likely never come out of coma -- and if she did, Zizzo would remain in a vegetative state.
Nursing Home Responses
Roseville Point and Asbury Park declined to talk to News10.
In a written statement, Windsor Care Center said:
"Windsor of Sacramento strives to deliver the best possible care to individuals with chronic care needs that also suffer from memory care health issues. The facility's five-star rating, issued by the Center for Medicare And Medicaid Services, is negatively impacted by virtue of its decision to provide this vital service to the community. Windsor of Sacramento works with physicians, psychologists, and other behavioral health professionals to manage behaviors so that our residents can achieve best possible outcomes, while at the same time minimizing the use of psychotropic drugs. The use of these medications is legal and strictly regulated by the State and Federal government. "