Essential agriculture workers have been hit devastatingly hard by the coronavirus
The Hispanic population has been disproportionately hit by COVID-19. It's a group that's been essential, responsible for harvesting the food America consumes.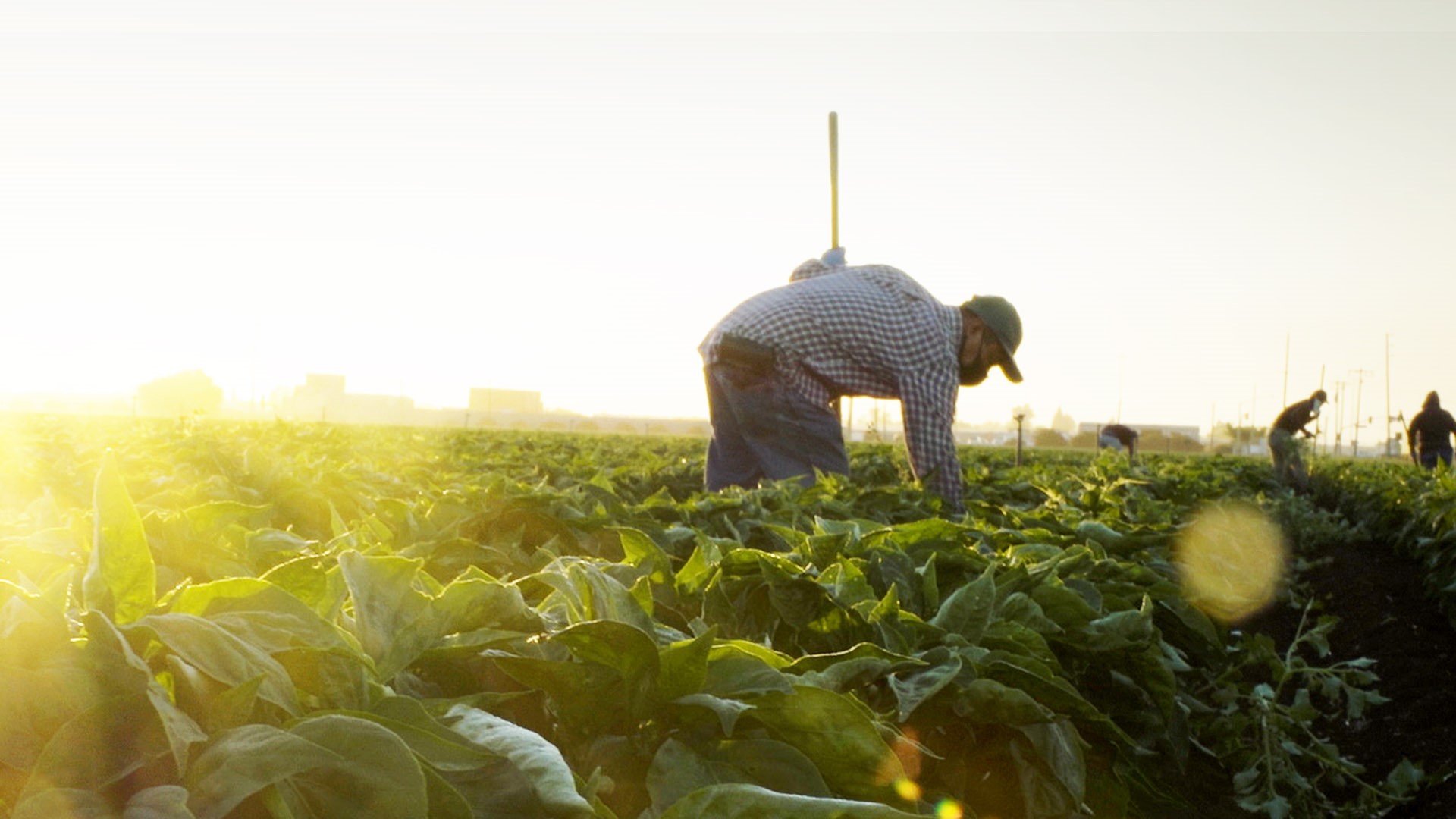 A day in the life of a farm worker
:
The sun hasn't risen yet in south Stockton, but on the corner where a local Mexican restaurant stands, the roads are not as quiet as other parts of the world.
Multiple vans and cars idle as men and women hop in and out, greeting one another in Spanish. This is where farmworkers meet to grab a quick breakfast to-go before carpooling to the fields where they'll harvest the produce that will end up on millions and millions of Americans' plates.
A sign on the front of the restaurant reads: "Must purchase food if you come in the store, too many people hide in here from the cops."
It's not the safest spot for farmworkers, but the biggest threat isn't even visible.
"It started with the chills, feeling weak, like heavy eyes," Joel Ocampo said as he waited for his van to fill up with carpoolers.
Ocampo contracted coronavirus, he doesn't know exactly where he got it, but one likely place was a carpool van. Driving separately isn't an option for the vast majority, as they often work in different fields, some fields hours away. Many workers don't have the means or transportation to drive alone.
After making a full recovery, Ocampo now enforces masks for everyone in the van. But he's one of the few that does.
That's why Luis Magana, a former field worker turned advocate, has taken it upon himself to hand out masks while also trying to educate field workers who are critical to keeping America fed the importance of masks.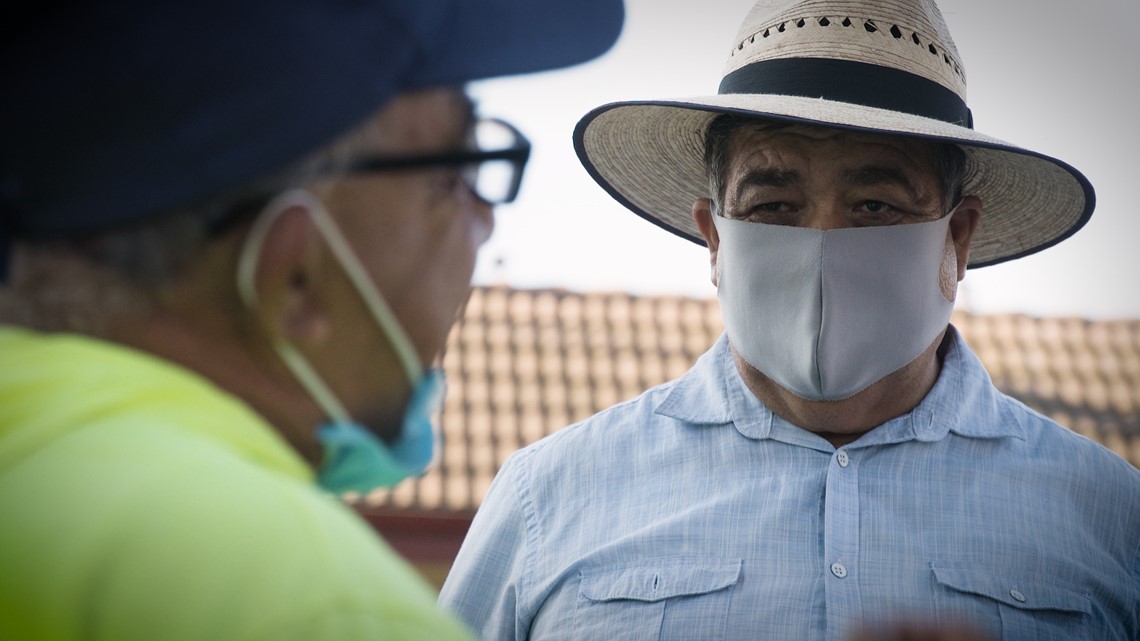 Onions, peppers, melons, corn, nuts, squash, almonds; these are a few of the many fruits and vegetables grown in San Joaquin County. These fields are responsible for over $2.5 billion of agricultural products. The county alone is the seventh-largest producer of agriculture in California.
It's obvious why these workers have been deemed essential in the face of a pandemic. But despite this title, they've also been the hardest hit by coronavirus.
By the end of October, about eight months into the pandemic, around 900,000 people in California tested positive for the coronavirus, with about 400,000 of those being Hispanic, showing statewide the Hispanic population is significantly disproportionately affected as they only make up 39%of California's population, but make up over 61% of coronavirus cases.
"Yes [I know] many people [who've had the coronavirus], the majority are Hispanic," a field worker who didn't want to provide his name said as he harvested peppers. "I don't know how they contracted the virus, but yes… many cases. I didn't think it was that serious, but once I saw it like that, I was like, 'This is serious.'"
There are several reasons why coronavirus has spread quickly among agricultural workers, the first being their essentialness.
"They were deemed essential workers from the beginning [of the pandemic]. They never got to just stay home, hunker down, adjust or work from home. People had to work the whole time," Silas Shawver, Deputy General Counsel of the Agricultural Labor Relations Board, said. "There's also the reality that these are low-wage positions, so that means that people are economically vulnerable. They can't afford to stop work. They need that work to pay rent [and] put food on the table."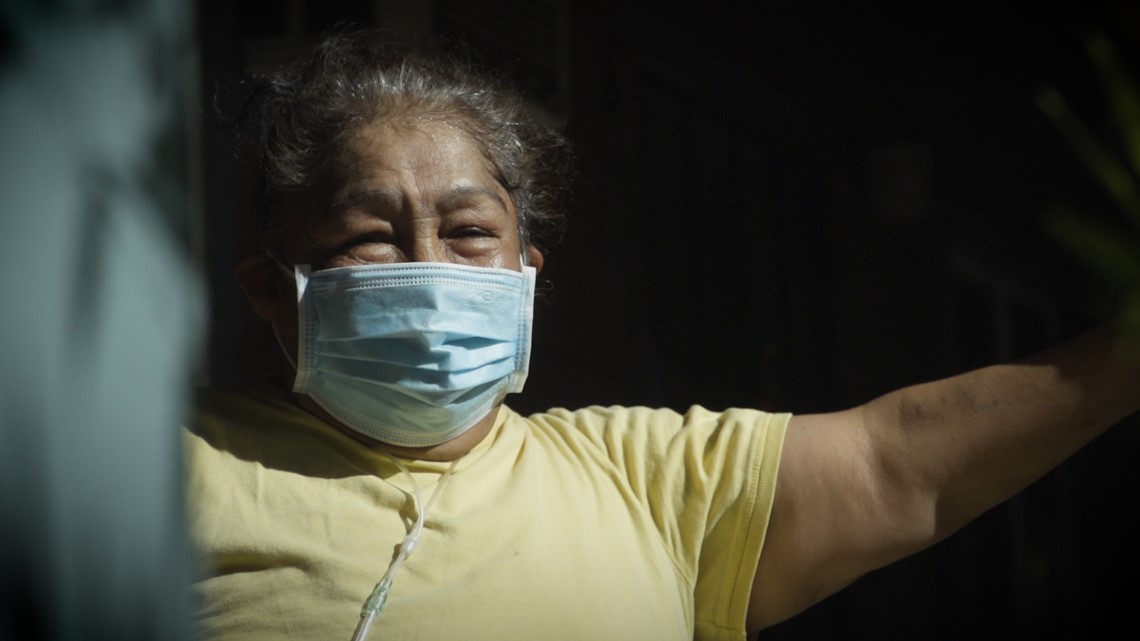 That was certainly the case for Josefa Guadalupe Castillo.
Farmworkers are typically paid in one of two ways: by the hour or by a piece rate. The piece rate is calculated by the amount of produce they pick in addition to minimum wage. It helps fast pickers make more money on the job.
For Castillo, not being able to pick as fast as others has phased her out of some opportunities. She sometimes has to carpool as far away as Napa, a three-hour round-trip drive to be able to work. At one of her work sites, two people became infected with COVID-19.
"I prayed to God I wouldn't get this disease because I am alone and I don't have anyone to help me," Castillo said.
A week later while harvesting blueberries, she began to have a headache, sore throat, and chills. When she returned home, her landlord took notice and called an ambulance when she checked on her and was extraordinarily concerned.
"If [the landlord] hadn't come, they would probably have found me dead," Castillo said.
She spent weeks in the hospital. Since she returned home, she still feels weak and occasionally in need of oxygen, but she's gaining strength day by day. Soon, she says, she'll be strong enough to return to the fields. Not going back to work isn't an option as she has no family to help support her.
"That's how I make my living," Castillo said. "I have to work to eat, to pay rent."
For those who do have a family, their living conditions often make it difficult to quarantine.
"People live in tighter quarters. A lot of families share small apartments," Shawver said. "For them staying home isn't like, 'Oh, I'm just going to be with my partner and two children.' [Many] times, people are sharing common spaces with multiple families."
For others, just because they don't live with their family doesn't mean they're not helping put food on the table or pay rent. Many have family back in Mexico to whom they send money.
Where they cash those checks and send the money are at small, privately-owned convenience stores throughout the Central Valley, described by Magana as "little banks for workers." But by cashing checks at these "little banks," the workers are put in a dangerous position.
"Last year a farmworker was shot," Magana said. "Seven bullets or more in the body."
That's why field workers now travel in groups to and from the convenience stores to cash their checks. But while this provides safety in numbers, it again makes them more susceptible to the spread of coronavirus. Magana said many choose to utilize this form of money exchange because they don't have a bank account, often due to their immigration status.
"They don't have an ID [so at the store] the owners know them by face and that's the identification," Magana said. "The lack of immigration papers is a reason why they come into these places to cash their work checks."
A majority of these workers are undocumented, which means they're not entitled to unemployment insurance benefits if they cannot work, causing many to continue to work even if they're sick or have symptoms of COVID-19.
The Agriculture Labor Relations Board is working to fix this by ensuring workers know their rights. It's the only labor board focused solely on agricultural workers.
"We want to make sure people are aware that if they need to take time off to get a test of quarantine, they have a right to get sick leave for that," Shawver said. "We call them essential workers because we all need their work… and most importantly, their health is at stake."
Communication and Culture
:
Magana knows what it's like to work in the fields. He learned the skill from his father after they moved from Mexico to San Joaquin county.
To him, these farmworkers are family. That's why he has dedicated his life to becoming a representative to agricultural workers, ensuring they have good working conditions and rights. But when the coronavirus broke out, he believed the work of picking produce was prioritized above farmworkers' health.
"There was more [concern] for the production, the crops, than the health of the workers… the essential workers," Magana said.
He believes a delay in communication and warning in Spanish not only led to the infection and death of hundreds, but also to the continued dismissal of the virus' threat among agriculture workers.
"The most sad, most regrettable thing is there's still a group of workers that don't believe this is real," Magana said.
It's why he spends his time visiting gatherings that are at the heart of this community, but also a danger to the spread of COVID-19. One of those is soccer, or futbol, games.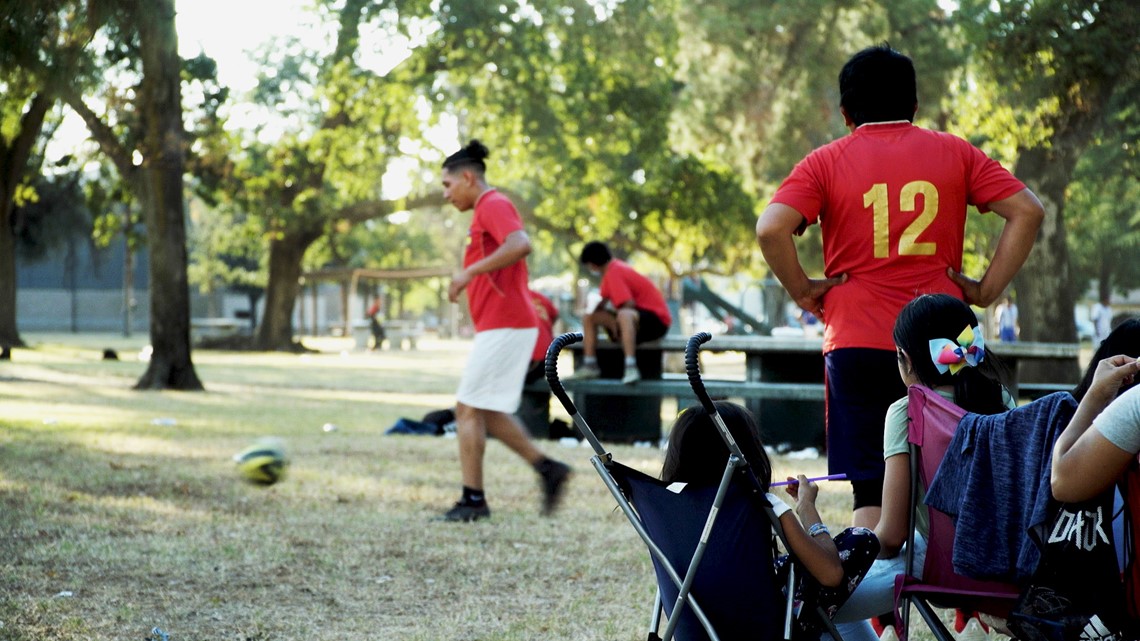 The teams meet each week to play against each other and are oftentimes made of players originally from different areas like Guatemala, El Salvador, and Guerrero. In addition to the danger of gathering in groups, there are different indigenous languages as well as dialects being spoken, which proves to be a hurdle for officials in communicating important information, like how to prevent the spread of the coronavirus.
"They're indigenous languages from Mexico and other places, so many times they're not written or people don't learn how to read in those languages. You have to communicate verbally with these folks," Shawver said. "It's a big barrier. You can't just assume people speak Spanish. Sometimes people speak a little bit of Spanish to get by but for information that's very complex, it's really important to deliver it in their language."
In short, Shawver said it's double the work to educate them on coronavirus because information has to be in their language, given to them verbally. The Agriculture Labor Board is working hard to provide information in this way because they don't want people to "die to start believing this is real."
But even when agriculture workers have information on COVID-19, there is often another level of both confusion and fear surrounding their migrant status, holding them back from getting the care they need.
Shawver said many have an overall fear of interacting with government agencies, filing claims, and processes. In order to get a free COVID-19 test through Project Baseline, one has to go online and fill out information, provide identification as well as show all of this when they arrive at the testing site – which is being assisted by the National Guard.
It's easy to see how someone who doesn't speak the language, might not have transportation, and is worried about their migrant status would choose not to go through this process.
That's why Stockton and San Joaquin County brought testing sites to fields. But Magana is concerned that this is a bigger problem surrounding healthcare. Most farmworkers don't have healthcare insurance and are shy to seek treatment in general. That means they're more susceptible to serious side effects of the coronavirus.
"They don't have health insurance. [Many of them] have never been to the hospital or a clinic. They have chronic illnesses like diabetes, high blood pressure [and] those are ticking time bombs that will explode when you combine that with the coronavirus," Magana said. "There's a problem, a delayed healthcare problem, and the coronavirus came and this aggravated it more."
"Many agricultural jobs are also six days a week," Shawver said. "That means your day off is Sunday and that may be a very difficult day to get some healthcare or testing if you're not feeling well. So, for this population it's been very hard to get appropriate services… and we need to keep figuring out better ways to serve them."
What's Being Done
:
One of the ways Cal OSHA is attempting to prevent the spread of coronavirus among farmworkers is by inspecting the ranches and farms, ensuring they're abiding by state safety guidelines. A representative for Cal OSHA said between Feb. 1 and Aug. 17, 2020, they conducted 163 onsite inspections in San Joaquin County.
But still, if only one worker gets sick, oftentimes they're at home living conditions cause it to spread among their family and housemates. That's what Pedro Hernandez Diaz was worried about when he began showing symptoms of COVID-19. He ended up being hospitalized for weeks but wasn't sure what to do when he was healthy enough to leave the hospital and needed time to recover.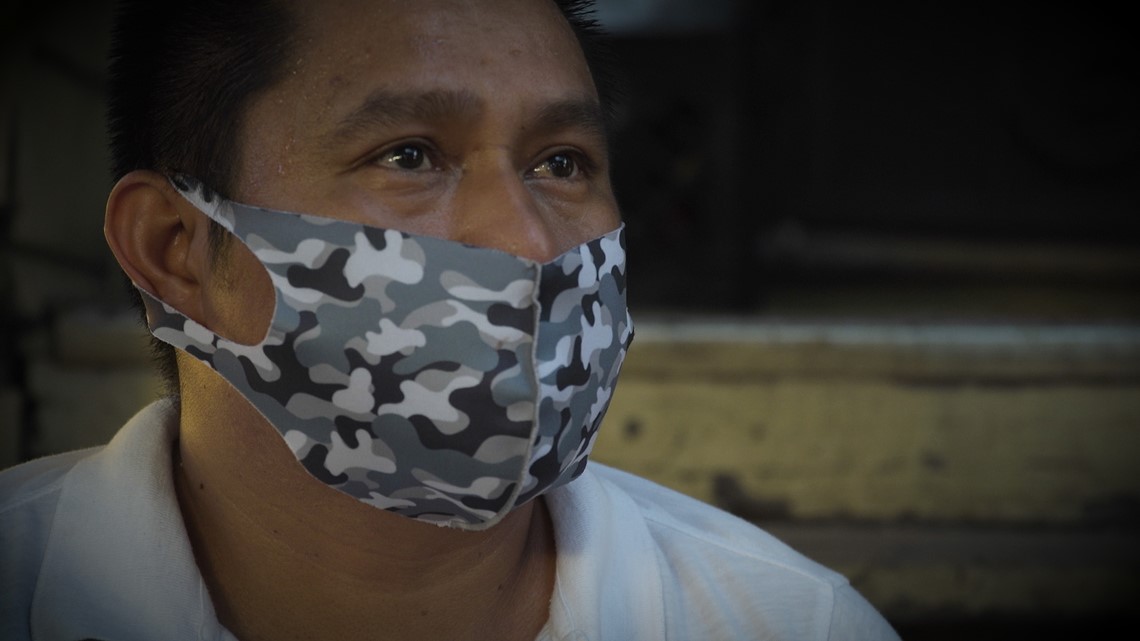 "I told them that I didn't have a house and I didn't have family," Diaz said. "The hospital told me, 'Don't worry, we'll put you in COVID-19 [housing]. I was there for 10 days."
"[It was a] room that had two small beds," Diaz said. "They fit two sick people in there. There was always people arriving, more people, and as some left, new sick people came."
"I grew up in overcrowded conditions. I mention that because I was raised in poverty, raised by immigrant farmworkers… two immigrant grandparents and my mom who was a single parent and I lived in farmworker housing," Rivas said.
When coronavirus began threatening Californians, Rivas knew agricultural workers were especially in grave danger, and as 2020 continued on with historic fires, his concern grew.
"In addition to the pandemic we see [these farmworkers] out there with these incredibly dangerous air conditions, working through wildfires and incredible amounts of smoke in the air," Rivas said.
It was a concern that helped California Gov. Gavin Newsom enact a statewide directive to ensure those who work in any line of the food industry have the right to paid sick leave. The idea was part of an initial plan and series of bills Assemblymember Rivas put together, what's now called the Farmworker Relief Package.
"My intent was to do everything we could to support this very vulnerable constituency and our most vulnerable essential workers," Rivas said.
The farmworker relief package consisted of multiple bills and in September 2020, AB 2043 and 2165 were signed by Gov. Newsom. While AB 2165 goes into effect at the start of 2021, AB 2043 went into place immediately upon the governor's signature. Rivas said AB 2043 is especially important.
"[It is] an agricultural workplace safety act and really this is a bill that's incredibly important," Rivas said.
That's because the bill requires Cal OSHA to track and report workplace investigations.
According to its website, Cal OSHA is dedicated to protecting and improving the health and safety of working men and women in California. When ABC10 reached out to them asking for specifics on investigations and complaints, they provided us with information showing they'd received 100 complaints between February and August related to COVID-19 in the agriculture industry statewide.
However, until Rivas' bill, it wasn't written into law that they had to provide the public, or the government with this kind of insight.
"Because our response to this crisis [has] to be driven by data and if we have a baseline of data from workplace investigations, that will allow the legislature and decision-makers at the state level to more effectively respond to this crisis and solve problems," Rivas said.
He said it isn't about trying to penalize the industry, but to get a handle on the issue of COVID-19 spreading within the agricultural industry.
Rivas was also recently appointed Chair of the Agriculture Committee and Vice-Chair of the Latino Caucus. He hopes his work and bills provide clarity to farmworkers on what their rights and resources are, something that clearly hasn't happened for workers in the same situation as Diaz.
"I didn't know where to go or where to get help," Diaz told ABC10.
"I am a direct product of the California dream… as my grandfather would often say, he immigrated to California for a reason because it was about the California dream. This is a state of opportunity," Rivas said. "This was the golden state where he could provide a future for his family, which he did as a farmworker and unfortunately I think those opportunities are quickly going away and that's something we need to restore… So as the state of California, it's incredibly important we treat this workforce as essential."