SACRAMENTO, Calif — An art student from Northern California used her creativity to bring attention to the actions of PG&E as the power monopoly faces manslaughter charges for starting the 2020 Zogg Fire.
In her tongue-in-cheek "propaganda poster," artist Rae Engelbrecht depicts a PG&E power line sparking a fire with a big, bold caption: "THIS IS NOT A CRIME."
The poster took inspiration from a famous painting by Belgian artist Rene Magritte, "The Treachery of Images," which features an image of a smoking pipe captioned by the words "This Is Not a Pipe."
"It's just this little sarcastic play on words: This is not a pipe, it's a picture of a pipe," said Engelbrecht. "And this is not a crime, it's a picture of a crime."
It's said that art imitates life, and this piece is no exception.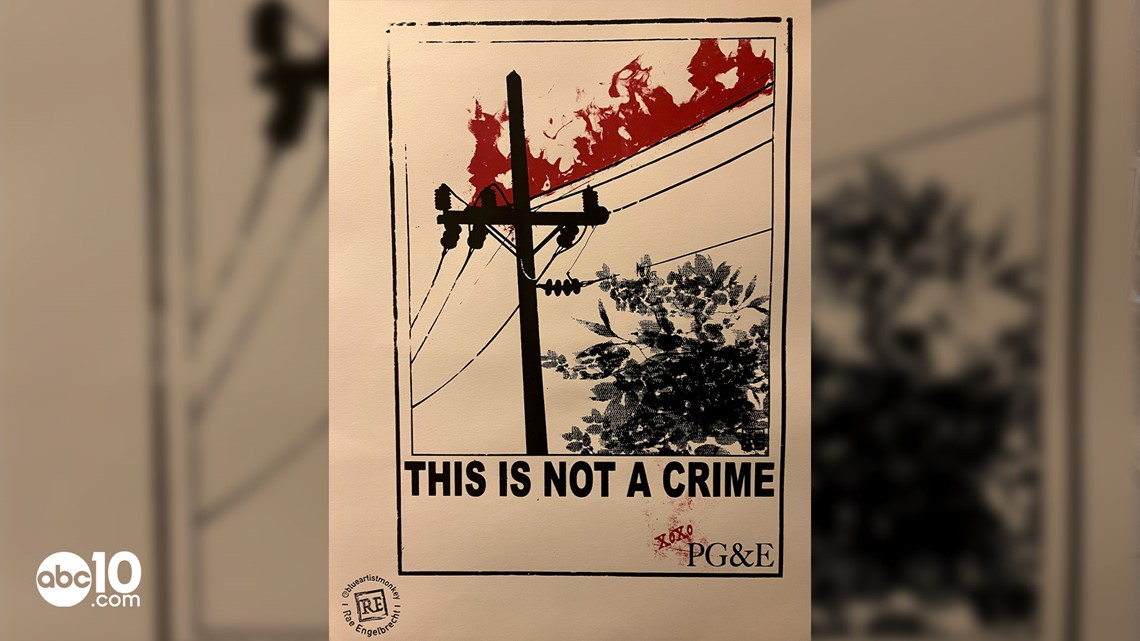 In response to the manslaughter charges, PG&E CEO Patti Poppe declared in a pre-recorded video, "This was not a crime."
However, a Shasta County Judge ruled last week that PG&E must stand trial on four felony counts of involuntary manslaughter, three felony counts of reckless arson and four misdemeanors.
The ruling means the judge found probable cause for the alleged offenses. The case comes down to PG&E's legal duty to trim and remove trees that pose a threat to power lines.
Prosecutors claim that PG&E contractors marked a wounded gray pine tree as a hazard in 2018 but failed to remove it. It fell on a power line in a windstorm two years later, causing the Zogg Fire in September 2020.
"It's a little heartbreaking, because we keep letting it happen over and over again," said Engelbrecht.
Her parents once worked at nearby Coppercreek Camp, which Engelbrecht attended herself for nine years.
"Because of the Dixie Fire, it's not exactly a camp anymore," she said. "I'm still a little bit bitter about it, you know, because it was such a beautiful place. And it still is such a beautiful place. I'm so lucky that everyone I know got out safely."
The poster means more to her than a homework assignment. Even though it's 3,000 miles from PG&E's monopoly territory, she's taken to running off copies of her poster and plastering them around the Windy City.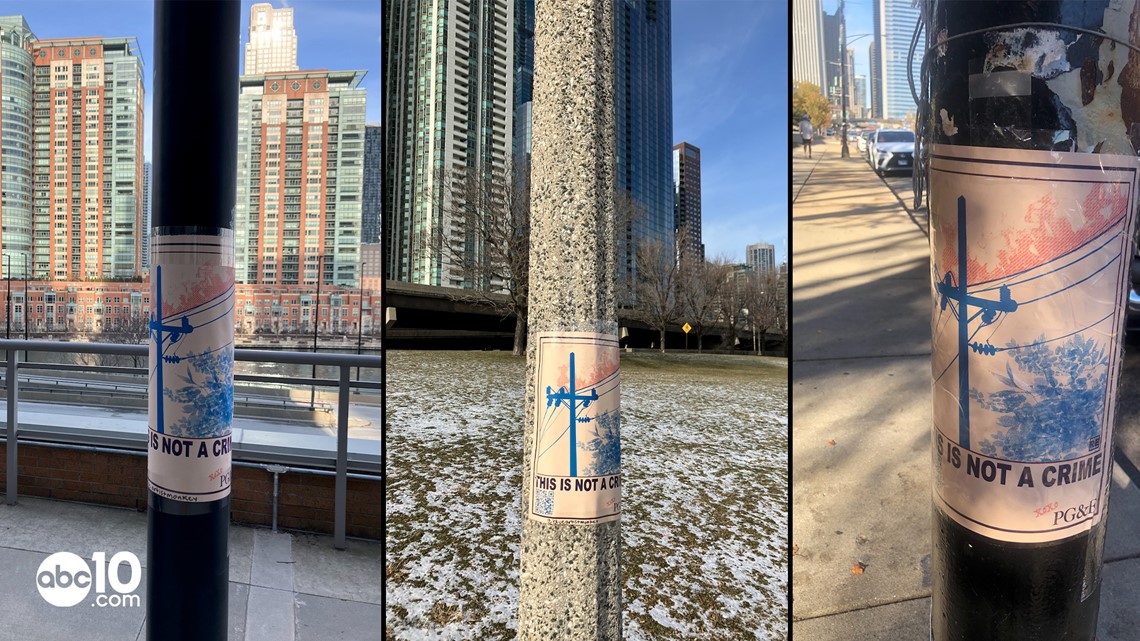 She's also sent her classmates home with stacks of the poster during school breaks, so they can post copies of it as well. A digital version is available for those who wish to print their own copies.
Through her posters, Engelbrecht is spreading awareness about PG&E's crimes and the state government's role in enabling the company's behavior.
"I'm very grateful that there's still people who are out there and still bringing awareness to this," she said of the reporting.
Every version of Engelbrecht's poster is sealed with a kiss: X's and O's from PG&E.
It's snarky, it's on-the-nose, and that's precisely how she intends it.
"I wanted to give the same attitude that PG&E has been giving to everybody that they've affected," said Engelbrecht. "They don't take accountability for their actions, and people get hurt because of it. And people have died because of it. And people continue to suffer from it."
"I would hope it was this obvious to everyone. But since it's not, I'm just gonna do my part to make it that obvious," she added.
ABC10: Watch, Download, Read