REDDING, Calif. — ABC10 is in court, where day 2 of PG&E's Zogg Fire manslaughter hearing began.
To catch up on day 1 of coverage, click HERE.
This blog will be updated as today's court hearing continues.
We've hit the end of the court's business hours.
Prosecutors had just begun to ask Lacunza about what he told PG&E's federal probation judge after the Zogg Fire.
He'll be back on the stand Tuesday.
See you on ABC10 at 6:30pm.
Lacunza says post-fire inspections like the ones he did in 2018 after the Carr Fire would look more closely at leaning trees (hence finding more safety problems) than standard inspections.
PG&E CEO Patti Poppe has portrayed the different outcomes of inspections of the Zogg Fire tree as a difference of professional opinions by arborists.
DA is trying to show it's about the level of inspection PG&E had its contractors do.
"We don't walk around every tree, even if it's leaning toward the lines," Lacunza says of PG&E's practice.
Prosecutors are getting at how some later PG&E inspections might have missed the big cavity on the #ZoggFire tree: by not walking around to look at all sides of the trunk.
Q: "If you don't look for hazards like this, are they missed?"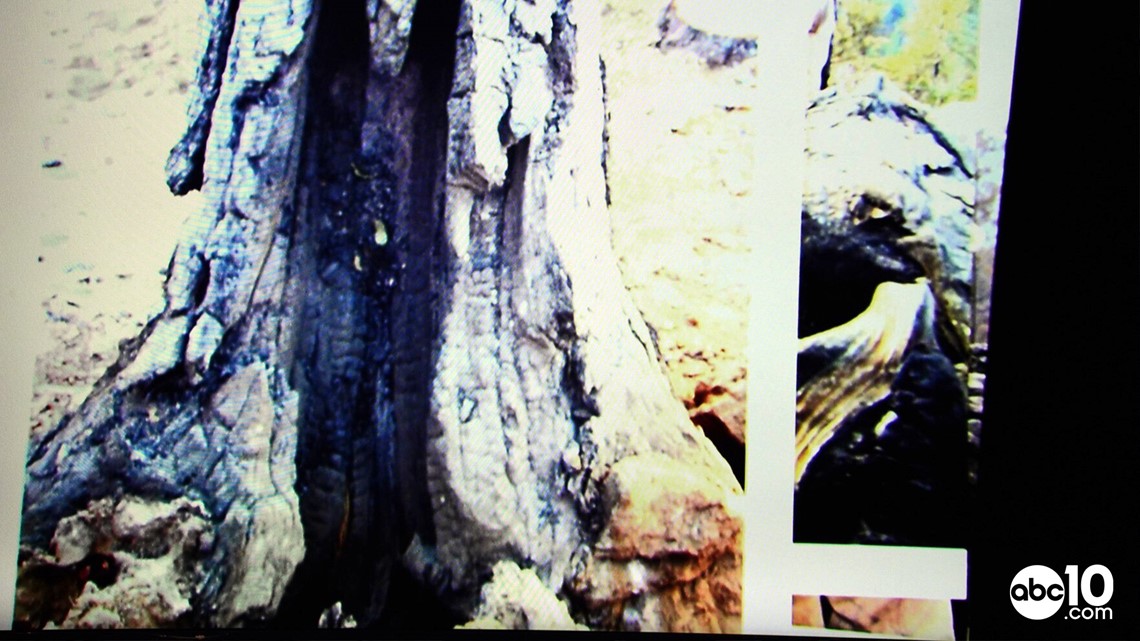 Lacunza says PG&E didn't task him with following up to make sure the tree work he marked was actually done.
He says he doesn't know who PG&E hired to do that in the area where the Zogg Fire later started.
The DA team is now showing him a photo of the Zogg Fire tree.
He says he would have marked a tree with a cavity like the one in the photo-- it needs to be removed based on that alone.
Larry Lacunza says he used an app called Collector to input the GPS location of "missed trees."
These are trees that had not been marked for removal by PG&E contractors, but which Lacunza (an arborist) judged needed to be removed for safety reasons.
In their opening statement, prosecutors say Lacunza flagged the tree that would fall on the power line 2 years later, starting the Zogg Fire.
"When you're walking the lines, things can get missed."
That's the point of his job doing quality control of the tree inspections done for PG&E's vegetation management work, Larry Lacunza says.
He's describing double-checking which trees PG&E contractors marked for cutting in the wake of the 2018 Carr Fire, in the area of the Zogg Fire origin point in PG&E's Girvan distribution circuit.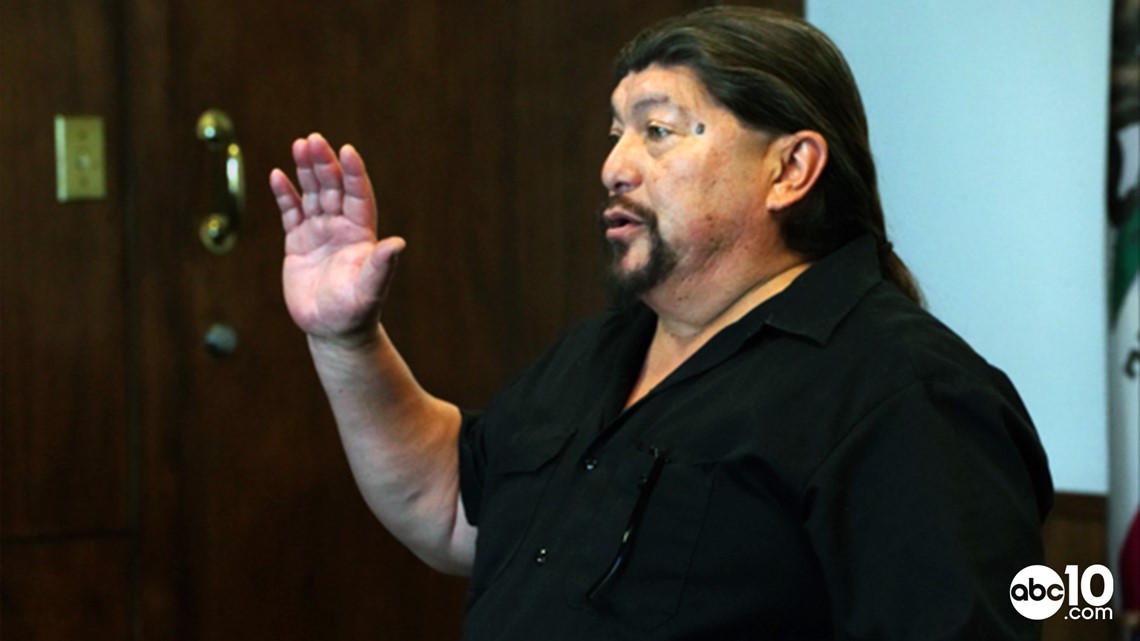 Witness #3 of the day is Larry Lacunza.
He's a tree contractor who worked for PG&E in 2018 doing field inspections. His job was to check tree inspections and cutting work and "make sure it got done to PG&E's standards."
The Zogg Fire tree was in the burn area of the 2018 Carr Fire. Lacunza's job was to quality check the post-fire tree inspections done around PG&E power lines near Zogg Mine Rd.
PG&E is done on cross exam with arborist Joseph McNeil.
He told the company's lawyers it is possible that some smaller roots may have grown around the boulder on the uphill side, but they would've been so weak they would have snapped when the Zogg Fire tree fell.
Prosecutors on redirect asked him:
"There was no uphill support for this tree in its root structure?"
Every so often, everything in the Shasta County courtroom stops for about 30 seconds to a minute while train horns blare on the nearby freight rail line.
On cross exam, PG&E is focusing McNeil on his position that an inspector likely couldn't have seen the Zogg Fire tree's injury if standing down by PG&E's power line.
On cross-exam, McNeil explains gray pines have an alternate name, "Ghost Pine," because they have wispy foliage.
They also apparently were called "Digger Pines" in the 1800s.
On cross exam, McNeil says *this* gray pine, that fell on the PG&E power line and sparked the Zogg Fire, possibly because a buried boulder was on its uphill side.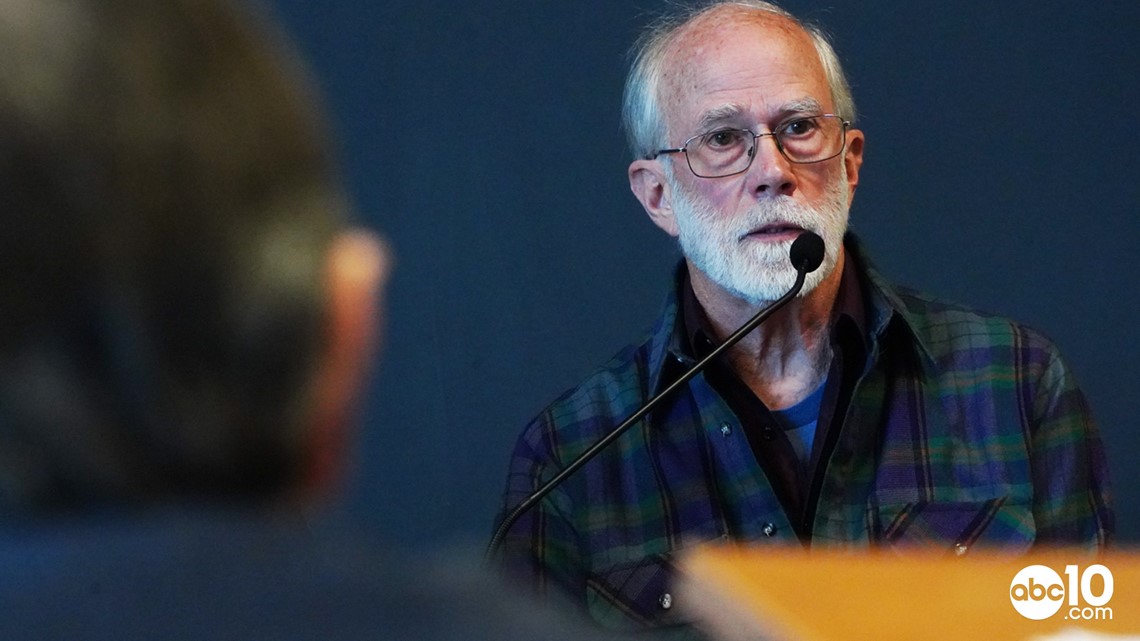 McNeil wraps up direct exam by answering that the Zogg Fire tree was diseased, decayed and weakened by the decay.
It was leaning in a way that it would fall into the power line if/when it fell.
His testimony supports the prosecutor's theory that the tree's problems were obvious-- and that PG&E had a duty to prevent the fire and the 4 deaths.
The lean of the tree that fell on PG&E's power lines at the Zogg Fire origin point "would have been difficult to miss."
McNeil is now explaining the different levels of detail in tree inspections, which can vary from a drive-by (level 1) to a full walk-around and probing of the tree's characteristics (level 2) to a very detailed study, taking scientific samples, etc. (level 3.)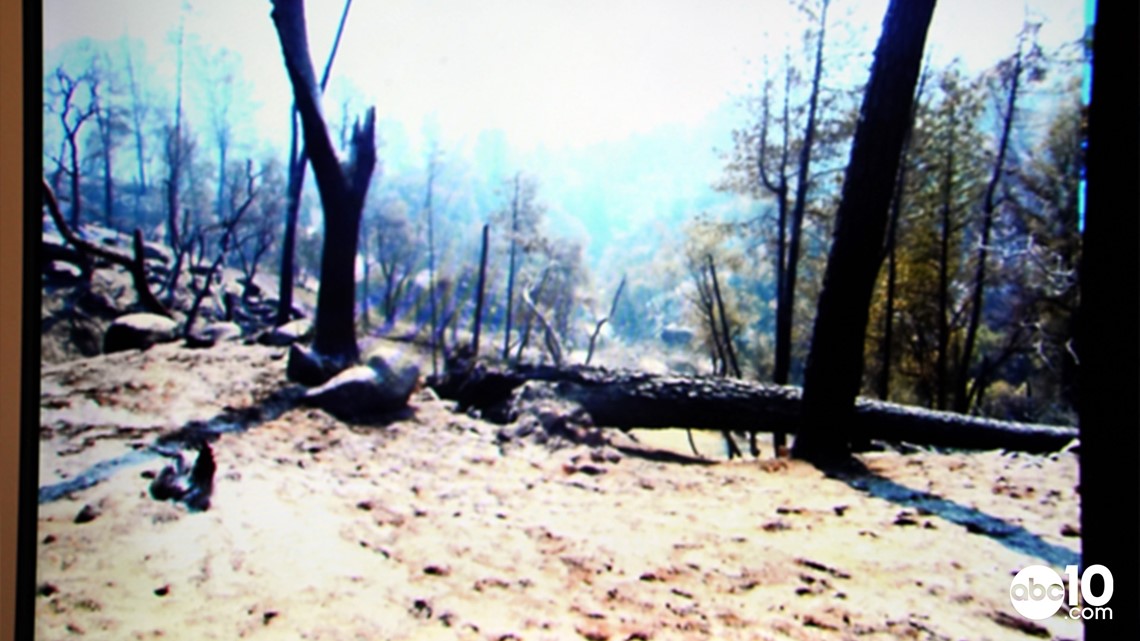 McNeil testified this morning that the big, obvious injury at the base of the tree trunk was a "huge red flag."
More than half the circumference of the trunk was missing-- a hollow cavity.
The tree had been leaning in the direction of power lines for 60 years.
Most importantly, there were no *roots* beneath the cavity.
"This tree had no roots in the direction it most needed roots: uphill."
This morning, ABC10 saw family members of Feyla and Alaina McLeod (two of the fire's four fatalities.)
We're resuming with Joseph McNeil, the arborist who assisted Cal Fire with its arson investigation.
The investigation found PG&E should have prevented the fire by removing the hazard tree. It recommended criminal charges.
McNeil says he would consider this a high risk tree. It had trouble signs, even if it hadn't been leaning over the PG&E power lines that sparked the Zogg Fire.
"Even if it was stood straight up, it would be a huge red flag for me," said McNeil.
"And if it leaned, I would probably consider this to be a hazard to whatever it is it might strike."
McNeil says the injury removed the wood around more than 50% of the diameter of the tree's base.
He describes it as an obvious sign of a deeper problem: missing roots.
"There's no root there to hold the tree up" on the load-bearing side of the tree that fell onto PG&E's power lines where the Zogg Fire started, McNeil said.
Roots on that side would be "critical to holding the tree up."
PG&E has defended past accusations of wrongdoing by pointing out trees that fell on its power lines were "alive and vital." (This was a line of defense in the massive 2021 Dixie Fire, for instance.)
In the Zogg Fire manslaughter hearing, arborist McNeil says: "Trees that are alive and vital may have significant mechanical defects that make them more prone to different types of failures."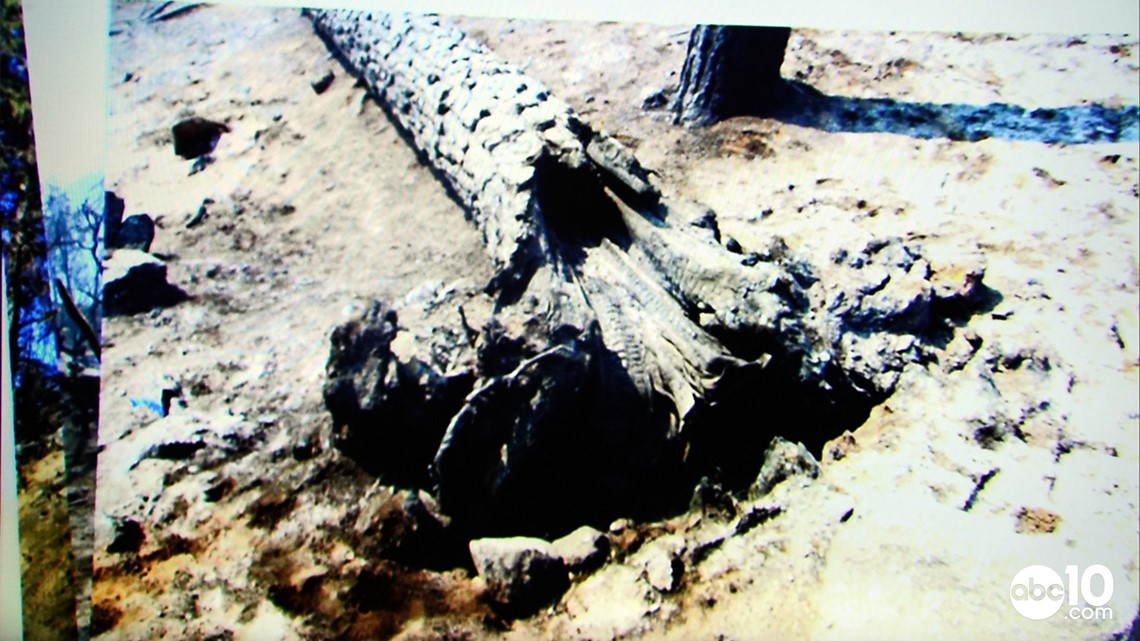 McNeil is walking through more reasons why the tree was especially dangerous to PG&E's power line:
"This tree had no roots in the direction it most needed roots: uphill."
This photo shows how it looked after falling over. The big open cavity you see at the base was an injury the tree had for years, McNeil found.
It had been leaning for 60 years, a study of tree rings revealed.
Arborist expert witness Joseph McNeil is explaining how his study found that the gray pine was leaning at 23-degree angle toward the power lines that sparked the Zogg Fire.
"What's important to understand is that if (the lean) is combined with a defect, that can be a serious indicator."
The tree was leaning *and* had a large injury, a cavity at the trunk that made the tree weaker.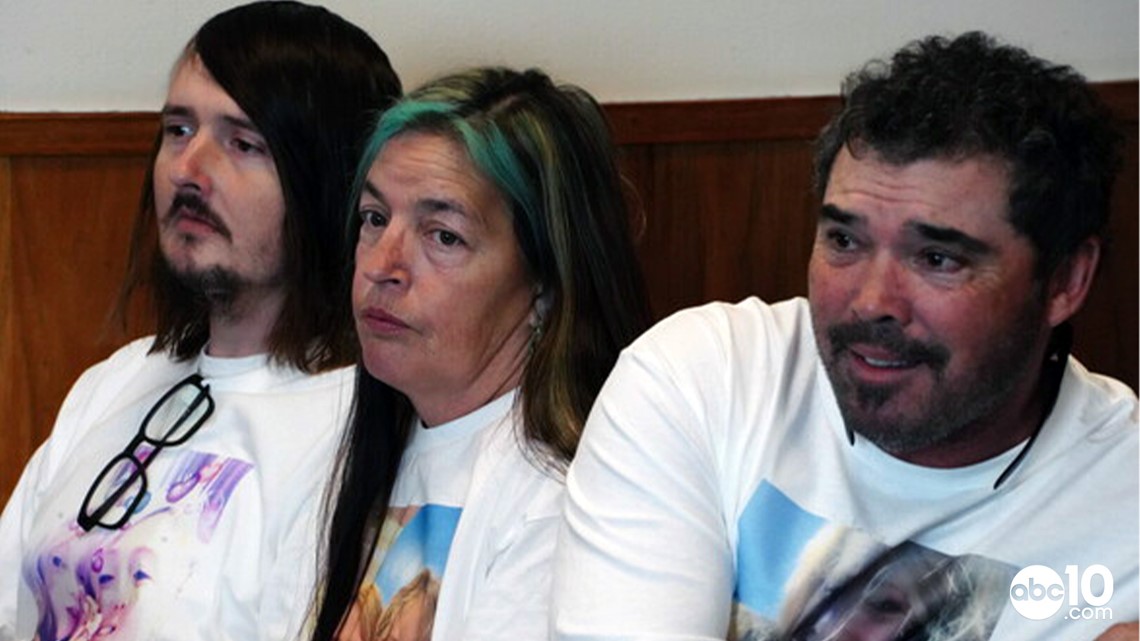 The father and grandparents of Feyla McLeod and her mom Alaina, who both died in the Zogg Fire, are in the courtroom.
Zach McLeod, Suzie Bewley, and Rob Hunt are wearing photographs of "the girls" to court.
Zach spoke with ABC10 about why justice in this case matters. WATCH/READ the story: https://www.abc10.com
Nolt is done. Some fairly foundational testimony about the basic functions of the PG&E circuit and how it was damaged by the falling tree, sparking the Zogg Fire.
Witness #2 today: Joseph McNeil. He's a master arborist and did the tree study for Cal Fire's arson investigation.
"I've worked on occasion for PG&E in the same capacity I'm working for Cal Fire."
Nolt prepared a report for Cal Fire's Zogg Fire arson investigation.
He's describing seeing burned and broken PG&E power poles near the origin point of the fire.
"The tree fell on the line," he says of what he found. "They (the lines) were clearly broken under tension."
At issue is an injured, leaning tree-- which PG&E failed to remove to prevent a fire.
Jim Nolt, an electrical engineer, is Thursday's first witness for the Zogg Fire prosecution.
He's done investigatory work for law enforcement agencies, including ATF, abd also insurance companies.
Along with continuing education, he goes to "arson conferences." These are the kinds of facts used to establish witnesses as experts.
Court is underway in the PG&E Zogg Fire manslaughter hearing.
Prosecutor Ben Hanna: expect 2 expert witnesses this morning, then some local witnesses this afternoon who will speak to PG&E's tree cutting practices.
PG&E attorney Brad Brian confirms that he and the DA's office are working on narrowing down/clarifying the witness list.
ABC10: Watch, Download, Read