The dismissal is pending a civil agreement between the district attorney and PG&E.
When asked if the settlement delivered justice, Shasta County District Attorney Stephanie Bridgett said, "Well, it's justice of what we could get, given the circumstances that we're faced with."
But the deal does not require PG&E to admit wrongdoing, much less admit any crimes. Bridgett felt confident she could have gotten a guilty verdict.
"Yes. That's sad that that was taken away from us and taken away from the family members," she said.
Kyle Drake was one of several Zogg Fire survivors who protested outside the courthouse. He wasn't happy with Flynn's decision.
"He just dismissed it. He just changed his mind, it's kind of suspicious," said Drake.
Drake sees it as proof PG&E has a formula to avoid criminal responsibility.
"It's just almost like rubber stamping now," he told ABC10.
PG&E admits its power line started the Zogg Fire, struck by a badly damaged tree. Failing to remove the tree was a mistake, its lawyers argued, but not a crime.
PG&E CEO Patti Poppe didn't show up to court, but said in an earlier statement the deal "reflects our continuing commitment to making it right and making it safe."
Family members of people killed in the Zogg Fire previously pleaded with the judge to reconsider his plan to dismiss felony charges of manslaughter and reckless arson against PG&E.
"Lives cannot be lost anymore, families cannot be torn apart anymore by a company that has disregarded the safety of their customers," said Suzie Bewley, whose eight-year-old granddaughter Feyla McLeod was killed in the fire alongside her mother Alaina.
The McLeods burned in a pickup truck trying to escape their home, which was destroyed in the fire. Father and husband Zach McLeod told ABC10, "No one should even have to imagine going through that. I never did."
The fire also killed neighbors Karin King and Ken Vossen in the small community of Igo near the city of Redding.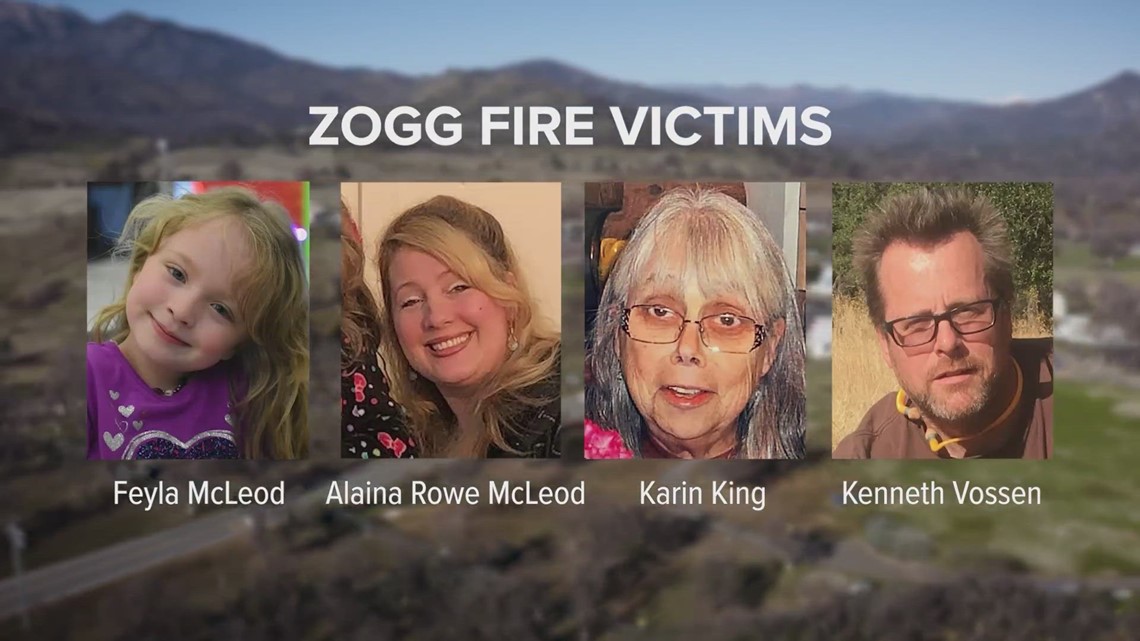 A jury also convicted PG&E of six federal felonies after the deadly 2010 San Bruno gas explosion. In a case with similarities to the Zogg Fire, a Nevada County jury also convicted PG&E of 739 misdemeanors after power lines started the 1994 Trauner Fire.
Bridgett was one of six district attorneys who agreed last year to drop criminal cases, instead entering into a civil settlement with PG&E for starting the 2019 Kincade and 2021 Dixie fires.
PG&E attempted to reach a civil settlement for the Zogg Fire at the time, but Bridgett refused to drop the charges.
"In the Zogg case, PG&E's actions caused the deaths of four people," Bridgett said last April. "A civil settlement alone, such as was reached in the Dixie Fire case, would not be sufficient to hold PG&E accountable for their actions."
PG&E still faces a pending criminal investigation in the 2022 Mosquito Fire. Federal officers seized a PG&E transmission pole at the origin point of the fire.
WATCH MORE FIRE - POWER - MONEY
ABC10: Watch, Download, Read