SACRAMENTO, Calif. — Disaster survivors demanded an apology from Gov. Gavin Newsom after allowing the leader of his cabinet to plug PG&E as a featured guest during a recent corporate event for the monopoly's shareholders.
Newsom's cabinet secretary Ann Patterson walked out on stage to applause at PG&E's company-owned San Ramon conference center last month during the corporation's 2023 Investor Day.
The appearance took place during a pending felony manslaughter case against PG&E for starting the 2020 Zogg Fire, which killed four people. The criminal charges were dropped in a civil settlement less than a week later.
"You know who's padding whose pocket," said Suzie Bewley, whose granddaughter and daughter-in-law were killed in the Zogg Fire. "How much more are they going to get away with? How many more lives will be lost until somebody puts a stop to it?"
The governor's office and PG&E both declined to be interviewed for this story. Neither responded to our request for comment.
CAL FIRE also participated in the event, along with a state senator. Their comments appear below.
Under state public record laws, ABC10 requested Ann Patterson's calendar entries for her meetings with PG&E officials in the month of May.
The governor's office replied by saying it intends to keep those records secret. The legal reasons given for withholding the records are "mistaken" and "problematic," according to David Loy, who serves as legal director for the California-based First Amendment Coalition.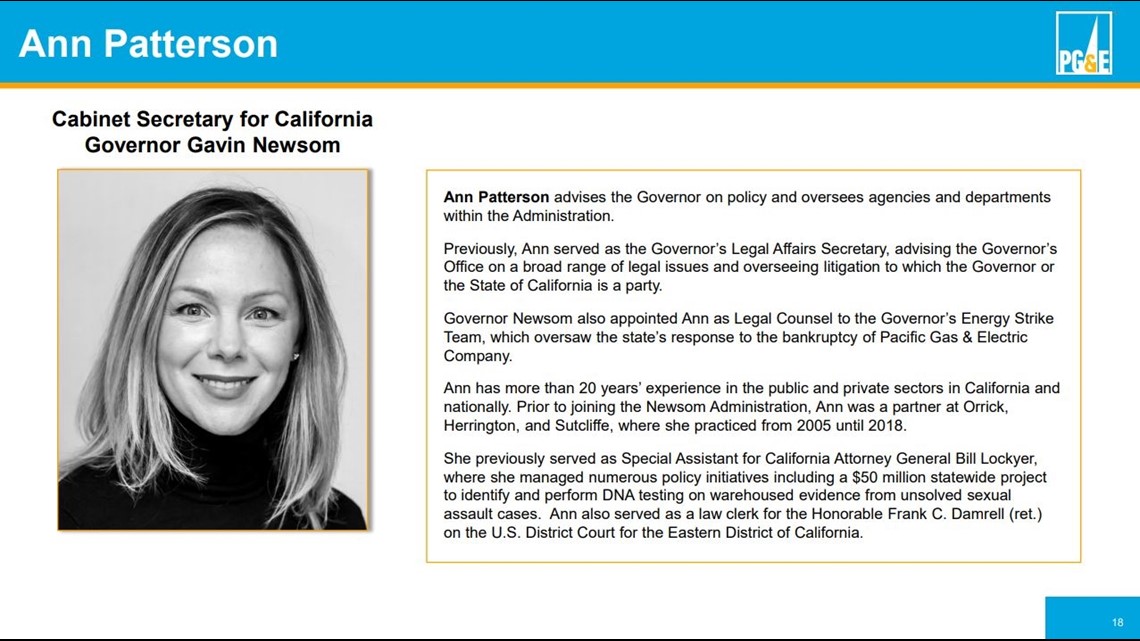 PG&E A 'GOOD PARTNER?'
For nearly 20 minutes, Patterson fielded friendly questions from senior PG&E executive vice president Carla Peterman.
"It's absolutely completely and utterly disgusting," said Terry McBride, who has spent the last 8 years camping in a trailer with her daughter on the land where their home once stood.
The McBride home burned in the 2015 Butte Fire, which was started by PG&E's power lines.
Some of the 70,000 fire survivors have yet to receive any money. Those who have, including McBride, have only been paid 60 percent of their claims.

"Not only does [Newsom] need to apologize, he needs to say, alright, we need to get this fixed," said McBride.
On stage at the investor event, Patterson never mentioned the plight of the tens of thousands of disaster survivors. But she did repeatedly praise PG&E as "overall, just a good partner."
Patterson exclaimed "it's working" when asked about Newsom's California Assembly Bill 1054 law, passed in 2019 in response to PG&E's bankruptcy.
Utilities got access to a new $21 billion state insurance fund, half of which is being paid for by customers. But the law left out the 70,000 survivors of the fires leading PG&E to file for bankruptcy.
Back in 2019, McBride testified in favor of AB 1054 at the state Capitol because she was led to believe the law's passage would finally secure payment for her and her fellow survivors.
"You're not going to see any change from a governor and his cabinet that allowed all this to happen in the first place. It's not going to happen," said McBride. "They have to admit they're wrong, and they will not."
CAL FIRE, STATE SENATOR ALSO PARTICIPATED
Patterson wasn't the only state official to attend PG&E's investor day event. The utility invited investors on a field trip to Napa County, complete with "optional lunch and winery tours."
There, investors heard from guest speakers that included the CAL FIRE chief for Napa and state Sen. Bill Dodd (D-Napa.)
CAL FIRE's participation raised eyebrows because the agency has been responsible for numerous arson investigations that found PG&E at fault for starting large, destructive fires.
Asked why the agency felt it was appropriate to participate in the utility's investor event, CAL FIRE spokesperson Nick Schuler said "we strive to reach diverse audiences."
He described the event as one of many forums CAL FIRE has used to educate the public about fire risk.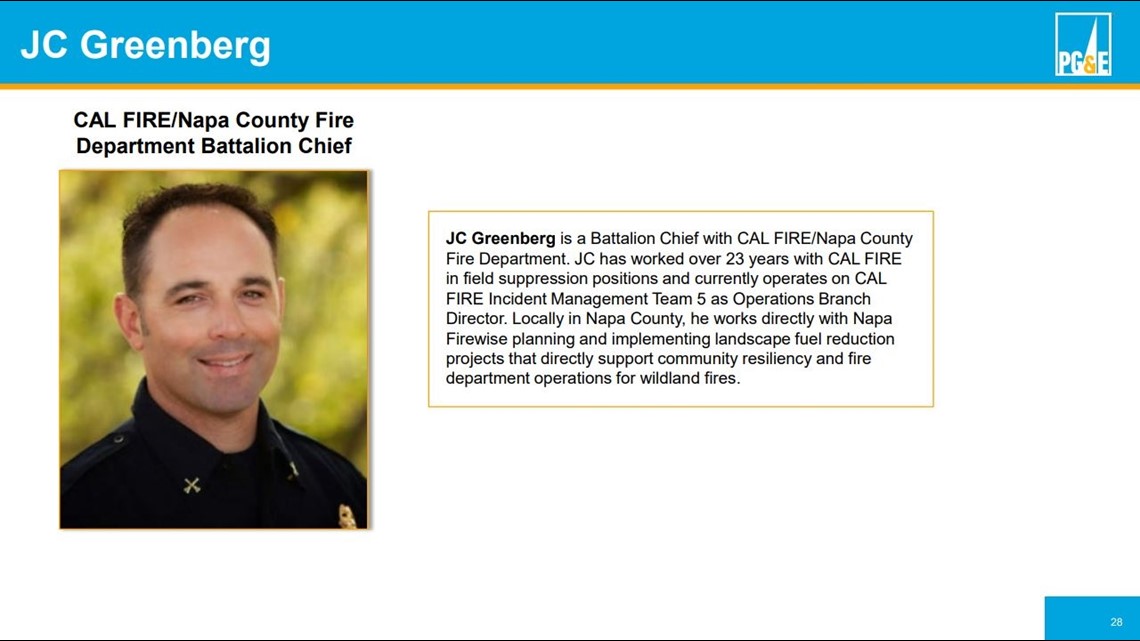 CAL FIRE Battalion chief JC Greenberg did ask superiors for permission to attend PG&E's investor event, according to emails obtained by ABC10 under state public record laws.
In reply, regional unit chief Mike Marcucci told Greenberg he would check with officials in Sacramento for "any landmines," but said Greenberg should plan to participate.
The agency said it did not mean to offend survivors of PG&E-caused fires.
"Our intent is to never disappoint the public we serve," said Schuler, pointing to the fact that PG&E crews work inside active fire zones. "CAL FIRE will continue to prioritize collaboration with our emergency response cooperators."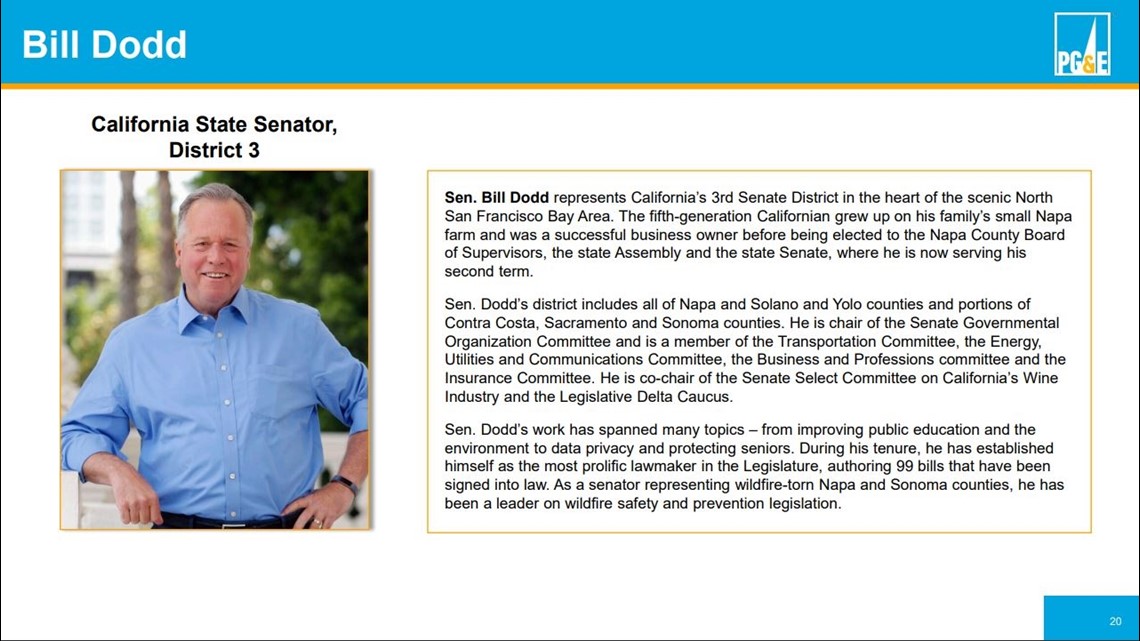 "It's critical that PG&E continue its investments in safety and wildfire prevention, and to accelerate those efforts," said Dodd via email. "We've made strides, but we're still not where we want to be."
THE UNSPOKEN MESSAGE
The attendance of state officials at PG&E's investor day contrasts with the company's pattern of annually being investigated as the cause of major disasters.
During Newsom's first term, PG&E pleaded guilty to the deadliest homicide ever committed by a corporation in the United States: the 2018 Camp Fire.
"How is it that a convicted criminal enterprise, that is just about the most unpopular entity in the state of California, how is it that they keep still getting what they want out of government," asked Dave Rosenfeld, who leads the Solar Rights Alliance.
To him, it makes sense that PG&E executives hyped cabinet secretary Patterson as a "big deal" when she appeared on the company's stage: It sends an unspoken message to investors who've been jarred by PG&E's calamitous track record.
"By getting together in these kinds of intimate settings, they're signaling what's going on is 'we're on the same side,'" said Rosenfeld.
He was also struck by the person asking Patterson the questions: PG&E executive vice president Carla Peterman. Peterman was one of PG&E's appointed state regulators on the California Public Utilities Commission.
She served as a commissioner from 2013-2018 when PG&E caused the fires that drove it into bankruptcy.
"Follow the money, follow the lobbying, follow the revolving door," Rosenfeld added.
Other advocates told ABC10 they didn't hear anything especially problematic in Patterson's remarks to PG&E's investors, but still questioned the political wisdom of her participation.
"Ann [Patterson] should know better in terms of the optics," said Jamie Court with Consumer Watchdog.
Fire survivors are less concerned with optics than they are with getting paid and preventing future people from suffering in preventable fires started by the utility.
Instead, they see the state participating as PG&E announced plans to resume paying profits to investors in shareholder dividends anticipated later this year.
"What we're seeing now is that our government is working hand in hand with corporates," said McBride. "It's all about profit."