REDDING, Calif. — ABC10 is in court, where day 4 of PG&E's Zogg Fire manslaughter hearing began. To catch up on day 3 of coverage, click HERE.
This blog will be updated as today's court hearing continues.
The Zogg Fire started appx 1/2 mile downhill on Zogg Mine Rd from the road the alleged problem customer lived on, per my check of the map.
PG&E employee Michael Koffman will be back on the stand at 9am tomorrow for the PG&E manslaughter hearing.
Judge Boeckman is expressing that he's not inclined to pause proceedings due to changes in the order of witnesses.
And with that Day 4 is done.

"There were no financial implications for me," Koffman says of his decisionmaking on Zogg Mine Rd.
Cross is done. Redirect underway in the PG&E manslaughter hearing.
Did you stop work on all of Zogg Mine Rd?
Koffman says he thinks he directed a stoppage on just the property of the problem customer and adjacent properties.
Her property is well past the Zogg Fire origin point on the road.
More emails show Koffman tried to get law enforcement to provide security instead, but Shasta Sheriff couldn't spare someone for the 3-5 day job. They discussed trying CHP.
Eventually, Koffman decided to punt-- and leave the work for the next "routine" patrol, which was apparently not informed of the Zogg Fire tree's injury-- and didn't find the injury on its own.

Emails show an attempt to get PG&E corporate security to show up to Zogg Mine Rd in 2018 after the Carr Fire while crews cut about 30 trees.
One of those trees, left uncut, is what was found to have caused the #ZoggFire 2 years later.
"Were you successful in getting corporate security's help to do that?"
PG&E manager Michael Koffman is shown several written accounts from 2018, detailing how the alleged problem customer showed a firearm in her center console to tree crews-- and ran a stop sign at a roadblock.
He says he paused tree inspections on Zogg Mine Road after hearing these concerns.
Bit of a snafu with the electronic evidence display system PG&E was allowed to set up in the PG&E manslaughter hearing: the screens show a name redacted in a piece of evidence-- but the name is *not* redacted in the actual exhibit.
After some objections, the judge decides to move on-- PG&E's attorneys are now displaying a paper version of the email.
"The safety of our workers was being threatened," Koffman says when asked about the alleged problem customer.
She's not on trial, but PG&E's lawyers are trying to make the case that Koffman's decided to pull crews out for safety concerns in the wake of the 2018 Carr Fire, leaving other crews pick up the unfinished cutting in future routine patrols.
PG&E atty Brian is walking Koffman through an email that estimates the number of post-Carr trees to be worked at 20k.
It shows Koffman expressing the expectation that all fire-damaged trees tall enough to hit lines should be removed.
"We cannot leave hazards unmitigated," the email ends.
PG&E atty Brad Brian now has PG&E employee Michael Koffman on cross in the PG&E manslaughter hearing.
Koffman says he chose to leave trees identified in the 2018 post-Carr Fire inspections to be dealt with in the next routine inspection. DA says the Zogg Fire tree fell through the cracks this way.
Koffman says he made the decision b/c of reports of threats to tree contractors on Zogg Mine Rd.
At the heart of the testy exchanges: Koffman's declaration to Alsup included details and emails (see below) about the woman identified in Morefield's prior testimony as a problem customer.

The PG&E manslaughter hearing has been silent for a couple of minutes as Koffman reviews his sworn statement. He wants to read it before answering whether it's an accurate copy of the declaration he gave Alsup.
After that review, he says he believes it's accurate.
After debate over what's in the sworn statement, DA atty Frazer says he'll bring it in later.
Koffman is being shown text messages between him and other PG&E workers.
The texts (which we can't yet see) mention a meeting and discuss how the trees have been marked on Zogg Mine Rd.
He testifies that he doesn't remember where that meeting was-- doesn't remember the meeting at all.
DA team hands Koffman his sworn statement to Judge Alsup.
The post-Carr inspections are believed to have resulted in the Zogg Fire tree being tagged for removal.
Koffman says he decided to leave some marked trees to be "picked up" by PG&E "routine" tree work later.
"It likely would have had fluorescent green paint on it," that routine inspectors "would have seen," Koffman says.
But later routine patrols didn't tag the Zogg Fire tree again... and didn't result in it being cut down.
The tree that hit power lines in 2020 and sparked the Zogg Fire was in the footprint of the 2018 Carr Fire.
In the PG&E manslaughter hearing, PG&E manager Michael Koffman says he would have expected to see any fire-damaged trees in the area removed, based on the instructions PG&E gave contractors after the 2018 fire.
DA now asking how PG&E made sure trees marked for work were actually worked.
In the wake of the 2018 Carr Fire, Koffman says PG&E brought in tree contractors-- but PG&E was "unsure" of their qualifications.
Koffman says the contractors were given "binary" instructions-- to take out trees with fire damage.
He says there were maybe 1000 workers.
Why didn't PG&E create written instructions for all those people?

Here's a better quality image of the evidence we saw this morning in the PG&E manslaughter hearing - a LiDAR reconstruction of the Zogg Fire origin point, made as part of the CAL FIRE arson investigation.
The red tree is the reconstructed position of the injured tree before it fell onto PG&E's power lines, represented by 3 dots in mid-air in this cross-section.

We're back in court for Day 4 of the PG&E manslaughter hearing.
PG&E is charged in the 2020 Zogg Fire, which killed 4 people.
PG&E atty Jonathan Kravis says the DA changed the order of witnesses, which may leave PG&E unprepared to examine some of them.
Let's just see how it goes, says Judge Bradley L. Boeckman.
With that, PG&E employee Michael Koffman is back on the stand.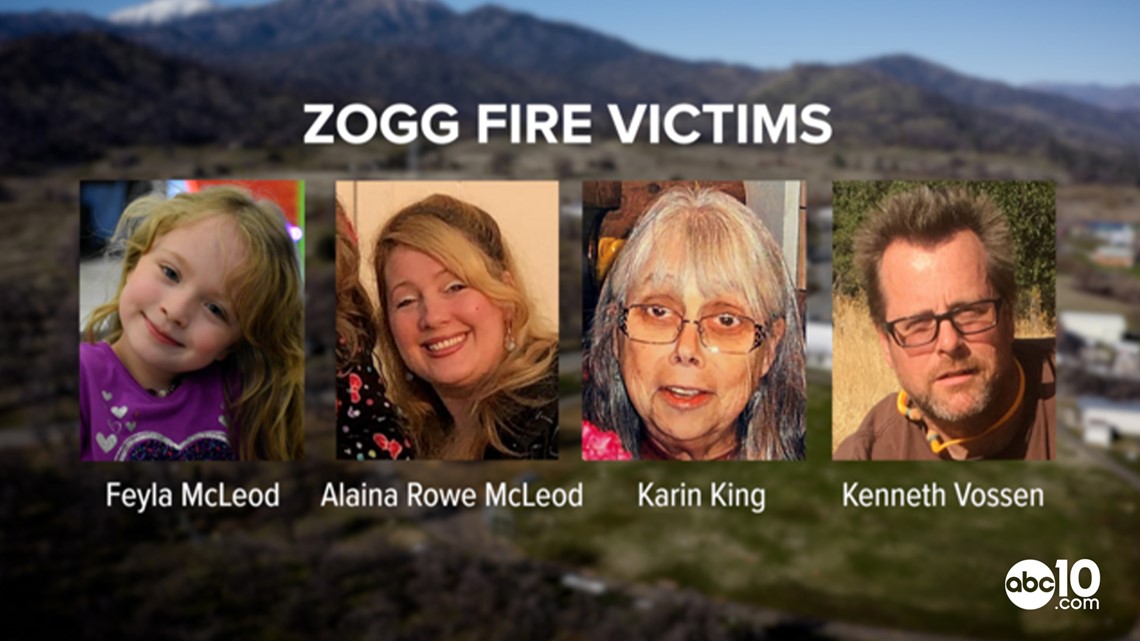 The PG&E manslaughter hearing heads to lunch break.
Koffman's direct exam to resume when we come back at 1:30pm.

As a supervising program manager for vegetation, Koffman says he was "responsible for oversight of contractors doing work in the field" for PG&E. He had that title 2016-2019.
"My desk was in the Chico office," he says. He was responsible for the North Valley Region: Basically the N central valley and surrounding foothills, he says.
Muegge is done for the day, but may be recalled to the stand if needed.
Looks like we'll at least get one more PG&E manslaughter hearing witness started before lunch: Michael Koffman, who's the first PG&E employee to testify.
Before working at PG&E, he did utility contract work-- including tree trimming, audits of other contractors' work.
PG&E tree inspection contractor John Muegge is looking at this photo from his declaration to US Dist Judge William Alsup during PG&E's probation. (It's not being shown to the court gallery.)
He says again what he told Alsup-- he doesn't see anything in the picture that would lead him to do a 360-degree (L2) inspection of the Zogg Fire tree.

A routine patrol has a broader scope than a CEMA (post-fire) patrol, Muegge agrees on cross.
Routine patrol inspections should encompass everything that would be done in a CEMA patrol, he agrees.
On cross, Muegge says he never felt pressured not to do a 360-degree (level 2) inspection of a tree that he felt needed one.
The Zogg Fire tree had a big wound that may not have been very visible from a walk-by (level 1) inspection.
The wound was on the uphill side.
The PG&E power line was on the downhill side.
Contractors relied on L1 inspections to decide when to do L2.
One more nugget from this morning's PG&E manslaughter hearing direct exam of PG&E tree inspection contractor John Muegge:
In 2019, Muegge says he was told to do a routine patrol and a CEMA (post-fire) patrol at the same time.
He says it's not unusual to do one patrol for PG&E but count it as two patrols.

We've just had midmorning break in the PG&E manslaughter hearing.
John Muegge, a PG&E tree inspecting contractor, is back on the stand beginning cross exam by PG&E's criminal defense lawyers.
Multiple lawyers are in the spectator seats, many of [them] representing witnesses who've yet to testify.
DA atty Ben Hanna wraps up Muegge on direct, asking whether he would have done 360-degree inspections of trees if told to before the Zogg Fire.
"Would that have taken you a longer time...?"
"Were you ever instructed to do a 360-degree review of potential strike trees?"
In the PG&E manslaughter hearing, multiple PG&E contractors say the wounds on the Zogg Fire tree would have been reason enough to have it cut down. BUT most of them don't think they *saw* the wound because they did "level 1" inspections, which does not involve walking 360-degrees around the tree.
Muegge says "the cavity is significant, looked like it would be a danger to the power lines."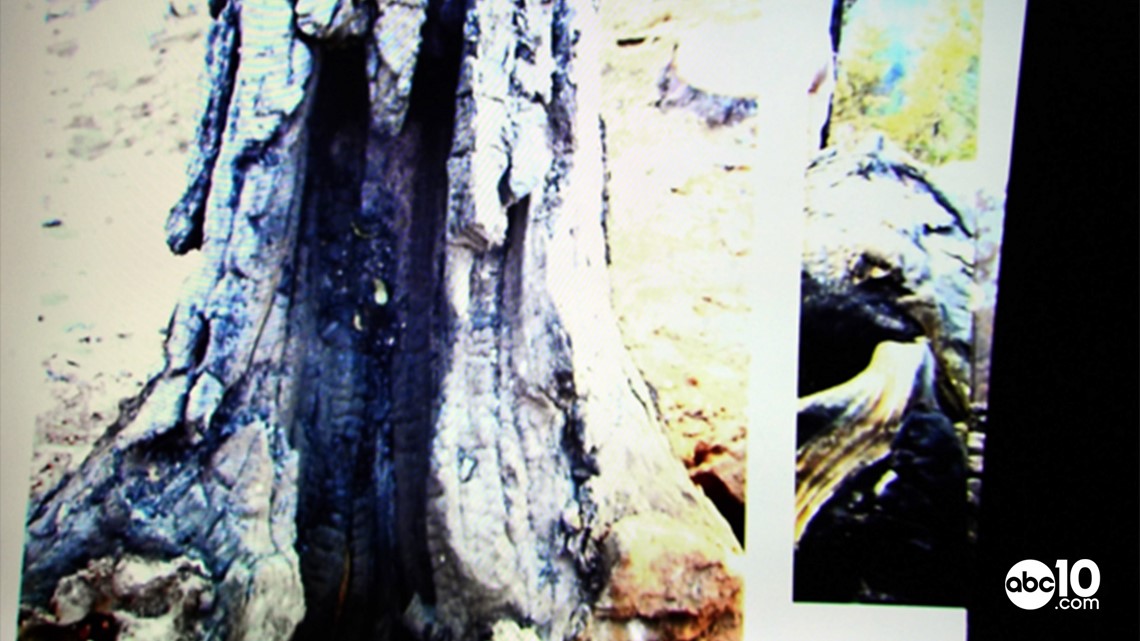 Muegge's sworn statements to U.S. District Judge William Alsup include this image, which shows the Zogg Fire tree prior to it falling.
Muegge told the Alsup during PG&E's federal probation that the lean of the tree and black discoloration from fire damage circled in red wouldn't be reason enough to cut it down.
"Based solely on my review of this image," he told Alsup, he believes the tree is "in compliance."

In the PG&E manslaughter hearing, John Muegge says he's been inspecting trees in the power line where the Zogg Fire started since 2017.
"If I would have seen that cavity, I would have signed the tree up (to be removed,)" he says of the cavity/wound on the Zogg Fire tree.
PG&E manslaughter hearing: Asked if he knows PG&E's Tree Assessment Tool (TAT,) Muegge says he does. Doesn't know if it was in use back then. He thinks it's mostly used on PG&E's new "enhanced" tree trimming.
"It doesn't do a good job" to determine the health of the tree, he says of PG&E's assessment tool.
PG&E has touted TAT to state regulators, such as in this 2022 document

PG&E manslaughter hearing:
Muegge inspected the origin point area in the 2 years before the Zogg Fire started. Back then, he says he didn't look for cavities in trees.
Who told him to, the DA asks?
(CAL FIRE found a large cavity in the base of the gray pine that fell onto PG&E's power line.)

That was a short witness. On cross, PG&E asks Karoly to confirm his LiDAR scans picked up a boulder at the base of the Zogg Fire tree.
Now on to more PG&E contractors in the PG&E manslaughter hearing.
Next up is John Muegge, who worked with Kelley at CNUC, a company hired to inspect trees in this area in 2018.
Here's a cross-section created by CAL FIRE LiDAR scans, depicting the Zogg Fire origin point.
Karoly says the reconstruction showed the 105-foot tree was leaning 23 degrees in the direction of power lines downhill-- and that the burn marks found on the tree matched the locations of the conductors (live wires) on PG&E's power line.

LiDAR scans like the ones we're about to see in the PG&E manslaughter hearing for the Zogg Fire can capture impressive detail.
Here's a LiDAR image from the criminal case that led PG&E to plead guilty to 84 felony manslaughters and to recklessly starting the 2018 Camp Fire.

Dave Karoly, a CAL FIRE land surveyor, is the day's second PG&E manslaughter hearing witness.
He worked on the Zogg Fire arson investigation, collecting LiDAR imagery of the scene at PG&E's power line that sparked the fire. (LiDAR is a type of laser scan that captures detailed 3D imagery/data in a space.)

PG&E on cross with Kelley in PG&E manslaughter hearing for 2020 Zogg Fire:
"If you saw something that looked like a hazard you would have marked it right?"
"Nobody ever told you not to mark any trees that you felt were a hazard right?"
He agrees that his job inspecting trees involves making "judgement calls."
PG&E manslaughter hearing: Jeremy Kelley agrees with DA atty Ian Frazer that his job was to look at the back side of trees if they were leaning toward power lines and tall enough to fall on the lines.
DA is done with direct. PG&E now has him on cross exam, going over the training he received when working for PG&E contractor CNUC as a "CUF," or Consulting Utility Forester.
The first witness today in [the] PG&E manslaughter hearing should be Jeremy Kelley, who was on the stand for the last 15 mins Tuesday afternoon.
He's a contractor who inspected trees for PG&E back in 2018 in the area where the Zogg Fire started.
He's one of several who provided sworn statements to the federal judge who used to oversee PG&E's probation before it expired last year.

Good morning from criminal court in Shasta County, where Day 4 of the PG&E manslaughter hearing is about to begin.
We've been learning how PG&E handles problem trees — work PG&E has a legal duty to do for safety.
The DA alleges PG&E did more than make a mistake in that duty but rather committed criminal neglect of that duty, starting the Zogg Fire.
ABC10: Watch, Download, Read