Neil McKeown's farm used to be a field of weed. Today it's a field of weeds.
"We've been shut down this whole year, unable to operate," McKeown said. "The county changed everything around and banned us… made us shut down our operation."
Calaveras County's official stance on marijuana has changed dramatically enough to give a person whiplash. McKeown is one of hundreds of legal pot growers who had a license under county law. Less than two years into that program, the county's leaders decided to shut it all down.
It's helped to fuel a toxic political environment that features recall petitions, class-action lawsuits, and name-calling. It's also added to financial problems the county faces. All the while, many of the problems that prompted the county to ban legal grows persist.
Black market marijuana growers continue to operate in ways that damage the environment of this picturesque rural county that stretches over 1,000 square miles of California Gold Rrush country in the Sierra Nevada foothills.
THE WORST GROWS AREN'T GONE—AND THEY'RE HARD TO BUST
Many of the complaints lodged by marijuana opponents arose from illegal grows that expanded in recent years at the same time the county was issuing licenses to legal growers. The licensed growers had to follow state and local regulations— something that black market growers, by definition, avoid.
"We really didn't have a problem with the registered growers," said Sheriff Rick DiBasilio. "It was the ones that never registered that were giving us the problems."
The sheriff doesn't position himself as a marijuana crusader. He speaks about the issue in matter-of-fact terms, pointing out that it's not his job to make the laws.
"Right now we have a ban so that's what I'm enforcing," DiBasilio said.
Enforcing that ban hasn't been especially difficult, at least not when it comes to the hundreds of people who obtained licenses from the county to grow cannabis legally. The sheriff says nearly all of those licensed growers complied with the new ban and shut down their farms.
But the unlicensed growers never cared about the rules to begin with. Efforts to shut them down have evolved into a cat-and-mouse game that's playing out across more than 1,000 square miles of terrain that makes up Calaveras County.
ABC10 joined deputies on a recent raid of a parcel on a hillside North of the town of Copperopolis. Investigators knew unlicensed growers had thousands of plants growing there, but almost all of the plants had been ripped out before deputies stormed in.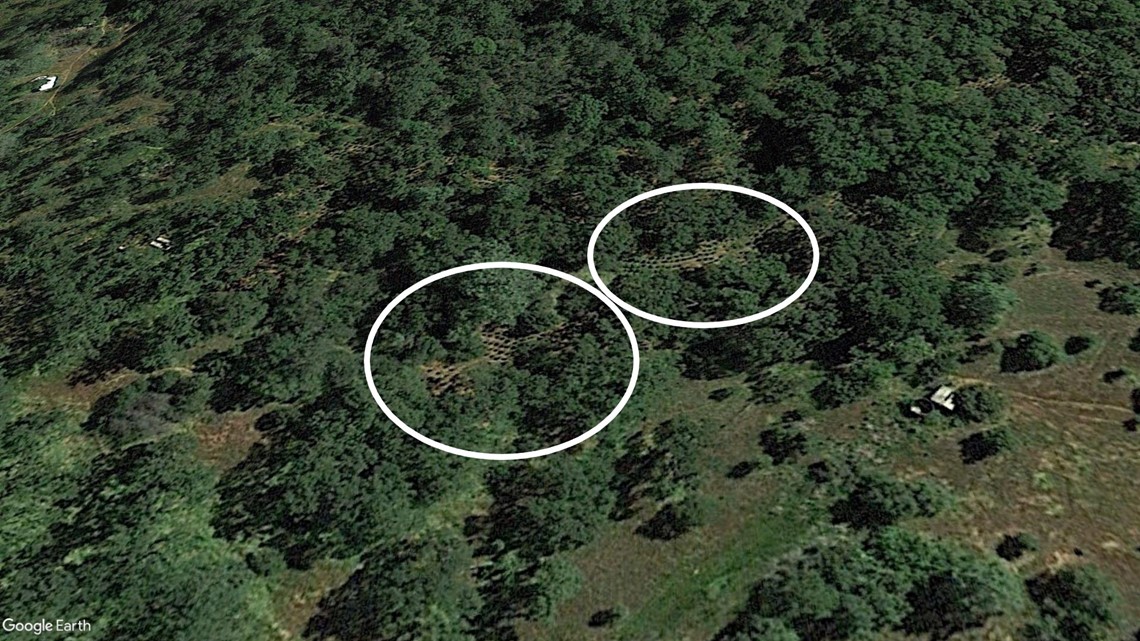 "They must have gotten spooked when we flew it," one undercover deputy remarked—referring to the surveillance used to prepare for the raid.
The illegal growers left behind a lot of baby plants, which is why the press release for this raid claims a plant count of more than 1,000. The bust only netted a couple dozen plants of substantial size. Deputies plucked those out, and tied them into a bundle that one deputy carried down the hill by hand.
Deputies found no one to arrest, but even if they had—illegal marijuana cultivation is only a misdemeanor in California. Deputies can sometimes build a case for a felony based off of environmental laws when unlicensed growers use chemicals and water in illegal ways.
"We've seen a big decline in illegal grows, but they're still there," DiBasilio says. "I'd be blowing smoke if I said we were going to get every one of 'em. It's not possible. We couldn't get them all back in the 70's and 80's. You can't realistically do it. You don't have the personnel."
THE BACKSTORY: MONEY AND FIRE
How we got to this point is a story of money and fire. Specifically, the Butte Fire—which burned almost 500 homes in this region back in the Autumn of 2015. After the fire, some homeowners opted not rebuild.
Land became cheaper, which attracted more growers. The burned-out land was ideal for cultivating marijuana because the fire had burned away much of the vegetation.
The following Spring, faced with emergency expenses and a shrinking tax base, the county's leadership opted to harness marijuana as a way to make money—passing a stopgap ordinance to license growers. County voters passed a tax on the grows, which brought in millions of dollars.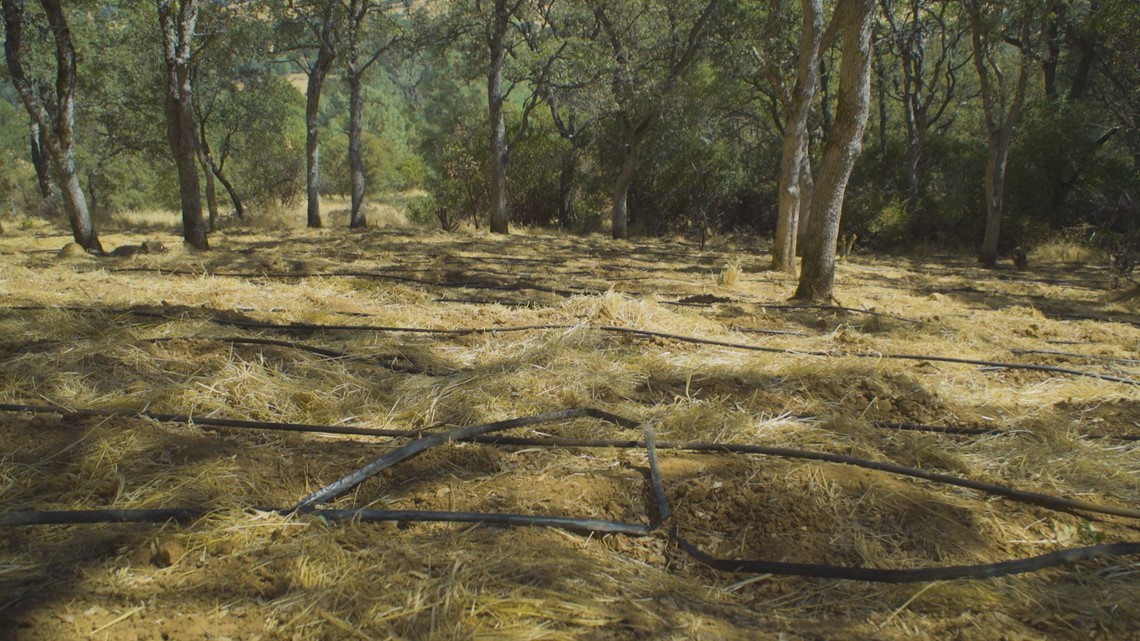 Growers who wanted to operate legally were given until the end of July 2016 to apply for a license, which cost $5,000, with the understanding that this was the only legal way to be able to grow when the county enacted a permanent ordinance to regulate grows. But a permanent ordinance never came.
California voters decided to legalize recreational marijuana that November, by passing Prop 64. A 53-percent majority of Calaveras County voters opposed the measure.
The legalized marijuana farms were controversial, and a handful of candidates ran for the board on anti-marijuana platforms. This January, new members of the board of supervisors voted 3-2 to ban marijuana, shutting down the once-legal enterprise.
A few growers moved to other counties. Others are holding out hope for yet another political shift in Calaveras County. And some have decided to sue.
Growers collectively paid millions to the county expecting to be allowed to join a lucrative new marijuana industry. And now they're suing to try to get their money back, accusing the county government of "bait and switch."
McKeown, the grower, said his farm was his plan for rebuilding after he lost his home in the Butte Fire.
"That's why we chose to stay here after the fire: Not only because we love this land and this county, but because we had an opportunity to become part of a state-regulated industry," McKeown said.
The class-action lawsuit he's part of seeks $16.3 million from the county; a refund of all the taxes and fees licensed growers paid.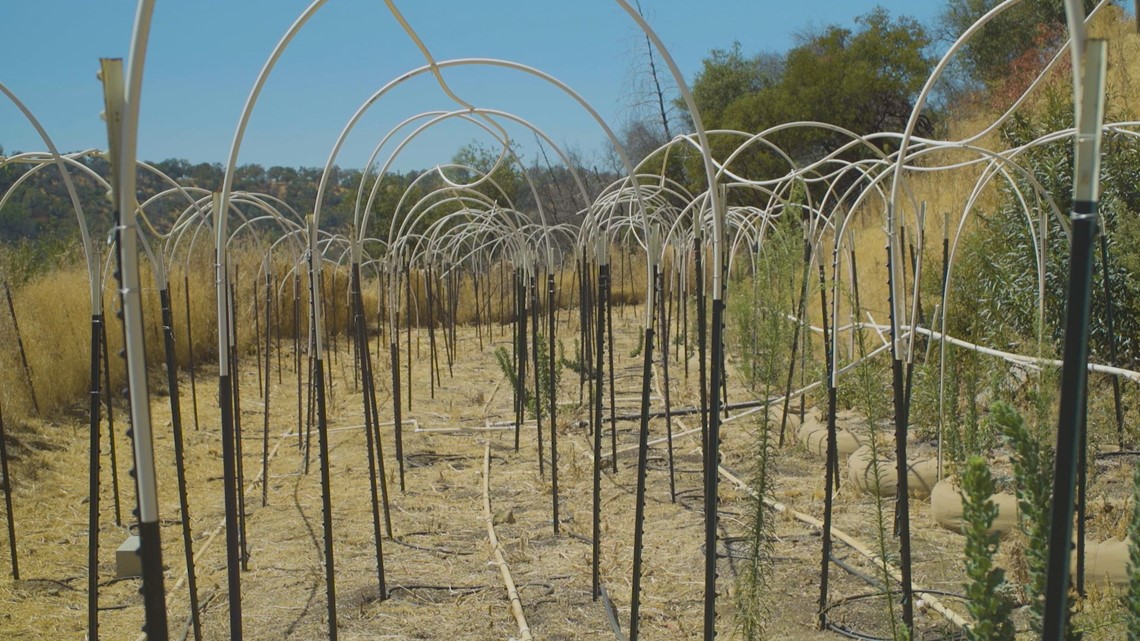 Ironically, the lawsuit is attempting to recoup that money by arguing in part that the county shouldn't have been able to license the grows to begin with. Plaintiff's Attorney Bill Panzer told ABC10 that Calaveras County "jumped the gun" by enacting a license scheme before the state had issued licenses to any growers.
County officials don't want to comment on specifics of that lawsuit, but it's a significant financial threat. The amount of money the growers seek is about a quarter of the county's annual operating budget. The county government is already operating on a higher deficit than the past year.
"I'm very concerned about the suit," said board of supervisors member Mike Oliveira, who's the only member of the board remaining from back when the 2016 temporary ordinance passed.
Oliveira voted against licensing growers in 2016. He also voted against banning cannabis grows this year, arguing that it was a decision that should be made by the county's voters instead of the five-member board.
Board member Dennis Mills was one of the new board members who advocated the ban. He did not answer our questions about the lawsuit, but defends voting for the ban.
"The odors, the threats, the noise, the generators, the fires, and criminal activity has declined," Mills told ABC10 via email.
When asked to provide his preferred to solution to the increased budget deficit, Mills ventured into counter-factual territory, saying, via email, that the idea the county has a growing deficit is "not corroborated by our financial condition." But it does have a growing deficit.
County officials reported that the budget deficit for the coming year is expected to be $9 million, almost exactly the amount of marijuana taxes paid by licensed growers last year—and a four-fold increase over last year's $2.3 million deficit.
The county is also actively working on ways to cut expenses as a result, starting with a five percent cut. Our email seeking further explanation from Mills on the deficit issue went unreturned.
DiBasilio also says he wishes the citizens of the county had been allowed the chance to vote on the ban directly.
"It has divided our county, unfortunately, into pro-marijuana and ban-marijuana," DiBasilio said.
County board meetings have become raucous affairs. Both sides of the marijuana debate have unsuccessfully mounted recall efforts against board members. The county's voters won't get to weigh in directly on the question of whether to ban marijuana grows or regulate them, but two members who voted differently on the ban are standing for re-election this year.
Those races in November could solidify the ban for years to come—or upend it entirely, adding a yet another chapter to this county's fickle story on pot.
Calaveras County's pot struggle