EL DORADO COUNTY, Calif. — Some registered voters throughout Northern California are receiving an unnerving letter this week – from a group that apparently doesn't exist.
The letter is from the Northern California State Voter Project. Google that, and all you'll see are news stories from this week about this exact topic.
Where it gets weird is the list. The letter includes a roster of 10 names, with the recipient's name in bold on top and whether each person voted in the November 2016, June 2018 and November 2018 elections.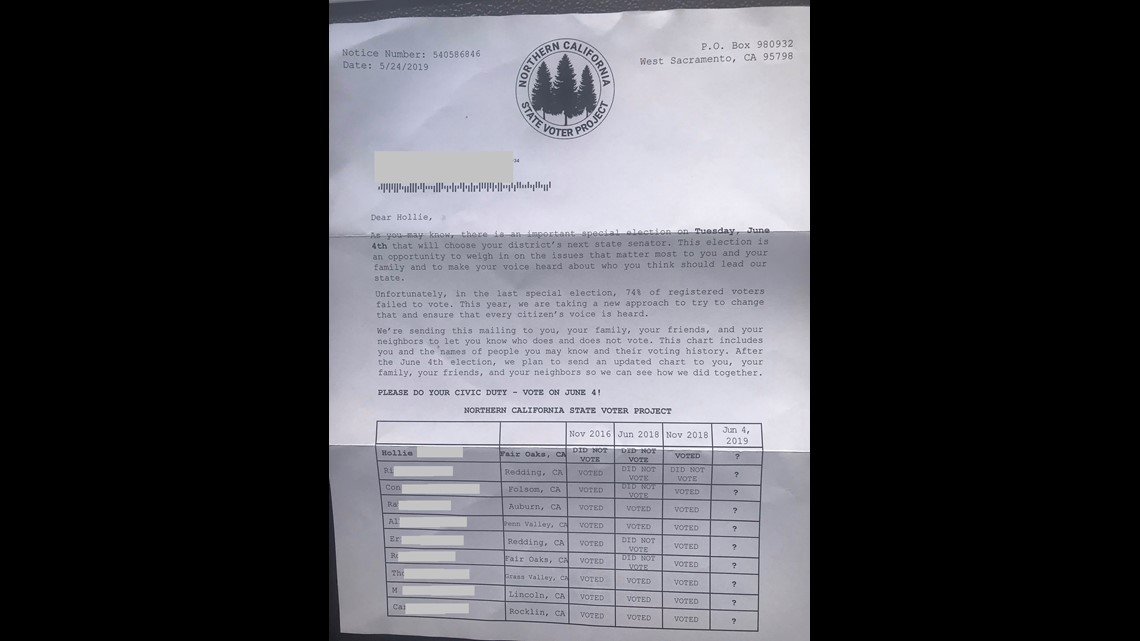 The letter does not include how a person voted in any given election – just whether they voted. This mysterious missive has made the rounds on Facebook, with people posting it and commenters wondering whether it's even legal.
Susan Strand and her husband live in El Dorado County, and both of them received this letter on Tuesday.
"I kind of felt like it was an invasion of my privacy," Strand told ABC10.
Hollie Maslen, who lives in Fair Oaks, got the letter Wednesday and was outraged, although she said the letter got her voting history correct.
"It's like a report card. Like, if you don't go vote, your neighbors and your friends are going to see that you didn't take that effort to go vote," she said.
The letter comes in a very official looking envelope, too.
"I mean, you can see I tore through the envelope," Maslen said, holding up her mail. "I just wanted to see what the heck was in there and if it was important, and it was this. This thing that's just a scare tactic."
It encourages people to vote in Tuesday's election, but it doesn't stop there.
"After the June 4th election," the letter states, "we plan to send an updated chart to you, your family, your friends, and your neighbors so we can see how we did together."
Maslen describes that as bullying behavior.
"'Hey, you need to go or else we're going to call you out again after this next election,'" she said. "It's just not fair."
So is it legal??
California law says details like addresses and registration information are confidential except for political candidates and "any person for election, scholarly, journalistic, or political purposes, or for governmental purposes, as determined by the Secretary of State."
In response to ABC10's request for a comment about this mailer making the rounds, the Secretary of State's office said they're "reviewing whether this mailing violates state election law."
"Every voter has the right to cast a ballot free from intimidation," the Sec. of State's office said. "If you receive suspicious elections materials or feel that someone is attempting to prevent you from exercising your right to vote, report it to the Secretary of State's office or your local elections office."
The Secretary of State has a free and confidential voter hotline at 1-800-345-VOTE (8683).
ABC10 also brought this to the attention of the US Postal Service. Jeff Fitch, postal inspector with the law enforcement arm of USPS, said the USPS is looking into it.
Legal or not – that has yet to be determined – he said he understands why voters would be upset by this.
"For many people, voting is personal," Fitch said. "To see your name listed…that would be disconcerting."
The two candidates running in Tuesday's special election are both Republicans. Strand and her husband, Maslen and the friends they know who have received the letter are all registered Republicans, the women said. It's unclear whether the letter is targeting only registered Republicans, but Maslen said – to her – it doesn't matter.
"Republican, Democrat — whoever's doing it shouldn't be doing it," she said.
To the anonymous people behind this letter, Strand says, "I don't think what you're doing here is good business…You're not going to encourage people to go out and vote by shaming them."
"That's just not alright," Maslen says. "That's bullying. Total bullying."
While it's a good reminder of one's right to vote – the letter does say that in the last special election, 74 percent of registered voters "failed to vote" – Strand said, this isn't the way to do it.
"Listing a whole bunch of names and telling you who did and didn't vote, that's not right," she said.
On the letter's envelope is an address: P.O. Box 980932, West Sacramento, CA, 95798. Where a stamp normally goes is a printed box that says, "presorted standard U.S. postage PAID Sacramento, CA PERMIT NO. 1935."
The USPS is looking into whether that permit holder's information is public information and told ABC10 it would reach back out with additional information later this week.