SACRAMENTO COUNTY, Calif. — To say Rani Slater is a San Francisco 49ers fan is an understatement. The walls of her room are plastered in scarlet and gold, her closet stuffed to the brim with customized 49ers gear and her prized possessions include a number of autographed footballs and jerseys.
She hands cards out to everyone she meets. Her title on them? "San Francisco 49ers Biggest Fan."
Ask her about any player, past or present, she'll likely give you his stats and tell you in detail about the best play he ever made.
"Why do you like them?" asked ABC10 Investigative Reporter Andie Judson.
"Because they like winning games!" said Slater.
But those in charge of her life have no idea about her biggest passion. She's conserved by the Department of Developmental Services (DDS).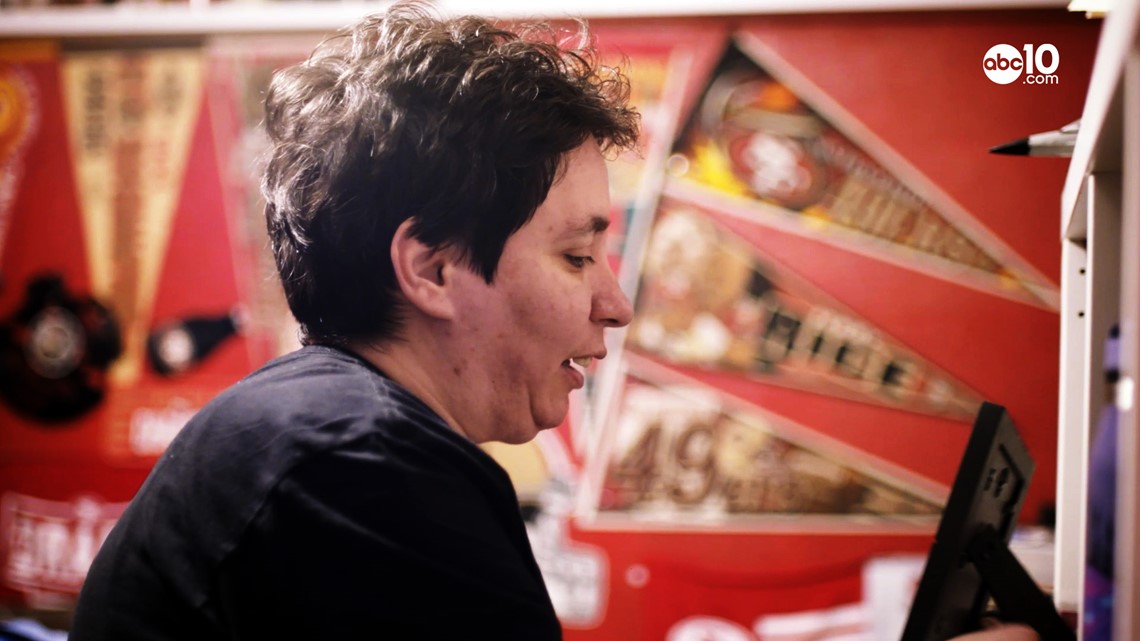 DDS doesn't know a lot of things about Slater, like the fact her teeth are literally rotting.
"I just want to get this taken care of. I want it taken care of," she said. "I don't want to get another one pulled."
Her teeth have decayed so badly it's difficult to eat.
Since she's conserved, every aspect of her life, from what she eats, where she lives and all decisions about her health, including dental, are in the hands of someone else: The Department of Developmental Services.
DDS is a huge state agency with a $14 billion budget, funded by taxpayers. The agency was formed after the Lanterman Act was passed in 1969 and is required, by law, to make sure Californians with developmental disabilities have equal rights and opportunities.
"My daughters were on a defective baby formula when they were born," said Robin Gage, Rani's mother.
"We started having issues with them... they're not holding their heads up, they're not crawling," Robin recalled. "I told my mom, 'Something is wrong.' They didn't walk until they were two years and two months old. So I immediately thought, 'What agency can I go to?' I didn't know what Alta Regional was."
She learned DDS funds and oversees 21 regional centers across California.
These centers fulfill DDS' responsibilities by providing services and supports to those with disabilities as well as their families. These services vary greatly depending on the client's needs, but can range from in-home caregiving to speech therapy and even transportation.
The center in Sacramento is called Alta Regional Center.
"That's how we got started with Alta Regional," Robin recalled.
Alta provided Robin with services to support her in raising her daughters.
"(Rani is over 40) but she's still got the mind of a 15-year-old," said Robin.
As they grew, Robin fought to get her twins justice from the baby formula company, Syntex Corporation.
"Well it took, oh my God, 12 years to get a settlement. They had until their 19th birthday to settle. It wasn't a lot either," said Robin.
By the time they settled, Rani and her sister were 25. The net settlement amount was $34,997.28. Each twin received $17,498.64, court documents show.
But Robin still cared for them, including financially.
"Their lawyer said, 'We can't give you the money. It's going to be put in the bank for them. You're going to need to get conservatorship in order to get access to this money for them,'" said Robin.
Parents are often told to get conservatorship as their child approaches age 18 because many with developmental disabilities are not able to handle aspects of adult life, like medical or financial decisions.
But as Robin took the steps to get conservatorship, she was shocked to find she was not the only one trying to conserve her own daughters.
"All of the sudden, I'm hearing from DDS - the Department of Developmental Services. They start getting conservatorship — once I filed my conservatorship (petition), all the sudden they're on board," said Robin. "I'm like, 'You weren't interested in getting conservatorship when they were 18.'"
DDS swooping in to compete against parents for conservatorship is a pattern our reporting has found over and over again.
As of May 2023, DDS conserves 395 individuals, according to data provided from public records requests.
The agency often seeks conservatorship when there's allegations of abuse. For Robin, court documents show DDS claimed she was using her daughter's funds inappropriately. Robin says this is false.
"I had a lawyer. (We) went in and they started bringing up a lot of things that were not true, no evidence," said Robin.
Robin isn't the only one to feel like she was deemed guilty before being proven otherwise. Other parents featured in our ongoing investigation had the same experience.
"Court appointed investigator never interviewed us. Still hasn't in three years," said Deborah Findley, whose son Andrew is conserved by DDS. "We never got due process."
"There is no evidence," said Jill Schutte, whose son Garth is conserved by DDS. "They will not find evidence of abuse of Garth."
DDS pursued and was granted conservatorship for both Findley and Schutte's case, like Robin's, after they sought conservatorship themselves.
In cases our investigation looked at, DDS was not able to prove allegations of abuse they brought up when seeking conservatorship.
"They accused me of spending their SSI money on vacations," said Robin. "I was working. I had money to pay for everything I wanted. What proof do you have?"
Robin asks if she was truly financially abusive, wouldn't DDS have tried to conserve her kids when they turned 18 and not seven years later?
"All of the sudden they have a settlement and you want to jump on this?" asked Robin.
As for how the settlement money was spent, court documents show it was not on Rani or Danielle.
"The probate lawyers kept nickel and diming the account until it was gone," said Robin.
DDS got conservatorship even after Rani and her sister said they wanted their mother to be their conservators, court documents show.
"The judge just said, 'Give it to DDS,'" Robin said. "I was upset. I'm like, 'I don't want them making health care decisions, where they live, all that stuff.' They're capable of telling me what they want."
Today, Rani and her sister have been conserved by DDS for 20 years.
"DDS... I've never heard from them at all since she got conserved," said Robin. "They've never been over here, ever."
"I don't know anybody at DDS," said Rani.
Unlike other cases we've investigated, where DDS moves the person once they obtain conservatorship and often cuts off contact from family members, Rani still lives at home with her mom who handles her day-to-day care.
However, her sister has been moved to a supported living home. Rani and her still have visits, albeit DDS stopped them for over two years during COVID.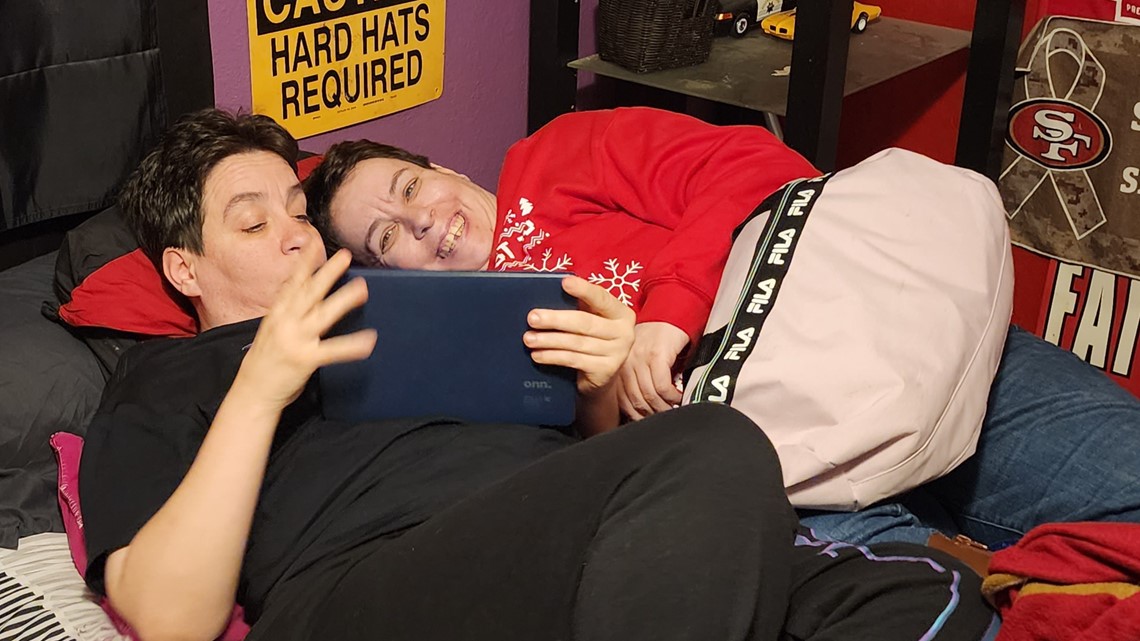 Even though DDS is legally their conservator, the agency hands the responsibilities of conservatorship down to their regional centers.
Which means Alta Regional Center is in charge of Rani and her sister's care, including medical needs. Their mom says Alta has not been there or taken care of them in any way.
"They just want ultimate control and ultimate power when they don't live here for the everyday stuff," said Robin. "You're not here in this house. You don't know what's going on."
When Rani has medical needs, like an eye surgery in 2017, Alta had an astounding delay in getting her care.
"It took three years to get them to approve the surgery," said Robin.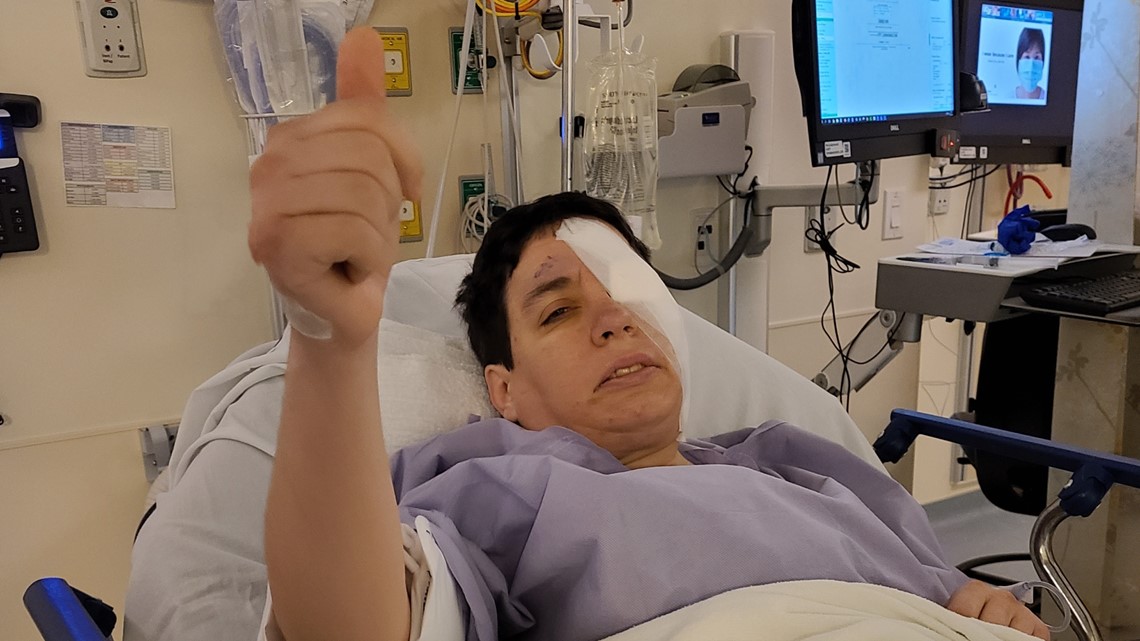 In 2022, her bottom teeth began having issues. When Robin contacted Alta Regional Center for help...
"Nothing. Nothing. I have to keep writing them about every other week, 'What's going on with the dental?'" said Robin.
Emails between Robin and Alta Regional Center staff obtained by ABC10 show Robin asking repeatedly about Rani's teeth for over a year. Emails date back to Feb. 2022.
The following are excerpts from emails she sent to Alta:
Feb. 21, 2022: "Rani needs two root canals."
April 8, 2022: "Can I get an update on Rani's dental work?"
May 24, 2022: "She has already lost one tooth in the front. If she loses these other teeth in the front, she won't be able to bite anything."
July 14, 2022: "Rani's teeth are hurting her. When can she get into see the dentist?"
Despite not being her conservator, Robin takes Rani to dentist appointments. Because Alta needs approval from Medi-Cal, they had to go to multiple appointments to get several estimates.
As of the start of May 2023, over a year later, Rani's teeth have not been fixed. Robin's emails and requests for help have been met with red tape and excuses.
In emails obtained by ABC10, Alta said multiple times they're waiting on a response from Medi-Cal, that they "haven't been able to obtain approval," and even admitted they're "not making much headway" in getting funds for the treatment.
"(It's been going on for) 19 months," Robin said during her interview with ABC10 in March.
Because Alta has done nothing, Rani's teeth have gotten much worse.
"They had to pull three teeth on the bottom and she's getting ready to probably lose another one if I don't get her in and get that one fixed," said Robin. "If that tooth gets pulled, it'll be four on the bottom she won't have. How is she going to eat?"
DDS conserved Rani saying it was in her "best interest" and under their mother's care her and her sister were "not reaching" their potential, court documents show. If you ask Rani, she says otherwise.
"Alta Regional is not doing their job," said Rani. "DDS is not doing their job."
Unfortunately, Rani isn't alone.
Our investigation found a number of cases where DDS has failed conservatees and their health has suffered under their care. Yet, year after year, DDS' budget - funded by taxpayer dollars grows.
"It's neglect," said Robin. "I know [DDS] has funds for this."
DDS' 2022-2023 budget is over $12 billion. Their 2023-2024 budget is projected to increase to over $14 billion. A large portion of that money goes to each regional center.
For the 2022-2023 fiscal year, Alta has a budget of $805,256,565, according to public record requests ABC10 filed.
ABC10 requested an on-camera interview with Alta Regional Center as well as DDS multiple times. When they declined, ABC10 sent them a detailed letter of our findings and what we would be reporting, as well as re-requesting an interview.
Alta declined saying "information relating to our client's regional center intake, assessment and services is confidential and protected from disclosure pursuant to the Lanterman Act (and HIPPA)."
They also said as Rani's conservator, Alta "does not believe it would be in the client's best interests to have their private information released to the public."
DDS also responded, declining our interview request, but saying they are "deeply concerned by this situation" and the "described delays in receiving dental care are not acceptable and we are working with our partners to resolve any issues related to accessing care."
Both Alta and DDS' full statements are available at the bottom of this article.
After ABC10 began investigating in mid-May, well over a year after concerns were first expressed about her teeth, Rani finally got root canals. But Robin says because so much time passed before the dental care she needed was given, Rani now needs more work, like a bridge between her teeth that have been pulled.
It's especially frustrating for Rani given when we asked what her favorite part of watching sports is...
"The food!" Rani said, smiling.
It's why her and Robin's message to Rani's conservator is simple: "Do your job."
The Department of Developmental Services:
We are deeply concerned by this situation involving an individual under a DDS limited conservatorship with Alta California Regional Center (Alta). The described delays in receiving dental care are not acceptable and we are working with our partners to resolve any issues related to accessing care.
While we cannot comment on the specifics of a person's medical or dental treatment due to privacy laws, we have followed up with the regional center to confirm the individual named is getting the care needed.
We are actively looking for opportunities to improve coordination and remove barriers for the individuals we serve. Recognizing the challenges in navigating dental services and coordination with primary medical care, California has invested resources to support a dental coordinator at each regional center. Alta's current dental coordinator started in March 2023 which was instrumental in navigating access to dental services and coordinated the needed services between both health and dental providers.
During the past year, DDS examined all aspects of its limited conservatorship program. This included convening a panel of national experts to provide recommendations for improved oversight. These recommendations remain a priority and are actively being implemented.
We remain committed to continually examining and improving how services and supports are provided that are person-centered to Californians who have intellectual/developmental disabilities.
We have received your request for an on-camera interview with Alta California Regional Center (ACRC) regarding allegations concerning an ACRC client who is conserved by the Director of the Department of Developmental Services (DDS).
ACRC is declining your interview request because information relating to our client's regional center intake, assessment and services is confidential and protected from disclosure pursuant to the Lanterman Act (at Welfare and Institutions Code section 4514), as well as under HIPAA as Protected Health Infonnation. As such, we cannot share information about our client with third pa1iies such as the press or members of the general public without the client's w1itten consent or that of their conservator. And ACRC, acting as the client's conservator, does not believe it would be in the client's best interests to have their p1ivate infonnation released to the public.
We do want to note that all California conservatorships are overseen by the county superior court in which the conservatorship petition was filed, which is required to periodically investigate and review the conservatorship for the protection of the conservatee. (Prob. Code§§ 1850-1853.) Any individual who believes that a conservator is not acting in the best interests of the conservatee may report their concerns to the probate court for potential investigation and review by the comi. (Prob. Code§ 1850(b).)
ABC10: Watch, Download, Read