REDDING, Calif. — Family members of people killed in the Zogg Fire are calling on a Shasta County judge to reconsider his plan to dismiss felony charges of manslaughter and reckless arson against PG&E.
In a surprise reversal of his own position, Judge Daniel Flynn now plans to dismiss all alleged felony charges against PG&E for starting the fire, which killed four people in 2020.
"Lives cannot be lost anymore, families cannot be torn apart anymore by a company that has disregarded the safety of their customers," said Suzie Bewley, whose eight-year-old granddaughter Feyla McLeod was killed in the fire alongside her mother Alaina.
"Please Judge Flynn, help us as survivors put a stop to PG&E neglecting their duty," she continued in a statement on behalf of the McLeod family. "PG&E needs to be held accountable for manslaughter charges."
The McLeods burned in a pickup truck trying to escape their home, which burned in the fire. The fire also killed neighbors Karin King and Ken Vossen in the small community of Igo near the city of Redding.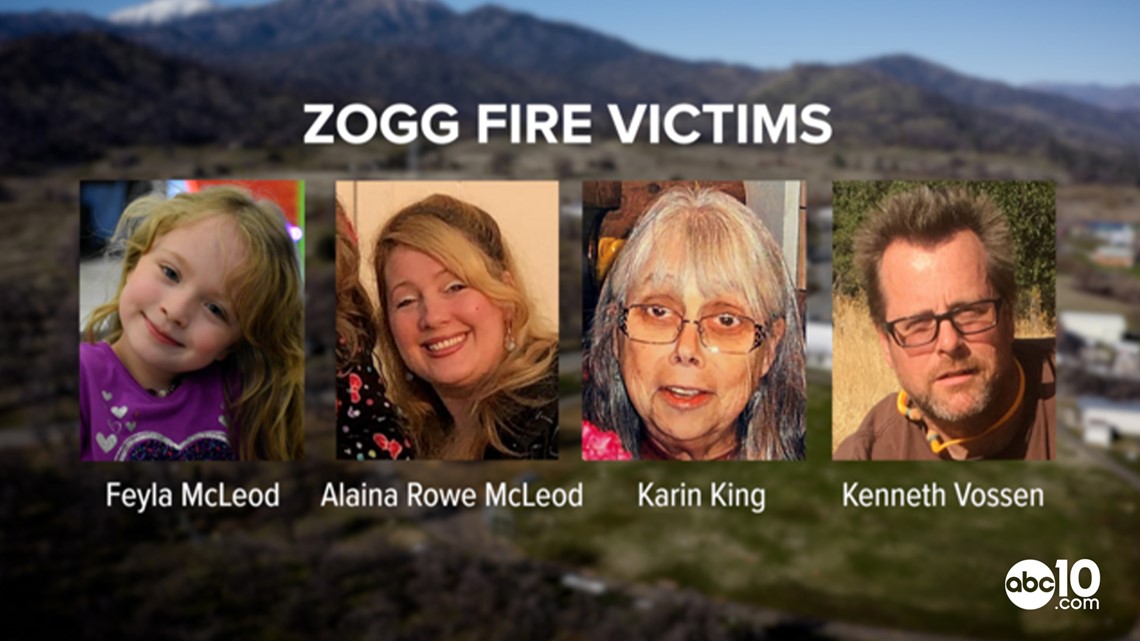 PG&E admits its power line sparked the Zogg Fire, but has denied committing any crime. The fire started when a badly wounded gray pine tree, which was leaning over the power line, snapped during a Sept. 2020 windstorm.
The charges in question could cause more financial liability for PG&E, but they would not send anyone to prison. The charges are against the company, not any of its officers or employees.
The outcome of the case will determine whether PG&E's criminal rap sheet grows longer.
A jury also convicted PG&E of six federal felonies after the deadly 2010 San Bruno gas explosion. In a case that bore similarities to the Zogg Fire, a Nevada County jury also convicted PG&E of 739 misdemeanors after power lines started the 1994 Trauner Fire.
A SUDDEN REVERSAL
In a move that caught prosecutors and survivors by surprise, Judge Flynn's reversal could prevent a jury from deciding whether PG&E committed more crimes in the Zogg Fire.
It's a departure from the position Flynn expressed in open court during a hearing on April 3. Flynn said then he believed there was sufficient evidence to bind PG&E over for jury trial on felony charges of reckless arson and involuntary manslaughter.
Ten days later, on April 13, Flynn wrote in a tentative ruling the prosecution's case "does not meet the statutory standard for reckless conduct."
Photographs taken before the fire during maintenance of PG&E's power lines show the gray pine leaning over the wires. The photos show burn scars on this tree and others nearby, damage done from past wildfires in the area.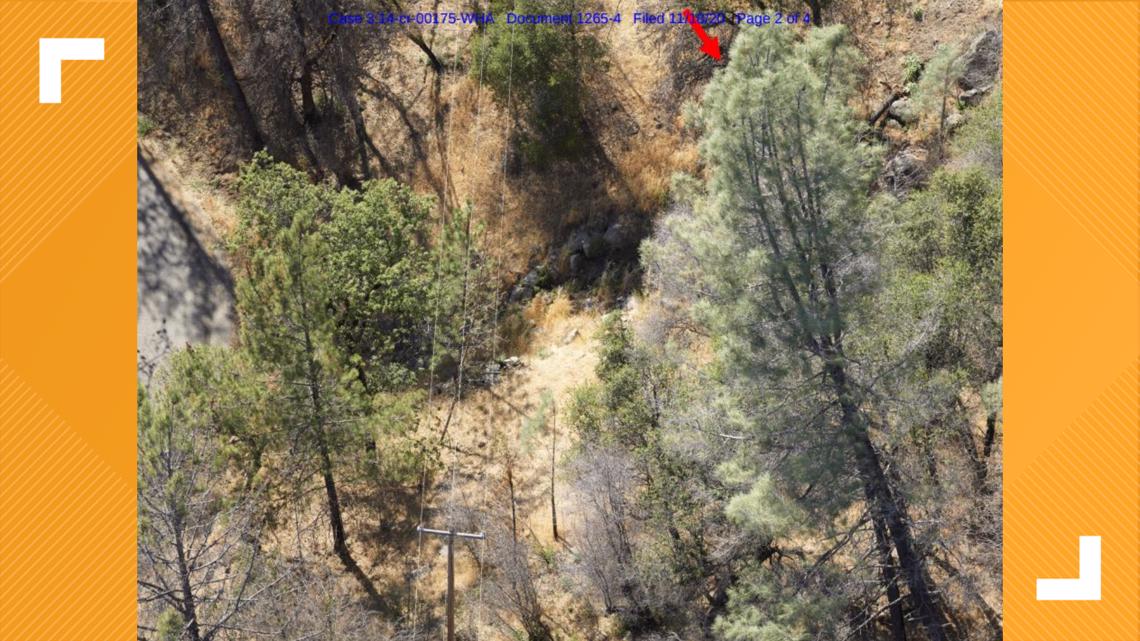 Under California law, power companies have a duty to trim and remove trees that could fall onto uninsulated lines.
California's jury instructions for involuntary manslaughter require jurors to find the defendant behaved in a way "a reasonable person would have known" would create "a high risk of death or great bodily injury."
The judge's planned ruling supports PG&E's interpretation of what happened.
"We believe PG&E did not commit any crimes," company spokesperson Lynsey Paulo previously said about the case. "We believe the conduct of our coworkers and contractors reflects good-faith judgment by qualified individuals."
Others see Judge Flynn's planned ruling through a darker lens.
"PG&E's control of regulators appears to be spreading into the bone marrow of our justice system," said attorney Mike Aguirre, who has provided pro bono legal work for power customers' PG&E criminal cases. "The victims of PG&E's destructive practices are being left to fend for themselves."
FEDERAL JUDGE FOUND PG&E 'BEARS RESPONSIBILITY' FOR ZOGG FIRE
Judge Flynn's new position runs counter to the thinking of at least two other judges who probed the facts of the Zogg Fire: one at a federal court in San Francisco, another in Shasta County.
PG&E started the Zogg Fire while on probation for six federal felonies stemming from the deadly 2010 San Bruno Gas explosion.
U.S. District Judge William Alsup, who supervised the probation, found "clear signs that PG&E bears responsibility" for the Zogg Fire, pointing to "continuing safety violations" by the company.
A PG&E contractor "had marked that very tree for removal and sent an email to another of your contractors saying 'Please do it,' and then it never happened; it never got removed," Alsup scolded PG&E's lawyers in a 2022 hearing.
"You know good and well that you started the [Zogg] fire," Alsup continued. "PG&E is recalcitrant. It only accepts responsibility when it's convenient to do so or when its back is up against the wall and it has no choice."
The company previously admitted in writing to Alsup that "PG&E currently believes the Gray Pine of interest may have been identified for removal (but not removed) during restoration efforts following the Carr Fire in 2018."
This admission from the company was not introduced during the preliminary hearing in Shasta County, but a sworn statement from PG&E's contractor to Judge Alsup was.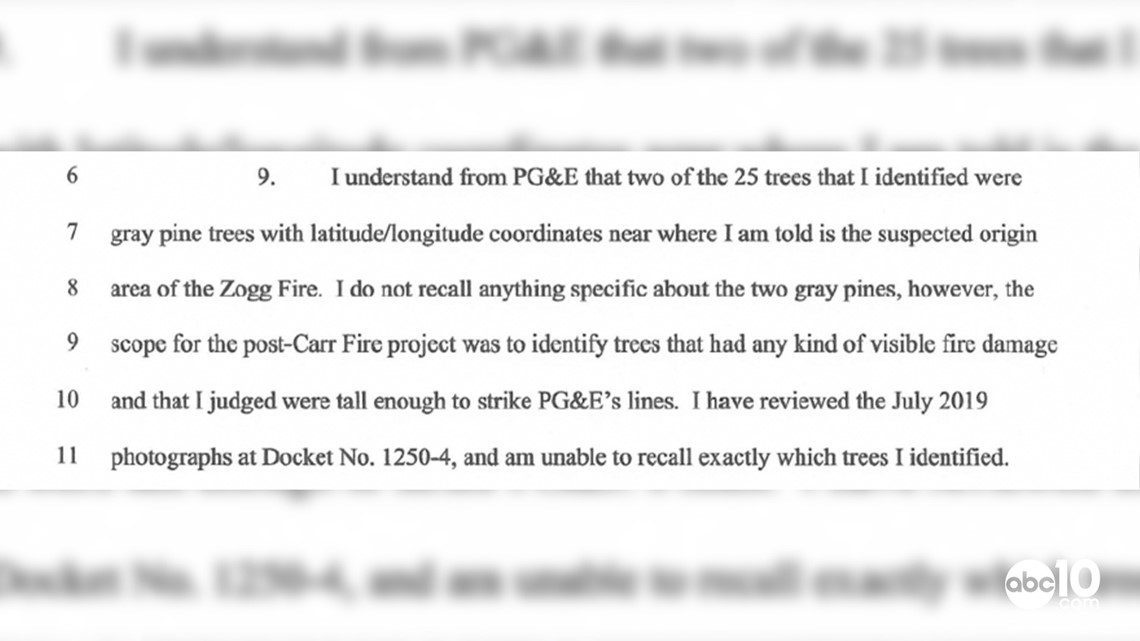 In the statement, contractor Larry Lacunza said he didn't remember this specific tree, but he did say PG&E informed him he marked two trees for removal at the GPS coordinates where the Zogg Fire started.
This was backed up by a spreadsheet provided to Alsup during the probation.
Upon his review of the case, it wasn't enough for Shasta County Judge Flynn.
"It is not a reasonable inference from Lacunza's [statements] that the offending tree was marked for removal," Flynn said in his tentative ruling to dismiss the charges. "That assertion by the people is speculation."
ANOTHER SHASTA COUNTY JUDGE FOUND PROBABLE CAUSE PG&E COMMITTED CRIMES
Earlier this year, a different Shasta County judge found PG&E needed to stand trial on the manslaughter charges.
Judge Bradley L. Boeckman presided over the preliminary hearing in the case. This "mini-trial" lasted weeks, with numerous PG&E employees testifying under oath.
At the end of the hearing, Boeckman found "probable cause to conclude… crimes were committed and that the defendant, PG&E, committed those crimes."
Prosecutors put on extensive evidence from the arson investigation, which found the tree, located uphill of the power line, had an obviously gaping wound at the base of its trunk which should have caused PG&E to remove it.
Photographs show the majority of the wood at the base of the tree was missing because of the damage, likely caused by a fire years ago, according to CAL FIRE's expert arborist.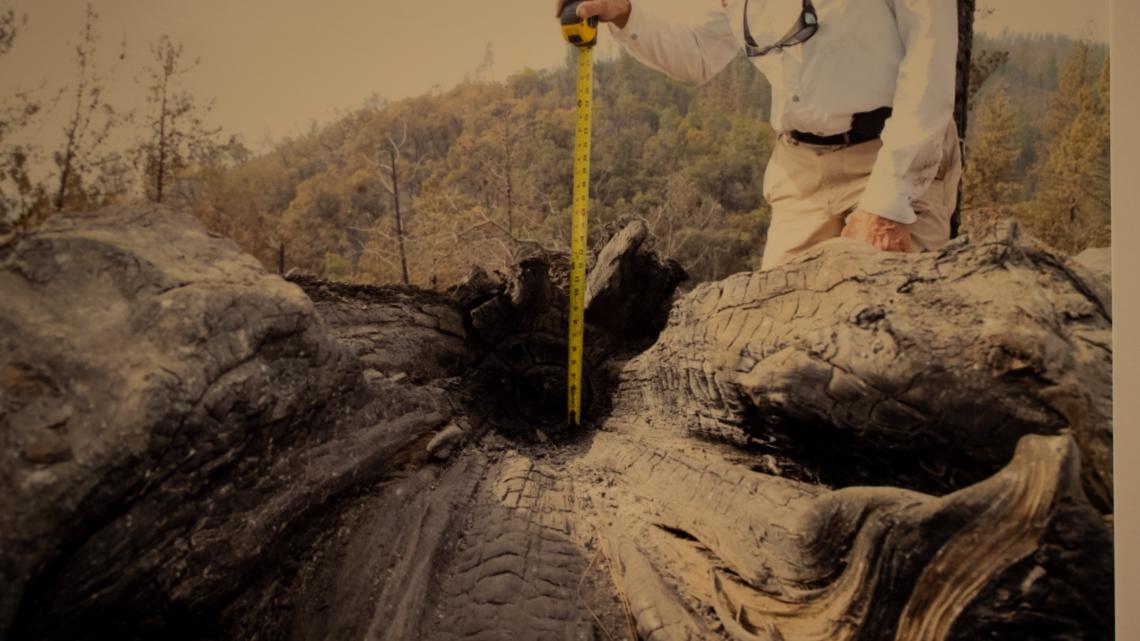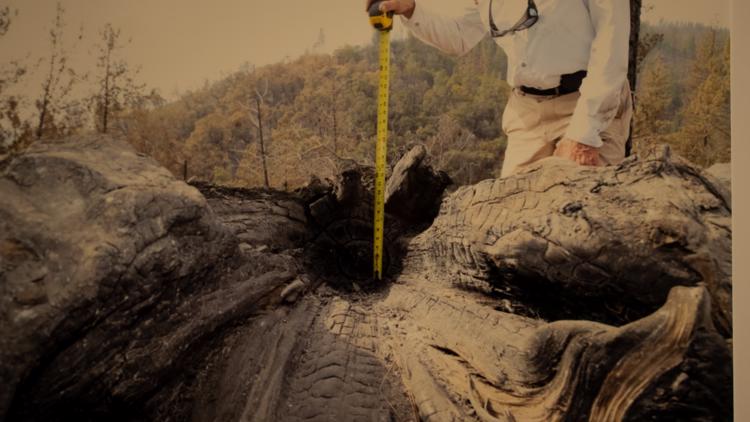 Boeckman ruled PG&E had to stand trial for reckless arson and manslaughter, but dismissed a group of environmental charges and charges relating to other smaller fires started by power lines.
Prosecutors hoped to go after PG&E for damage to public health and the environment. PG&E hoped to have everything tossed out, arguing "mistakes are not crimes."
"I know that a ruling of this type tends to leave both sides dissatisfied," Boeckman explained to the attorneys. "That's the way it is."
The case went back to Judge Flynn, who previously arraigned PG&E. He is now planning to reverse Boeckman's ruling on the felony charges after PG&E filed a motion to dismiss the case.
Flynn's proposed ruling would hold PG&E to answer for only a lone misdemeanor charge for burning other people's property.
WHAT COULD HAPPEN NEXT
The change in course by Judge Flynn reignited settlement talks between PG&E and Shasta County prosecutors.
Attorneys on both sides asked Flynn for more time to confer with each other Monday.
It's unclear whether a settlement deal would include a guilty plea to any crimes by PG&E. District Attorney Stephanie Bridgett declined to discuss the details of settlement talks.
Bridgett was one of six district attorneys who agreed last year to drop criminal cases, instead entering into a civil settlement with PG&E for starting the 2019 Kincade and 2021 Dixie fires.
PG&E attempted to reach a civil settlement for the Zogg Fire at the time, but Bridgett refused to drop the charges.
"In the Zogg case, PG&E's actions caused the deaths of four people," Bridgett said last April. "A civil settlement alone, such as was reached in the Dixie Fire case, would not be sufficient to hold PG&E accountable for their actions."
If Flynn grants PG&E's motion to dismiss the charges, it does not necessarily mean the end of the case.
Prosecutors can appeal Flynn's ruling or simply try again by refiling charges in Shasta County court, seeking to present more evidence or to argue the case in a different way.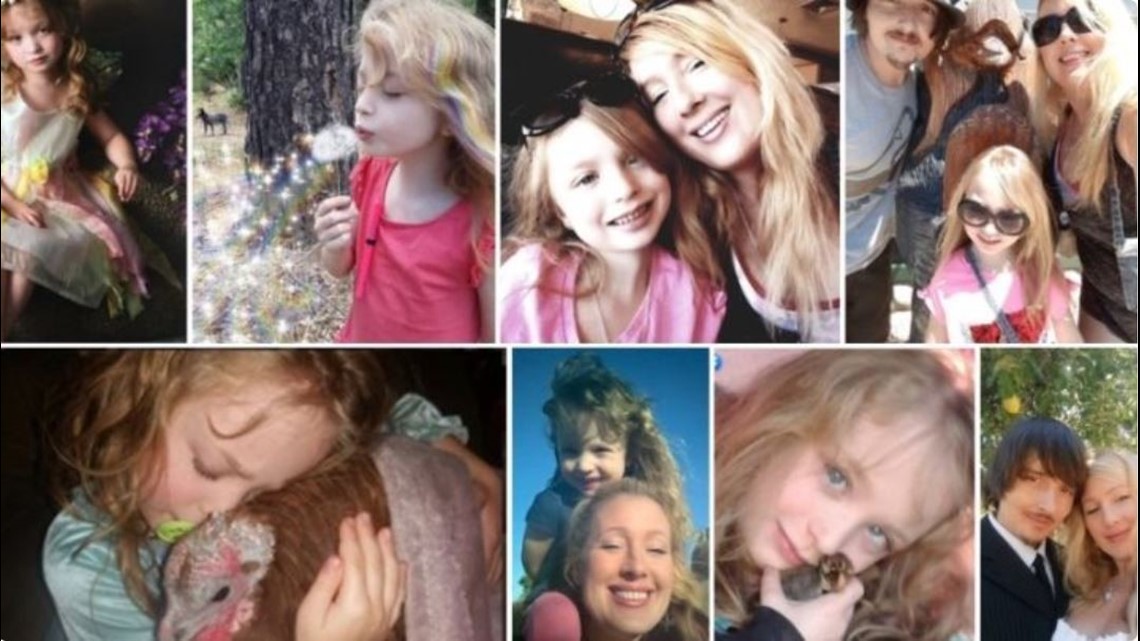 Whether it happens by plea deal or trial, the McLeod family says justice would look like criminal convictions against PG&E for the four deaths caused by its power lines.
"Alaina, Feyla, Karen, and Kenny did not have a choice. They fought and tried to escape," said Suzie Bewley. "Their voices cannot be heard any longer."
WATCH MORE FIRE - POWER - MONEY