If you're viewing on the ABC10 App, tap here for multimedia.
9 p.m. Update:
Firefighters are making progress against the largest California wildfire ever recorded although thousands of homes and buildings remain under threat.
State fire officials Wednesday night say the Mendocino Complex — twin fires that are being fought together — has destroyed 119 homes and 472 square miles (1,222 square kilometers) of brush and timber north of San Francisco.
The complex is 47 percent contained. However, the smaller of the two blazes actually is 81 percent surrounded. Fire crews have kept the southern edge from spreading. Authorities lifted mandatory evacuation orders for most communities near the resort of Clear Lake.
Meanwhile, a fire that destroyed more than 1,000 homes in and around Redding in Northern California remains 47 percent surrounded.
12:30 p.m. Update:
Authorities have lifted mandatory evacuation orders for most lakeside communities impacted by the largest blaze in California history.
Lake County Lt. Corey Paulich says the majority of residents along the shores of Clear Lake in Northern California were allowed to return home Wednesday.
About 19,000 people were displaced during the peak of the blaze that started on July 27 and continues to burn in Mendocino, Lake and Colusa Counties
Paulich says about 1,500 people, mainly in his county's Spring Valley area, remain under evacuation orders.
He says fire officials are confident with the containment lines they have managed to cut around half the Mendocino Complex fire burning about 100 miles (160 kilometers) north of San Francisco.
The twin blazes have charred 470 square miles (1,217 square kilometers).
Noon update:
Mandatory evacuation orders have been downgraded to an evacuation advisory for the following areas: Upper Lake, Nice, Lucerne, Pepperwood Grove, Paradise Valley, Glenhaven, and Clearlak Oaks.
Additionally, all eastbound and westbound lanes of SR-20 have reopened. The following roads are still closed: Elk Mountain Road at Middle Creek, Clover Valley Road at Clover Drive, Bartlett Springs Road at SR-20, Old Long Valley Road at SR-20, New Old Long Valley Road at SR-20, and High Valley Road half mile north of High Valley Ranch Road.
Original story
The two wildfires that make up the Mendocino Complex Fire have crossed the 300,000 acreage mark.
The Mendocino Complex Fire now sits at 300,086 acres burned. The Thomas Fire from 2017, the second largest wildfire in California history, burned 281,893 acres.
The latest update from Cal Fire notes that total containment jumped to 47 percent, up from 30 percent contained on Tuesday.
PHOTOS: California's largest wildfire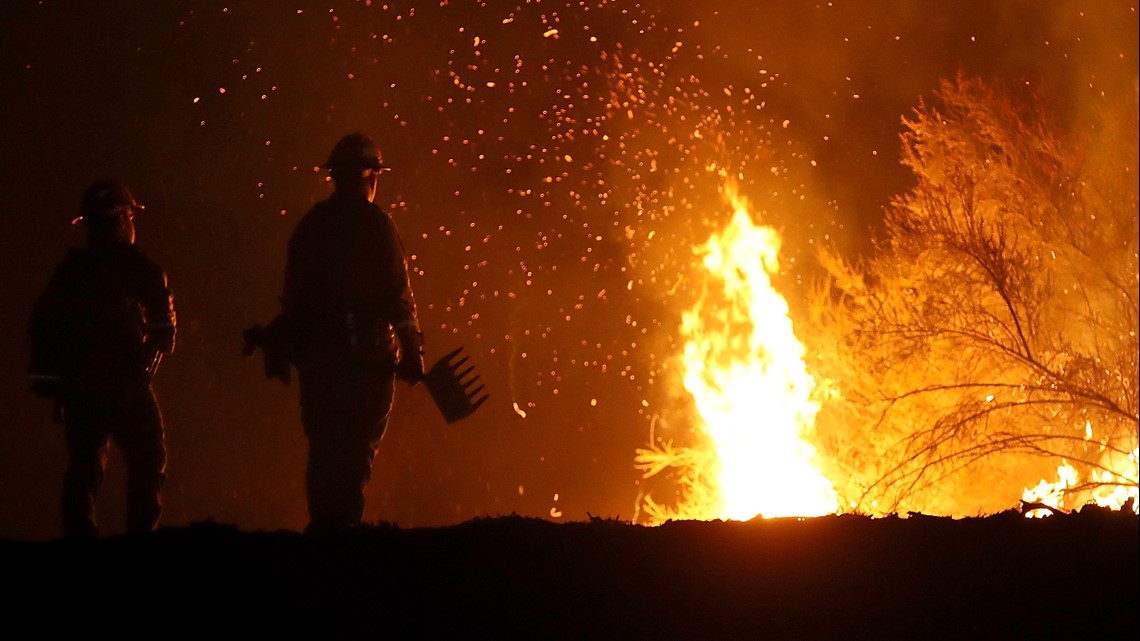 The number of structures threatened by the fire has decreased, from 11,300 Tuesday morning to now only 10,300. The number of residences destroyed jumped, though, from 75 on Tuesday to 116 on Wednesday.
Of the two fires that makeup the Mendocino Complex Fire, the River Fire, which has burned over 48,920 acres, has the largest containment, sitting at 81 percent contained. The Ranch Fire, which has burned over 251,166 acres, sits at 46 percent contained. Fire officials believe they'll reach full containment by Sept. 1, 2018.
According to Cal Fire, the large jump in containment overnight was due to fire crews working diligently. The River Fire also had no overnight movement.
Mandatory evacuations are still in place for Lake, Mendocino, and Colusa Counties.