SACRAMENTO, Calif. — As some Northern California communities assess the damage and clean up from an active weather day on Saturday, people across the state are bracing for more rain Sunday as another atmospheric river looms off the coast.
Heavy rain, hail and funnel clouds prompted the National Weather Service to issue tornado and severe thunderstorm warnings Saturday afternoon for portions of San Joaquin and Tuolumne Counties. The warnings have since expired.
While the National Weather Service says there were reports of possible tornadoes that could be spotted on weather radars, none have been confirmed to have touched down.
In Tuolumne County, officers with the California Highway Patrol reported seeing funnel clouds amid several lightning strikes as flash flooding sent inches of water plowing into homes and businesses.
Video taken just outside the Calaveras County town of Copperopolis around 2:30 p.m. Saturday shows a possible tornado.
Storm systems around the same time brought pelting hail and rain to valley communities like Stockton.
Meanwhile, in the Sierra, the warm-temperature storms have kicked off the snowmelt at lower elevations.
Olympic Valley resident Michael Kennedy says instead of a hill of snow sitting below the Wa She Shu ski lift at Palisades Tahoe, he saw a puddle of snow melt Friday morning.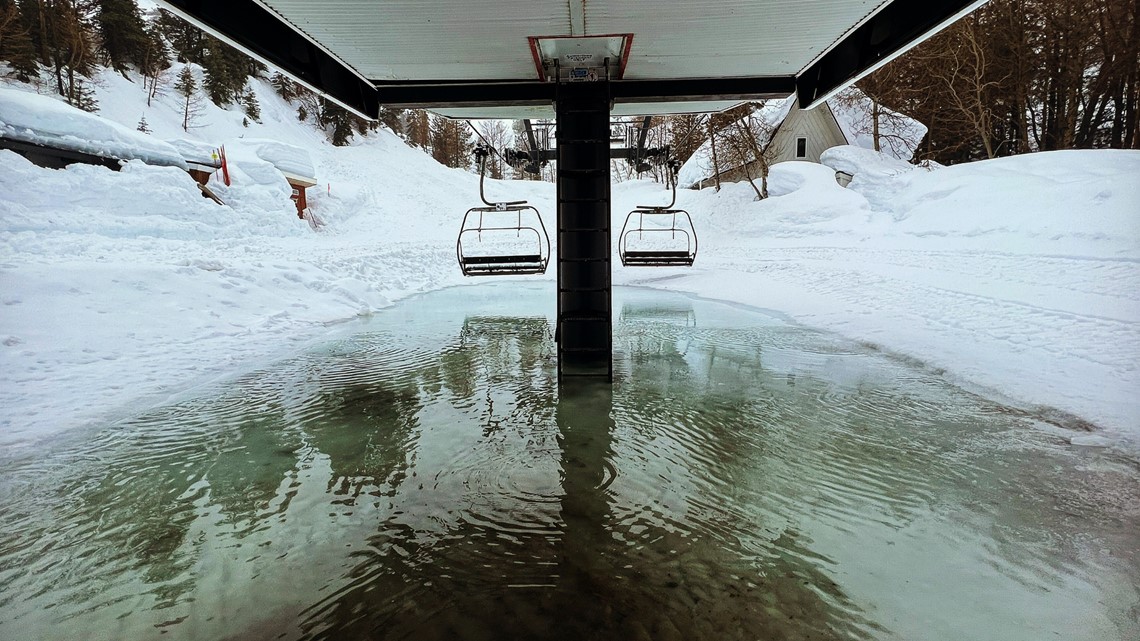 The anticipated snow melt has residents living along Northern California's hundreds of miles of levees, creeks and rivers on edge.
In Stanislaus County, officials have issued an evacuation order for a neighborhood in Modesto adjacent to the Tuolumne River near the 9th Street Bridge.
Thunderstorms are expected to return to Northern California Sunday afternoon bringing a threat for severe weather.
The next major atmospheric river is excepted to make landfall Monday night and is slated to continue through Tuesday.
The California Office of Emergency Services has prepositioned crews in 19 counties including Alpine, Butte, Calaveras, Contra Costa, El Dorado, Nevada, Placer, Tuolumne and in the Tahoe Basin.
Some water rescues have already been reported such as in Yolo County where sheriff's deputies say they rescued a man stuck in the Yolo Bypass Wildlife area on Sunday morning.
First responders took the man to a hospital for evaluation.
Traffic
Chains are required on all vehicles (excluding four-wheel or all-wheel drive vehicles) from Ham Station to Kirkwood.
Maps
Radar map from ABC10.com. Adjust the layers with a filter on the bottom right corner to show rain, snow, wind and current temperatures:
STORM RESOURCES:
ABC10: Watch, Download, Read