If viewing on the ABC10 app, click HERE to view multimedia.
9:30 p.m. Update:
Northern California crews battling the country's deadliest wildfire in a century were bracing for wind gusts of up to 50 miles per hour that could erode gains they have made on a disaster that has killed at least 76 people.
Butte County Sheriff Kory Honea said Saturday that deputies have located hundreds of people, but nearly 1,300 people remain unaccounted for.
He stressed that the roster includes duplicate names and names of people who haven't reported that they are OK. He pleaded with fire evacuees to check the list.
The Camp Fire has destroyed nearly 10,000 homes since it sparked Nov. 8 and torched 233 square miles (600 square kilometers). It is 55 percent contained.
President Donald Trump surveyed wildfire damage at both ends of the state Saturday and pledged the federal government's full support. Three people died in Southern California wildfires.
8:30 p.m. Update:
Pacific Gas & Electric Company officials have filed a second report with California regulators about a power line failure near the start of a deadly wildfire the morning the fire began.
The Mercury News of San Jose reported Saturday that the filing indicated the utility had an outage at 6:45 a.m. on Nov. 8 in Concow, near Paradise.
The utility previously reported to the state Public Utilities Commission that it detected an outage on an electrical transmission line near the site of the blaze. It said a subsequent aerial inspection showed damage to a transmission tower on the line.
No cause of the fire has been determined. But Cal Fire officials said this week they are investigating a possible second ignition point.
A PG&E spokesman did not immediately respond to an email Saturday night.
RELATED: "California Wildfires: The New Normal" is ABC10's new 9-part series on how wildfires are changing lives across Northern California.
---
Watch episode 8 now: California's leaders tell us we've entered a "new normal" of more intense wildfires. The truth is: Experts think the deadly mega-fires we've seen are just a preview of the new normal.
6:30 p.m. Update:
The death toll from the Camp Fire has gone up up to 76, according to Butte County Sheriff Kory Honea. The number of unaccounted for persons also increased to 1,276.
Honea stressed the raw data of the missing, and stated that the number does not necessarily mean that many people are missing.
As of Saturday, the Camp Fire has burned approximately 149,000 acres of land and is now at 55 percent containment. Nearly 12,800 structures were destroyed in the fire, 9,700 of which were homes. The number of evacuated individuals has gone down to just more than 46,000.
The fire is already the deadliest and most destructive in California history.
Camp Fire: Faces of the Fire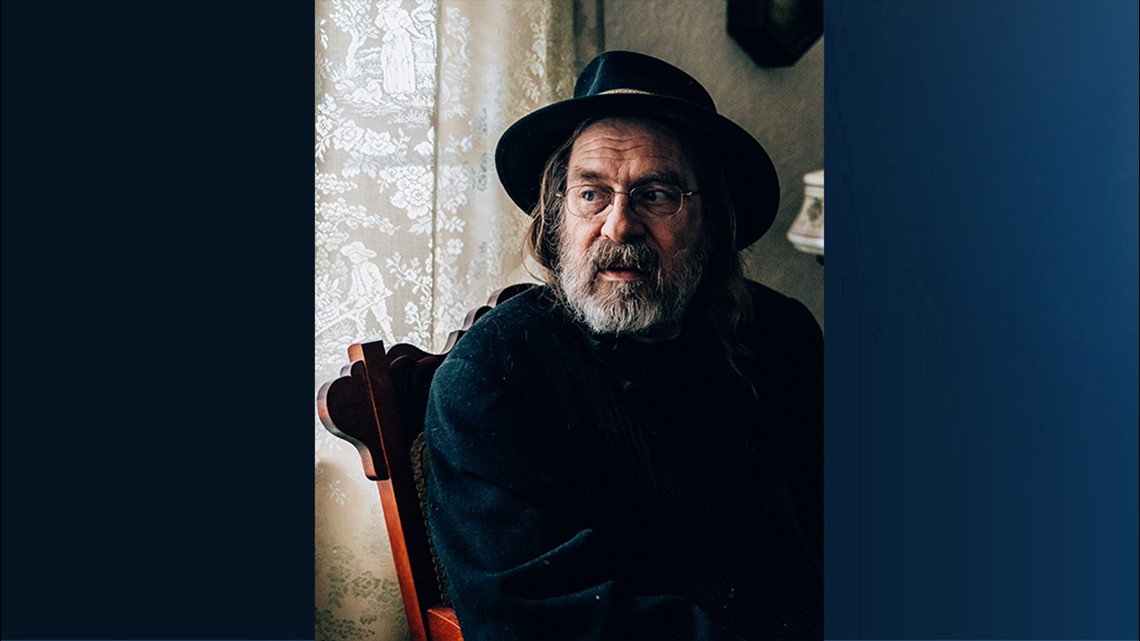 4:45 p.m. update:
President Donald Trump is getting a personal look at the wildfire damage in Southern California's Malibu area.
Trump arrived at the oceanside conclave Saturday afternoon after visiting Northern California to survey the damage in the town of Paradise.
In Malibu, the president visited a bluff overlooking the Pacific Ocean where houses once stood and palm trees stand scorched, signs of the intense fires.
Trump praised local officials, first responders and military assistance, and he said permits to rebuild will be expedited.
Standing alongside Trump, California Gov. Jerry Brown says officials will need to assess all the information available about wildfires in planning for the future.
The state's governor-elect, Gavin Newsom, says people have had enough and the problem needs to be dealt with head-on.
3:21 p.m. update:
Before wrapped up his northern California tour of the Camp Fire, President Donald Trump spent time with the first responders. He along with Governor Jerry Brown and Governor-elect Gavin Newsom all took the time to greet the personnel of the Butte County Sheriff's Office and Paradise Police Department.
2:14 p.m. update:
President Donald Trump has departed Beale Air Force Base after touring the Camp Fire devastation.
President Trump is expected to visit Southern California, where a wildfire killed three people and destroyed 700 buildings in communities west of Los Angeles from Thousand Oaks to Malibu.
The sights of Butte County's Camp Fire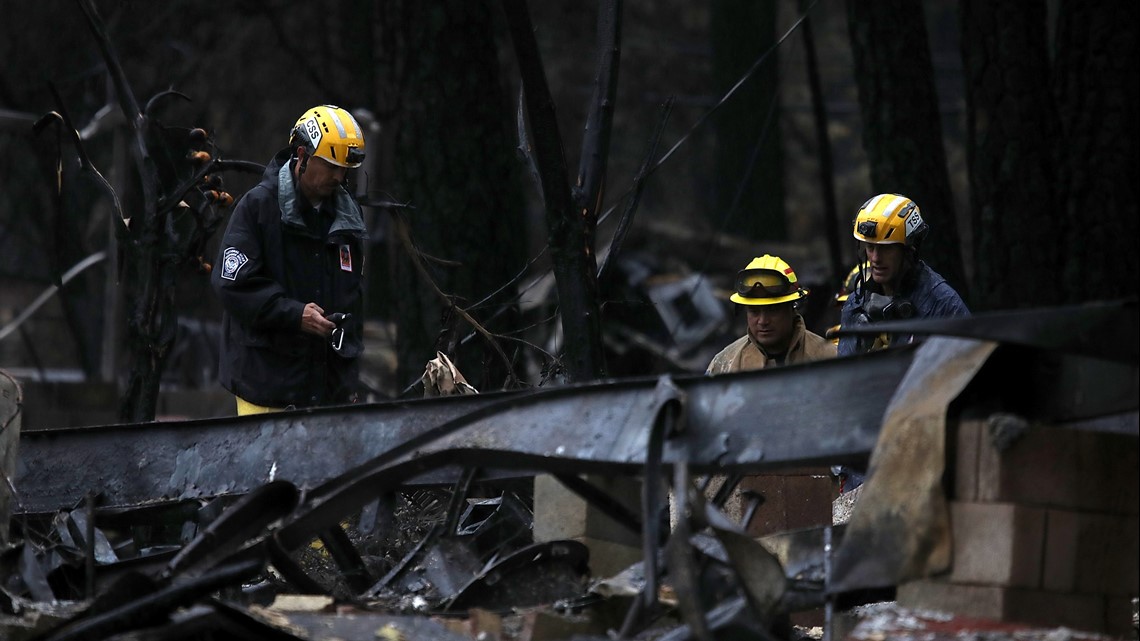 1:35 p.m. update:
President Donald Trump says he traveled to the heart of California's killer wildfire to fully grasp the scale of the desolation wrought on the landscape.
One of the places Trump visited Saturday was what remained of the Skyway Villa Mobile Home and RV Park in Paradise, California.
The president says he hopes the fire in the Paradise area will be the last because, in his words, "this was a really, really bad one."
Trump pledged that improved forest management practices will diminish future risks.
The president also toured an operation centers, met with response commanders and praised the work of firefighters, law enforcement and representatives of the Federal Emergency Management Agency.
At least 71 people have died across Northern California.
1:11 p.m. update:
President Trump along with Governor Jerry Brown and Governor-elect Gavin Newsom were touring the damage of the Camp Fire. Along with them was Paradise Mayor Jody Jones as they see what remains in the town of Paradise.
12:10 p.m. update:
President Donald Trump's arrival in Northern California to tour the devastation from the deadliest U.S. wildfire in a century has drawn mixed reactions from residents.
Flag-waving supporters gathered on a corner Saturday in the city of Chico to greet Trump's motorcade as he headed to the town of Paradise that was leveled by the fire last week. At least 71 people have died.
At an encampment of people displaced by the fire next to a Walmart in Chico, no one appeared to be paying close attention to Trump's visit.
Evacuees say they were told they had to leave by Sunday, and many were packing their belongings.
Maggie Missere-Crowder says if Trump came to the Walmart, she'd shake his hand, but she otherwise needed to focus on getting her tent and other supplies into her truck.
10:45 a.m. update:
Supporters are gathered in support of President Donald Trump's arrival in Chico.
Many people gathered are hoping that President Trump sees the damage caused by the Camp Fire, bring awareness to the situation that many experiencing as a result, bring jobs, bring homes and shelter.
He will be arriving at Chico Airport, where he and his motorcade will head toward the destruction from the Camp Fire.
10:20 a.m. update:
President Donald Trump has arrived in California to tour the devastation caused from the nation's deadliest wildfire in a century.
Trump landed Saturday at Beale Air Force Base just north of Sacramento and shook hands with Gov. Jerry Brown and Gov.-elect Gavin Newsom on the tarmac. The Democrats will join the president as he visits burned areas and meets with first responders.
The group got onto a helicopter.
The wildfire ignited Nov. 8 and largely destroyed the town of Paradise and nearby communities. It has killed at least 71 people, and more than 1,000 are unaccounted for but not all believed missing.
10:11 a.m. update:
A line of people waited on President Donald Trump's arrival in California.
9:55 a.m. update:
President Donald Trump has landed California to survey the damage of the Camp Fire. He's currently at Beale Air Force Base.
Camp Fire: Photos from Town of Paradise show mass fire devastation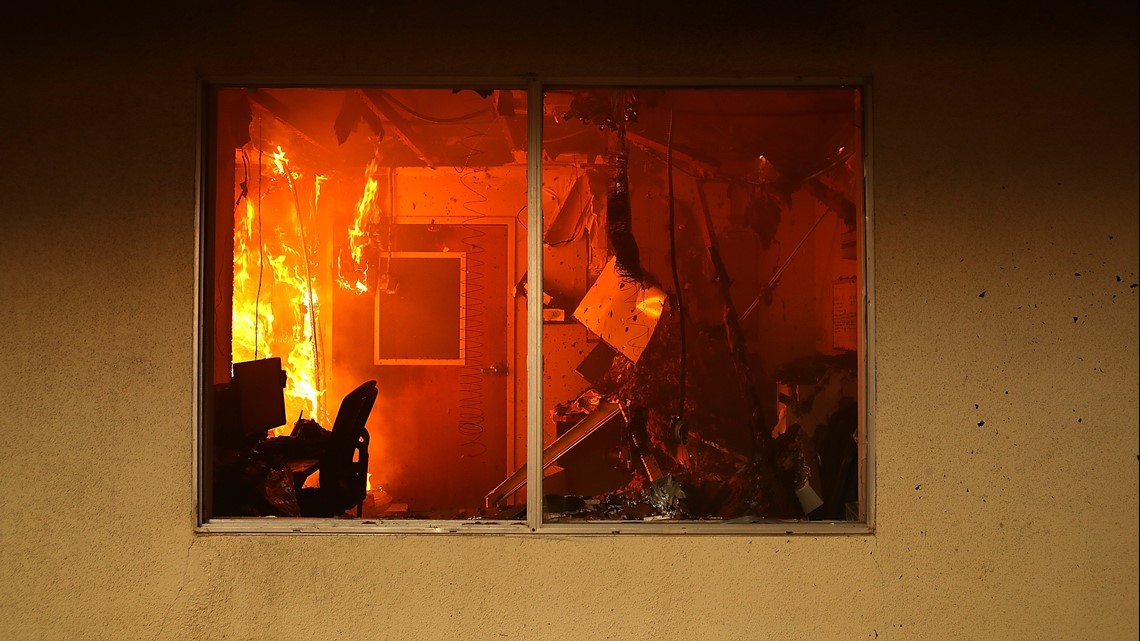 9:42 a.m. update:
"We will do everything in our power to support and protect our fellow citizens in harm's way," said President Donald J. Trump in a statement.
When President Donald Trump issued major disaster and emergency declarations, he provided support for California's wildfire response. It provided funds that would cover costs for debris removal, emergency activities, and transitional sheltering. Additional funds have also been given to help with the costs of California's firefighting assets.
The number of federal personnel assisting with the Camp and Woolsey Fires in California are in the hundreds and include personnel from the United States Department of Agriculture Forest Service, Department of Interior, and Health and Human Services.
9:15 a.m. update:
Liz Kreutz is at the scene. President Donald Trump told reporters what some of the conversation will be about today. He said forest management is way to save lives, despite its costs.
Among his conversations with state leadership, he'll also be looking to speak with the first responders. Within hours of the Camp Fire breaking out, many firefighters and police responded to calls for mutual aid up and down the state.
9:00 a.m. update:
President Donald Trump will be visiting the northern California to see the devastation of the Camp Fire, which has currently claimed the lives of 71 people.
He's joined on the trip by Governor Jerry Brown and Governor-elect Gavin Newsom, both sides putting politics aside in order "to pull together for the people of California," as Newsom declared.
Joining him on his trip to California are Representatives Kevin McCarthy, Doug LaMalfa, and Ken Calvert. President Trump took to social media to declare his interest in being with the firefighters, first responders, Federal Emergency Management Agency, and the people of California.
PARADISE, Calif. (AP) — President Donald Trump heads to Northern California on Saturday to see firsthand the grief and devastation from the deadliest U.S. wildfire in a century, as confusion continued over how many people remain unaccounted for.
Authorities confirmed a new death toll of 71 and say they are trying to locate 1,011 people even as they stressed that not all are believed missing.
California's outgoing and incoming governors, both Democrats and vocal critics of Trump, planned to join the president Saturday. Gov. Jerry Brown and Gov.-elect Gavin Newsom welcomed Trump's visit, declaring it's time "to pull together for the people of California."
The blaze that started Nov. 8 all but razed the town of Paradise, population 27,000, and heavily damaged the outlying communities of Magalia and Concow. It destroyed more than 9,800 homes and at its height displaced 52,000 people.
Details of Trump's itinerary had not been released late Friday.
This patch of California, a former Gold Rush region in the Sierra Nevada foothills, is to some extent Trump country, with Trump beating Hillary Clinton in Butte County by 4 percentage points in 2016.
But Trump has stirred resentment among survivors over comments he made two days after the disaster on Twitter, then reiterated on the eve of his visit.
In an interview taped Friday and scheduled for broadcast on "Fox News Sunday," Trump said he was surprised to see images of firefighters removing dried brush near a fire, adding, "This should have been all raked out."
Asked if he thought climate change contributed to the fires, he said: "Maybe it contributes a little bit. The big problem we have is management."
Those comments echoed his initial reaction to the fires Nov. 10 when he blamed the wildfires on poor forest management and threatened then to withhold federal payments. Trump subsequently approved a federal disaster declaration.
"If you insult people, then you go visit them, how do you think you're going to be accepted? You're not going to have a parade," Maggie Crowder of Magalia said this week outside an informal shelter at a Walmart store in Chico.
But Stacy Lazzarino, who voted for Trump, said it would be good for the president to see the devastation up close: "I think by maybe seeing it he's going to be like 'Oh, my goodness,' and it might start opening people's eyes."
Firefighters returning to a command center in the neighboring city of Chico after a 24-hour shift Friday were reluctant to weigh in on Trump's visit, but some shared their thoughts.
Nick Shawkey, a CalFire captain from rural Northern California, said Trump's visit was the mark of a good leader. But to imply the state was to blame for mismanaging the forests was based on a misunderstanding because much of the forest land in California is controlled by the U.S. Forest Service, he said.
"The thing he's tweeting about is his property," Shawkey said.
Paul Briones, a firefighter from Bakersfield, predicted Trump's visit would be a huge boost to the community, showing "that this on a national level is a priority."
More than 5,500 fire personnel were battling the blaze that covered 228 square miles (590 square kilometers) and was 50 percent contained officials said.
Firefighters were racing against time with a red flag warning issued for Saturday night into Sunday, including winds up to 50 mph and low humidity. Rain was forecast for mid-week, which could help firefighters but also complicate the challenging search for remains.
"It's a disheartening situation," Butte County Sheriff Kory Honea told a news conference Friday. "As much as I wish we could get through this before the rains come, I don't know if that's possible."
The number of people unaccounted for grew to more than 1,000 on Friday. But Honea acknowledged the list was "dynamic" and could easily contain duplicate names and unreliable spellings of names.
The roster probably includes some who fled the blaze and do not realize they've been reported missing, he said.
"We are still receiving calls. We're still reviewing emails," Honea said. "This is a massive undertaking. We have hundreds and hundreds of people working on this."
Families searching for loved ones have scoured shelters and social media and say they understand the chaos of the situation, But the wait for information is agonizing.
For one family, good news arrived by telephone.
Monica Whipple said Friday she was boarding a plane back to North Carolina from Northern California when she got a call two days ago that her mother, Donna Price, had been found alive. Price had been presumed missing but was tracked down at a shelter.
"It was so crazy, I started crying in front of everybody," Whipple said. "She's doing OK."
For too many others, the wait to learn a loved one's fate has ended with bad news.
Sol Bechtold searched for his 75-year-old mother, Caddy, posting flyers of her on bulletin boards and searching for her in shelters.
On Thursday, Bechtold went to the Butte County Sheriff to provide DNA samples. As he was driving back to his home in Pleasanton, California, he got a call from an officer with the coroner's unit of the Sonoma County Sheriff's Office and was told his mother's remains were found in her home in the community of Magalia. The home had burned down to its concrete foundation.
"It's hard to realize your mother is gone," Bechtold said.
Family members remembered her personality, her wonderful heart and great smile, he said. She raised four children.
"It's been a pretty emotional 24 hours. Lots of tears," he said.