PARADISE, Calif. — Six months have passed since the deadliest wildfire in state history swept through Northern California, decimating the town of Paradise and severely damaging the nearby town of Magalia.
85 lives were lost, and more than 18,000 structures destroyed when the Camp Fire struck in November 2018.
Despite the hardships, residents are determined to rebuild and bring Paradise back to its former glory.
RELATED:
To get a better idea of the number of businesses that are in Paradise, we asked what the total number was before the fire. Unfortunately, that information isn't available.
"There was no concrete number of businesses before (the Camp Fire) because there wasn't a business license system," said Mark Thorpe, membership and events coordinator for the Paradise Ridge Chamber of Commerce.
Though there is no hard number, Thorpe said the Chamber estimates around 1,500 businesses existed in Paradise before the Camp Fire tore through.
Thorpe broke down a special section of the Chamber's website, which features a comprehensive list of Paradise Businesses — making it clear which are open in their pre-fire locations and which have relocated or permanently closed.
Searching the site is simple. You choose from the following list:
Business status: Where you can select a business and learn more about its status since the Camp Fire.
Closed Permanently: Businesses that will not reopen.
Open, Same Location: Businesses that are still standing and now open.
Open, New Location: Businesses that still exist, but are in a new spot.
Open, Remotely: Open businesses that have modified how they sell products (i.e. online, food trucks, etc.).
Opening Soon: Businesses that have indicated to the Chamber that they are working to reopen.
TBD: Businesses that have not yet made a decision about what do to.
Once you make a selection from the categories above, the list will appear and each business name is hyperlinked. You can click the link to learn more about the business' status and how to contact.
At this point in time, Thorpe said there are definitely 180 businesses still standing. The Chamber gathered this number through a "business walk" task force, going street-to-street to see what remained.
During that walk, the task force determined that between 150 and 180 of those businesses are now open. Some of the open businesses include:
Last December, Paradise Police Sgt. Rob Nichols drove around Paradise, documenting which buildings still stood. ABC10 compiled his photos into a gallery to document.
This month we returned to Paradise to see how the community has changed six months after the November 2018 fire.
Paradise: 6 months after Camp Fire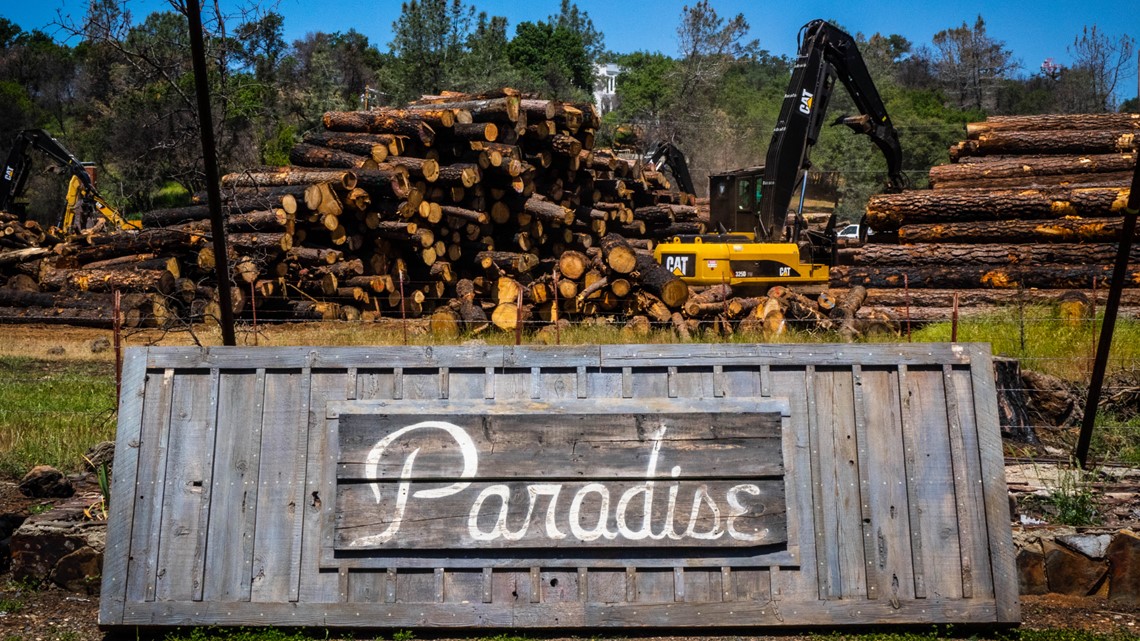 OPEN BUSINESSES
Using information from the Paradise Ridge Chamber of Commerce, we've mapped out the permanently closed (seen in red) and currently open businesses (seen in yellow).
Anyone who has not been contacted by the Chamber, or who wants their business to appear on the list, may contact the Chamber of Commerce at (530) 877-9356 or info@paradisechamber.com.
WATCH MORE: Camp Fire hell: Battling flames in Paradise with a garden hose and Beethoven
He fought flames for 10 hours to save his home from the Camp Fire. Armed with nothing more than a garden hose, he saw things that haunt him to this day, and watched as all of his Butte County, California neighbors' homes were destroyed. What's life like six months later in Paradise for Beethoven Bill?