PARADISE, Calif. — Paradise Police Officer P. Walters was working the morning of Nov. 8, the day the Camp Fire started.
"I just remember picking up people, as many as I could," Walters recalled. "There were people coming out of cars that were immobile and couldn't walk."
Walters said he helped about 250 people who had to evacuate and stay put in a parking lot since the roads were all blocked off.
"We were literally here and watched this burn all around us," Walters recalled. "A lot of people were asking about their cars and I remember one time telling them to stop asking me about their cars. I told them that I like cars, but I love people, and that we were gonna get through it."
Sgt. Robert Pickering was also another one on patrol working that morning for the Paradise Police Department. He said he helped people evacuate the Feather River Hospital.
"People carrying their own IV bags, carrying all their stuff, their hospital gowns," Pickering said. "For the most part people were relatively calm. People were functioning. People were scared. Everyone that I came in contact with."
Pickering was helping people evacuate while his home was burning.
"I've been here for a long time," said Pickering. "My family was raised up here. I lived in my house in Magalia for 19 of those 20 years. My kids all went to the school district, all went to schools up here in Paradise. For me this is home."
Camp Fire: Photos from Town of Paradise show mass fire devastation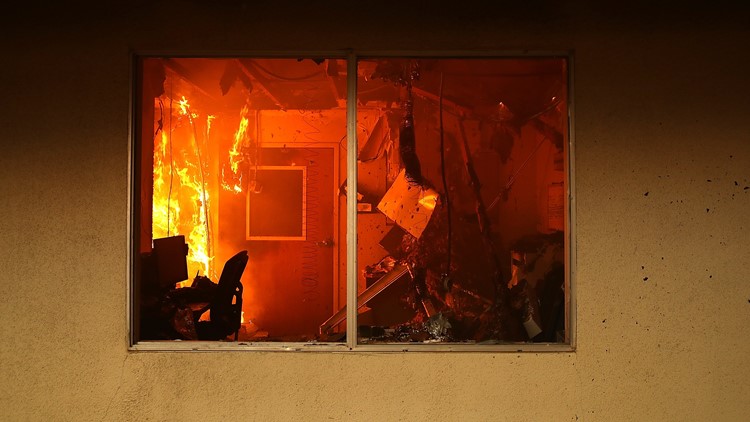 Out of the entire Paradise Police Department, 18 employees lost their homes out of 38. The police chief lost his home, too.
"I didn't have the opportunity to save my house or save my things. So, there's an internal conflict that I think a lot of us experience with them because as we're at work our homes are burning down," said Police Chief Eric Reinbold. "It was nothing short of a terrible day."
Half of the police department's officers left the department after the fire. Not only did the town change but also the job.
"We used to have a very busy patrol shift," Pickering said. "26-27,000 people for 20 sworn officers isn't that many officers, so we were really busy. And after [the Camp Fire]... our population... leaving the area, the nature of the deployment changed. The routine calls for service went down."
However, as they look back on that day and the months forward, what they've seen now is hope.
"Really, it's a positive environment right now," Reinbold said. "When you look around the town and you see the debris cleanup almost done in a year, that's impressive."
The Paradise Police Department is actively recruiting. They currently have 11 officers sworn in and their goal is to get back to 17.
FOR THE LATEST ON CALIFORNIA'S WILDFIRES, DOWNLOAD THE ABC10 APP: