As summer closes in and with a hot week ahead, many of the most vital reservoirs across the state are at or near capacity. Unlike the Colorado River Basin, California can reverse its drought status in a single winter.
This time last year, Shasta was at about 175-million-acre feet of storage, equating to less than 40% of capacity. The lack of snowpack last year resulted in the reservoir never getting much higher and the summer and fall month usage dropped the storage further.
Shasta is now remarkably at 98% capacity and 116% of historical average, the first time reaching such levels since summer 2019.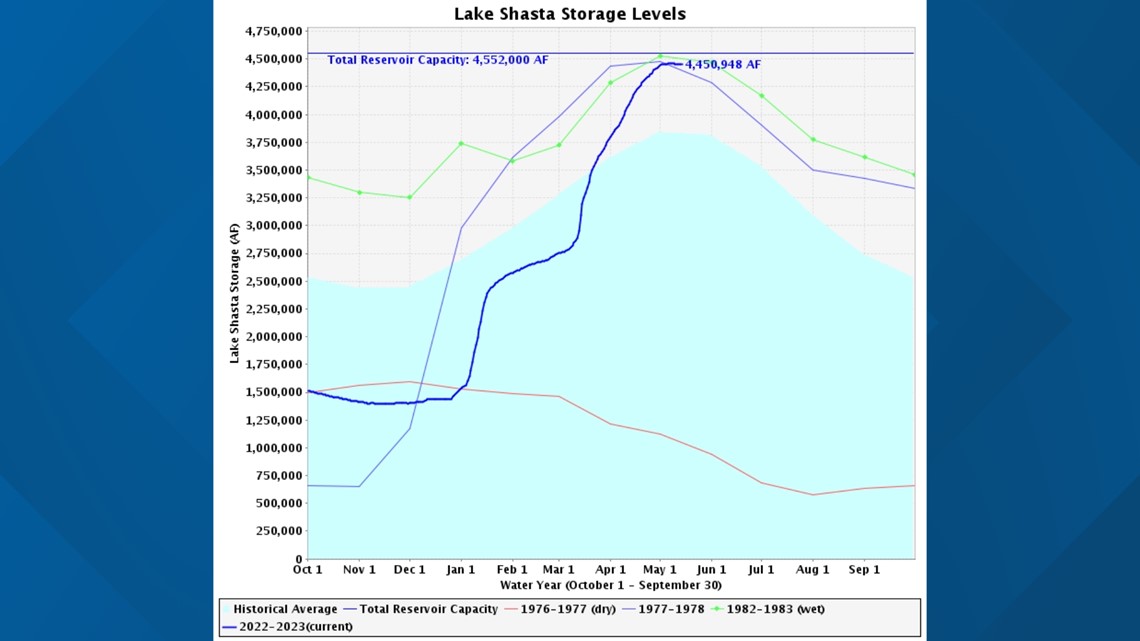 Elsewhere, Oroville reservoir is at 96% of capacity (122% of historical average) and Folsom Lake is at 87% of capacity (112% of historical average).
Plenty of snow still sits in the Sierra that will flow into these lakes and reservoirs as the melt off period continues. Because the state's most vital reservoirs are near or at capacity, operators and water managers have been releasing water to make room for the incoming water.
The DWR announced outflow from Oroville was to increase from 10,000 cubic feet per second to 15,000 feet per second starting Sunday.
Some reservoirs, like Trinity, are still much behind the pace at 41% of capacity and 52% of historic average. Trinity is largely snowpack fed but will still likely fail to reach capacity, according to the Bureau of Reclamation.
Don Pedro reservoir is only at 72% of capacity but is still expected to fill when the trends of previous wet winters are analyzed. The years of 2016-17 and 1982-83 closely mirror this year's storage patterns, and with the Sierra still at 337% normal of average for the middle of May, the reservoir is more than likely to fill. The same goes for New Melones and Camanche, among others.
In terms of surface water storage, drought has no doubt been busted.

ABC10: Watch, Download, Read