SACRAMENTO, Calif. — 4 p.m. update:
Over 200 Sacramento officers were assigned to today's gathering and 11 people were arrested by the end for charges related to illegal possession of pepper spray, Sacramento PD said.
With altercations between Trump supporters and counter-protestors, police said they received one report of a demonstrator assaulted with no injuries. No officers were injured, but Sacramento PD said a large police presence will stay in the area throughout the night.
As people begin leaving the downtown area following some tense moments as Trump supporters and counter-protestors clashed, some demonstrators spoke to ABC10 about their reasoning for being at the Capitol.
Trump supporter Allison Cabral said that she was there because "America needs to wake up."
"It's a start," Cabral said. "I don't know what's in our future. I am very worried and I pray everyday for our future. The truth is that people have to stand up and this is one way to do it."
Cabral voiced her frustration with the Republican Party following the 2020 Election.
"I became a Republican again because of Donald Trump," Cabral said. "I am going to be a independent again and I'll never go back to the Republican Party because they are all a bunch of whomps."
Sacramento police said that crowds began dispersing just before 2 p.m., but a heavy police presence would remain.
David Berger, a counter-protestor at the Capitol, said he arrived at the demonstrations to support the legitimacy of the election. Berger said that people have the right to protest, but that the Constitution and laws are clear.
"That's just chaotic," Berger said. "That's just so undemocratic."
Traffic in the downtown area remains heavy, but as things begin to clear up, transit authorities are providing updates as to what services are available at this time.
Yolobus stops in Downtown Sacramento have reopened. Sacramento Regional Transit has also restored service to Downtown, but El Dorado Transit is temporarily closing several stops due to the crowds and traffic.
The following stops are closed at this time:
8th St. at Capitol Mall
L St. at 14th St.
9th St. at L St.
9th Street at N St.
These bus stops can be used as alternates:
8th St. at I St.
9th St. at P St.
15th St. at K St.
The crowds at the Capitol have started leaving, Sacramento police said. A high police presence will stay in the area, though the "majority" of the demonstration has dispersed.
Sacramento police are reporting that "physical altercations" have started at the Sacramento State Capitol.
"Officers remain in the area and are attempting to keep the groups separate," said the police department on Twitter.
The Sacramento Regional Transit is issuing alerts that due to street closures some buses will be detoured around the area near the State Capitol.
"At this time, light rail is not affected, but that could change depending on the size of the crowds," said SacRT on Twitter.
Police have already made multiple arrests for individuals carry pepper spray, as well.
The protest, called the Wild Protest MAGA March, is just one of many protests happening around the country in support of President Donald Trump, who lost the 2020 election.
President-elect Joe Biden won the Electoral College 306-232.
Beginning as early as 9 a.m. Wednesday, a large crowd started to appear at the Capitol, many carrying "Trump 2020" flags as they walked the streets surrounding the building.
A letter from the California Legislature Assembly Rules Committee Tuesday warned others of the protests planned for Wednesday, asking staff to stay away from the grounds unless absolutely necessary.
"Unless you have an absolute need to be in the Capitol or the LOB tomorrow, please work remotely," the letter reads.
Sacramento City Councilmember Mai Vang released a joint statement with Councilmember Katie Valenzuela on Twitter regarding the "demonstrations by white supremacist groups" happening in Sacramento.
"Hate has no place in Sacramento and any groups espousing hate are unwelcome in our community," Vang and Valenzuela said in the statement.
This isn't the first protest held by Trump supporters at the state Capitol. Protests have routinely been held every Saturday since the 2020 election results were announced in November.
The series of dueling protests at the State Capitol is taking its toll on police department resources, Sacramento Police Chief Daniel Hahn said.
In one Saturday protest at the Capitol last month, more than 150 officers were deployed to keep the dueling groups separated. Police said three officers suffered minor injuries from objects being thrown around and from having lasers pointed in their eyes. One officer injured an ankle saving a person from being attacked, and 10 vehicles were vandalized by members of a group. Hahn says the violence harms a city struggling with the coronavirus outbreak and a rash of homicides.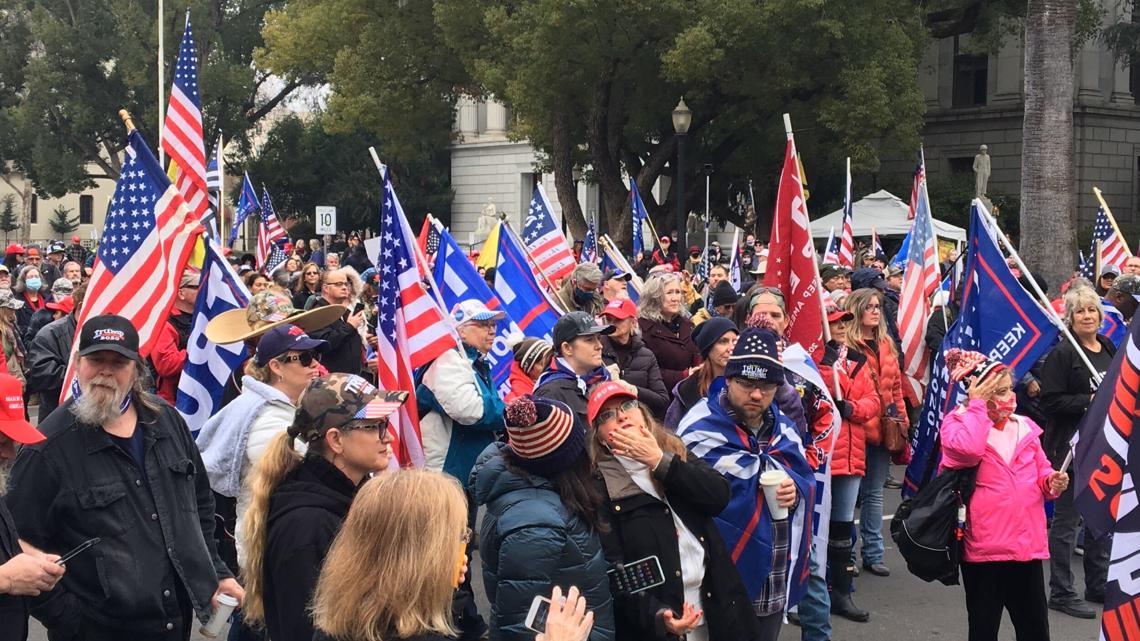 ABC10: Watch, Download, Read