An additional 1-2.5 feet in the last 72 hours added to the already massive snowpack.
The latest atmospheric river raised the season snowfall at Dodge Ridge to 660", surpassing the previous record of 643" set in the 2010/11 winter.
Although it has been an extremely wet winter statewide, the central and southern Sierra have received proportionately higher amounts than the northern Sierra.
The southern Sierra has received an incredible 271% of average to date, while the central Sierra has received 228% and the northern sits at 180%. Statewide, these numbers correspond to 223% of average and 56" of water equivalent in the snowpack.
The statewide snowpack consists of data from 160 stations located in the Sierra.
Some areas even have over 100" of snow water equivalent, prompting concern for the spring snowmelt and downstream flooding once that water makes its way downhill.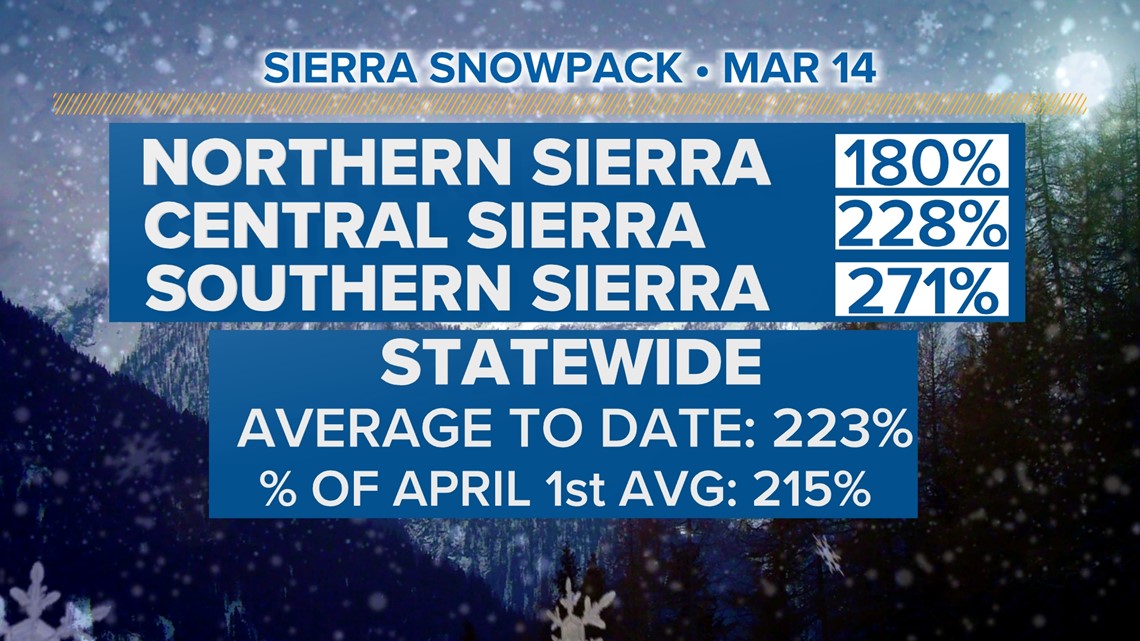 Most ski resorts are in the 600-700" range across the Sierra. The Central Sierra Snow Lab, located near Soda Springs, has received 668" so far this winter.
The snow lab is now only 3" away from overtaking the 1982/83 season as the second snowiest on record but still has work to do to pass the 1952/53 record of 812".
Other places with near record totals include Bear Valley, which is 16" away from tying the record of 639" set in the 1982/83 winter and Sugar Bowl is closing in on the vaunted 700" snowfall mark at 695".
Mammoth Mountain could break its all time record of 668" set in 2011. Mammoth has recorded 616" of total snowfall so far this winter.
It seems March will continue to be an active weather period, so snow will keep piling up in the Sierra and records will continue to fall.
ABC10: Watch, Download, Read