CHICO, Calif. — After promising swift action to house thousands of people who lost their homes in California's deadliest and most destructive wildfire ever, the Federal Emergency Management Agency (FEMA) acknowledges that its efforts haven't measured up to expectations -- and says that it's not possible for the agency to provide housing to everyone who needs it.
"We share the frustration of residents and local officials that housing options have not developed faster," FEMA spokesman Ken Higginbotham said in an email to ABC10 news. "We want to be honest with survivors and the broader community that our emergency housing efforts will not address all housing needs."
Butte County already had low vacancy rates when the Camp Fire struck in November 2018, destroying the town of Paradise and nearby communities. The flames consumed 14,000 homes, leaving tens of thousands of people to find a place to live while they wait for cleanup and rebuilding efforts to get underway.
FEMA planned to build neighborhoods of hundreds of mobile homes to provide temporary housing during fire recovery, which is expected to take years to complete. It also planned to provide roughly 2,000 travel trailers to house people in the few months following the fire.
That hasn't happened in Butte County.
"There is not a mobile home on the ground yet," County Chief Administrative Officer Sheri McCracken told California's wildfire commission this week at a meeting in Redding. "The amount of money they have spent to date to not have a mobile home on the ground probably could have built affordable housing and would have been a reinvestment."
ABC10 reached out to FEMA and followed up with McCracken to fact check this.
There are, in fact, a handful of mobile homes that have been provided to fire victims, but not in Butte County where the fire survivors lived.
More than four months after the fire, FEMA says it has provided a total of 207 travel trailers and only 21 mobile homes.
County officials tell ABC10 only 14 of the trailers are actually located in Butte County, where the fire victims lived-- and none of the mobile homes are located there. Most have been placed in Yuba County, according to records provided by Butte County.
That's only exacerbating an exodus from Butte County in the aftermath of the fire. McCracken says the county expects to see it's population decline in next year's census as a direct result of the fire and the sluggish recovery.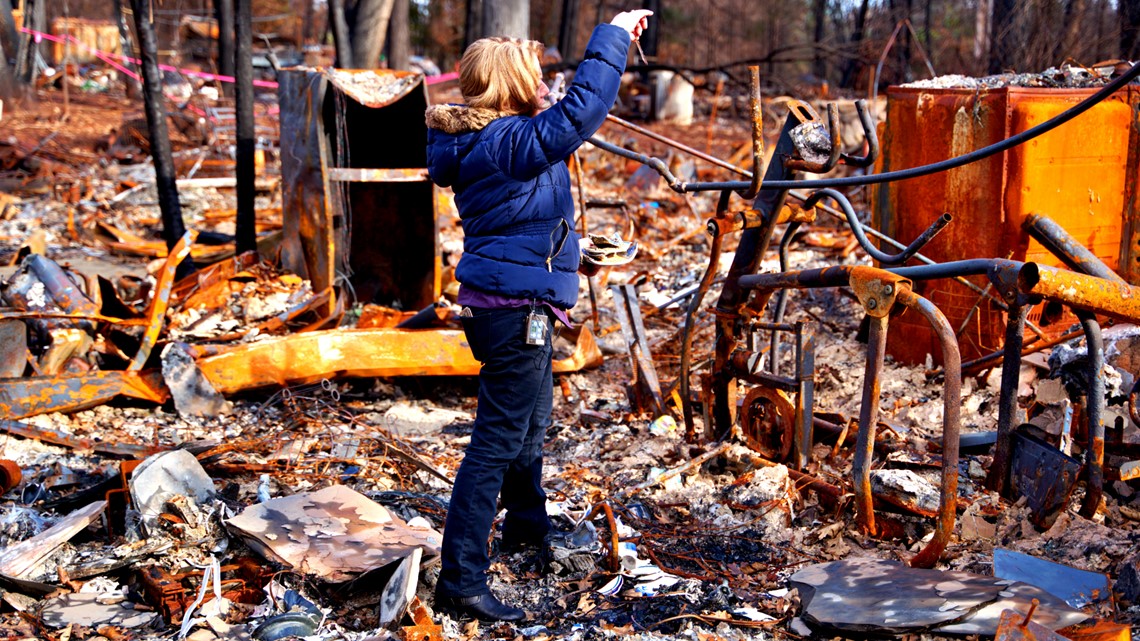 In her view, FEMA was simply unprepared to respond to a disaster that caused a housing crisis of this magnitude in a rural area.
"FEMA's model is 'we need a big piece of land with utilities right there, and we'll put a thousand mobile homes.' You don't have that in rural America," McCracken said. "[FEMA officials] keep scratching their heads and looking at us, 'well, why can't you get us property with utilities?' Because we're rural! There's not big land in our cities."
"When I retire, my goal is to go fix federal law," McCracken told the state commission.
Asked to respond, FEMA focused less on its own planning and more on extenuating factors like poor weather and public outcry over specific build sites.
"There is nothing anyone could do to change the impacts of prolonged weather delays on faster housing development," Higginbotham wrote. "We have also been surprised by the difficulty of finding locations where we could place larger numbers of temporary housing units. There have been a few locations that could have supported housing but were not supported by neighbors."
County officials concede that both of those issues played a role, but added that the agency could do a lot better at bringing in solutions that work for less urban communities.
"I believe that FEMA had good intentions, but not the local awareness of property availability, or lack thereof," McCracken said. "It took FEMA some time to realize its normal model was not going to work, and that it would not find large parcels with utilities close by."
FEMA has since revised down its estimate of how much help it can provide-- from 2,000 trailers and mobile homes to 1,300.
________________________________________________________________
When the Camp Fire ignited, it started a chain of events that allowed it to become the deadliest wildfire in California history. There was no plan to handle an evacuation on this scale, and it lead to more than 80 deaths.