The blue of an unfurled body bag has become a gut-wrenching splash of color in the Northern California town leveled by a wildfire.
Coroner search teams, many accompanied by a chaplain, have fanned out across Paradise and visited dozens of addresses that belong to people reported missing since the fire Thursday.
Crews have already recovered remains of more than two dozen people.
When a body is found, a call goes out, yellow police tape goes up - and the blue body bag arrives. In many cases, there is almost nothing left. The long bag looks almost empty as it's carefully carried out of the ruins and placed in a black hearse.
Camp Fire by the numbers:
42 dead
231 persons located, previously unaccounted for
52,000 evacuated
1385 in shelters
117,000 acres burned
7,177 structures destroyed
Butte County and CAL FIRE officials confirmed the Camp Fire to be the deadliest fire in California history with 42 people dead. Of the deceased, 4 have been identified, but only three have had their names released.
Earnest Foss, 65 of Paradise
Jesus Fernandez, 48 of Concow
Carl Wiley, 77 of Magalia
The total dead increased from 29 with the discovery of 13 additional bodies. 10 of the 13 were discovered in Paradise, with seven in homes and three outside. The last three were from the Concow area- two were found outside and one was inside a home.
Resources being requested to aid Butte County include a request for cadaver dogs and a rapid DNA system, which they hope will expedite identifications.
Due to a high number of calls to their missing persons line, the Butte County Sheriff was unable to provide an update on the total number of unaccounted for individuals. They had received 1,514 calls regarding welfare checks and attempts to contact people unaccounted for.
To date, his office has located 231 people, up from 107 on Sunday.
Fire conditions through the night
Although containment has reached 30 percent, firefighters will be facing near critical fire weather conditions through the night due to dry conditions and breezes, however, those winds will not be as strong as previous days, according to Aviva Braun, Meteorologist with the National Weather Service. She added that forecasts for rain in the area are unlikely.
"We are not seeing any indication of any precipitation in the next week and possibly through Thanksgiving," said Braun.
The sights of Butte County's Camp Fire
Authorities have reported 13 more fatalities from a blaze in Northern California that destroyed a town, bringing the total death toll so far to 42 and making it the deadliest wildfire in recorded state history.
The dead have been found in burned-out cars, in the smoldering ruins of their homes, or next to their vehicles, apparently overcome by smoke and flames before they could jump in behind the wheel and escape.
In some cases, there were only charred fragments of bone, so small that coroner's investigators used a wire basket to sift and sort them. The search for bodies was continuing.
Hundreds of people were unaccounted for by the sheriff's reckoning, four days after the fire swept over the town of 27,000 with flames so fierce that authorities brought in a mobile DNA lab and forensic anthropologists to help identify the dead.
The statewide death toll from wildfires over the past week has reached 44.
A 1933 blaze in Griffith Park in Los Angeles killed 29 people, and a series of wildfires in Northern California's wine country last fall killed 44 people.
Butte County Sheriff Kory Honea has released the names of three individual killed in the Camp Fire.
Earnest Foss, 65 of Paradise
Jesus Fernandez, 48 of Concow
Carl Wiley, 77 of Magalia
Butte County Sheriff Kory Honea confirmed an additional 13 fatalities due to the Camp Fire. This brings the total number of fatalities to 42.
President Donald Trump says he has approved an "expedited" major disaster declaration for California over the deadly wildfires burning at both ends of the state.
Trump tweeted Monday night that he "wanted to respond quickly in order to alleviate some of the incredible suffering going on."
Democratic Gov. Jerry Brown had requested the declaration, which would make victims eligible for crisis counseling, housing and unemployment help, and legal aid.
Trump previously blamed "poor" forest management for the fires. Brown says federal and state governments must do more forest management but says climate change is the greater source of the problem.
More than 30 people have been confirmed dead in the wildfires. Most of the deaths have come from the fire that obliterated the Northern California town of Paradise.
A total of over 4,500 personnel are assigned to the Camp Fire in Butte County. These individuals are coming from as far away as South Dakota. According to Cal OES, other states like New Mexico, Utah, Texas, Washington, Oregon, Montana, and Idaho have also sent personnel to combat the California wildfires.
Within hours of the Camp Fire breaking out, firefighters from up and down the state responded to calls for mutual aid.
California utilities again are facing severe financial pressures from the possibility their equipment sparked catastrophic wildfires.
A bill to help them in such situations was signed in September by Gov. Jerry Brown and gave utilities some relief for wildfire liability beginning next year. It also sought to ensure they wouldn't go bankrupt from the 2017 fire season by allowing them to bill customers for costs.
But there was a gap in the law: Nothing changed for 2018, and this year already has supplanted last year as the most destructive in California's recorded history.
Authorities have not determined a cause for two blazes burning now. But the utilities — Pacific Gas and Electric and Southern California Edison — reported irregularities with their equipment near the time and place both fires ignited.
A Northern California man who led a caravan of vehicles that was overcome by flames from a wildfire says he saw his friend die.
Greg Woodcox told The Associated Press Monday that he heard his friend scream as the heat blew out windows. Four other people in the vehicles died.
They were among at least 29 people who have lost their lives in a wildfire that decimated the town of Paradise.
Woodcox said he was too exhausted to talk more by phone.
In an interview with the San Francisco Chronicle, the 58-year-old Woodcox said he was in a Jeep ahead of the other vehicles and ran when the flames overtook them.
He said he followed a fox to a path down a steep embankment, and he survived by submerging himself in a stream for nearly an hour.
A newspaper says firefighters and state employees are clearing brush and spreading water to prevent damage to a Northern California reservoir and dam if a wildfire passes through.
The San Francisco Chronicle reports that the work was underway Monday at Lake Oroville while the fire is still about 10 miles from the reservoir's power plants and water-supply facilities.
State Department of Water Resources spokeswoman Erin Mellon said officials were closely monitoring the blaze. The fire has killed at least 29 people and destroyed the town of Paradise.
Spillways at the 770-foot Oroville Dam crumbled and fell away during heavy rains in early 2017, prompting thousands to flee over fears of a possible catastrophic release of water.
A $1.1 billion reconstruction project was completed last month.
Fire officials in Northern California say firefighters are battling two spot fires south of the town leveled by a blaze that has killed at least 29 people.
Cal Fire Deputy Operations Chief Monty Smith says dense, dry vegetation is fueling the spot fires Monday on each side of Lake Oroville.
A fire behavior specialist at Cal Fire, Jonathan Pangburn, said earlier that major winds combined with tinder dry conditions helped the fire jump over the lake Sunday night.
The area near Paradise is expected to see wind gusts as high as 40 mph (64 kmph) by Monday evening.
Smith says firefighters are working to build a contingency line to stop the fire from reaching Oroville, a town of 19,000 people.
Firefighters battling the Camp Fire in Butte County are expected to get a break from the winds Monday morning as the Red Flag Alert that had continued over the weekend is expected to subside today.
However, low relative humidity and dry fuels will continue to make fire conditions worse for crews battling the blaze. The fire grew only about two percent overnight to 113,000 acres by Monday morning. The fire remained 25 percent contained.
By Sunday afternoon the death toll from the blaze had risen to 29, only the 1933 Griffith Park Fire has been as deadly. Butte County officials said the number of dead could continue to rise as crews continue to search through the rubble for victims.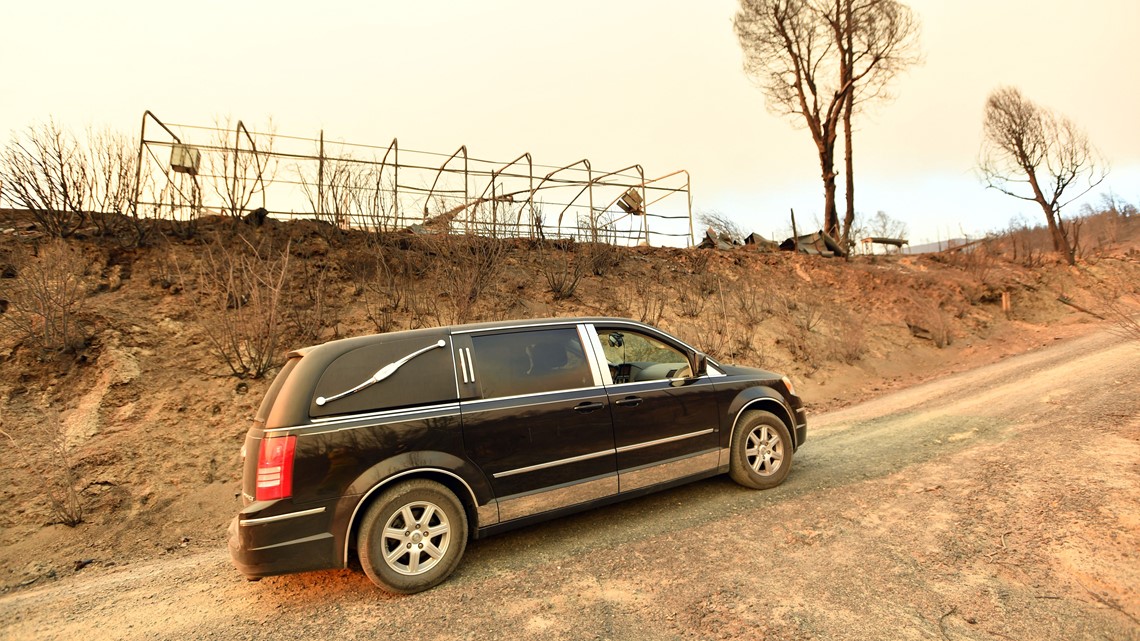 The fire has burned 6,453 homes and remains only 25 percent contained. Officials estimated another 260 commercial structures have burned in the fire. Another 389 "minor" structures were destroyed, according to the California Department of Forestry and Fire Protection.
Honea said Sunday evening that the number of dead and burned structures could rise as crews continue to search for the missing and count the number of burned buildings.
Another 15,500 structures were threatened by the flames, but fire officials said Oroville and Chico were not under immediate threat from the Camp Fire. There are 4,555 people working on the fire.
The National Interagency Fire Center said the cost of the blaze has reached $16 million.
Federal disaster aid may be on the way.
"FEMA was in the area" Friday, Honea said. "I took FEMA representatives up into the affected area. They were awestruck by the devastation. I anticipate there will be a substantial involvement."
Gov. Brown on Sunday asked the Trump administration to declare a 'major disaster' declaration for California fires
Brown made the request "to bolster the ongoing emergency response and help residents recover from devastating fires burning in Butte, Los Angeles and Ventura counties."
Estimates of missing and killed are not certain. Numbers could rise as officials continue to assess the damage.
In some cases, the fire burned so intensely it could "completely consume" bodies, Honea said. "We have not yet officially identified anybody or notified the next of kin."
The county has brought in an extra coroner's team and DNA experts from the Department of Justice to aid in identification.
"We're still compiling" Honea said. "In some cases, there were duplicate names. In some cases, there wasn't enough information."
Honea said he was unsure if there are children among the missing.
The Sheriff's Office opened a missing persons call center Sunday afternoon. People can report missing friends and family at any of three numbers: 530-538-6570, 530-538-7544 and 530-538-7671.
The sights of Butte County's Camp Fire
---
Watch Now: Episode 2: A cafe owner steps in to help when a Redding man faces an unspeakable tragedy in the aftermath of the Carr Fire.
Contributing: Associated Press, Redding Record Searchlight, TEGNA Staff